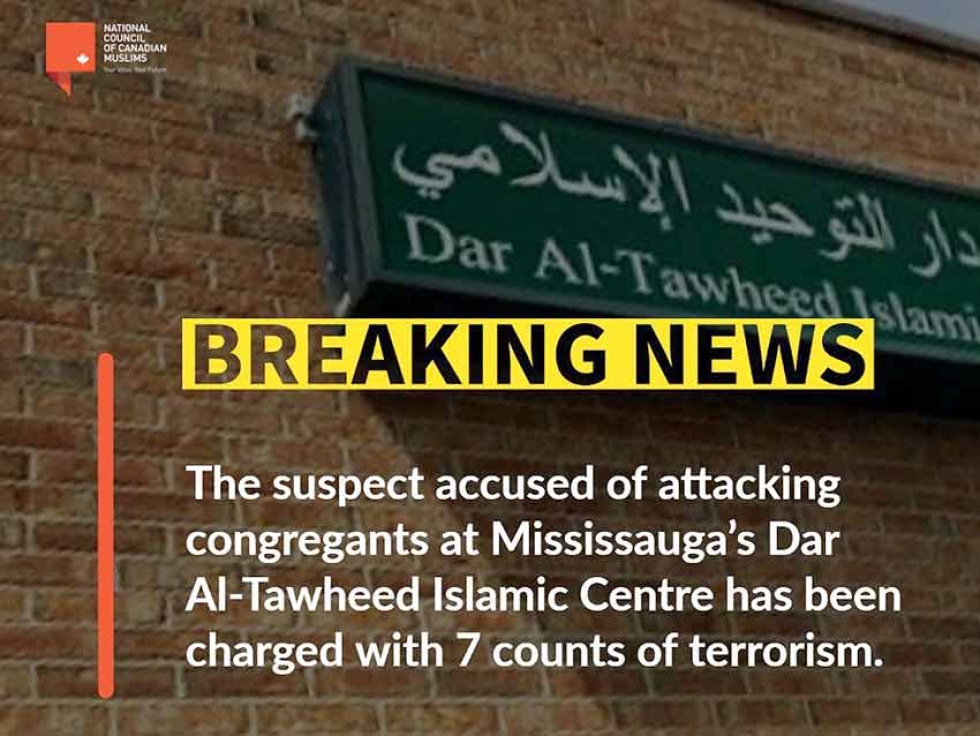 09
Jun


2022
Mississauga - June 8th, 2022
Statement by the National Council of Canadian Muslims (NCCM) and Dar Al-Tawheed (DAT) Islamic Centre
The attack on Mississauga, Ontario's Dar Al-Tawheed (DAT) Islamic Centre on March 19th shook our community, which has been increasingly victimized by hateful violence. Both NCCM and DAT therefore welcome today's charging of that morning's alleged attacker with seven counts of terrorism related charges.
On the morning of March 19th, brave mosque attendees stopped an intruder who attacked the praying congregation with bear spray while wielding a hatchet. Several weapons were also strapped on his body, including knives. Praying congregants were able to put an end to the rampage before any more damage was done.
"It just goes to show how violent Islamophobia continues to be an existential threat to our community members," says DAT Imam Ibrahim Hindy. "I hope today will be the first step towards justice when it comes to this shocking and violent incident that could have been so much worse if it weren't for the courage of our community members."
When congregants physically resisted the intruder, the latter allegedly responded that he wanted to "kill terrorists." The attacker has also allegedly made comments online that antagonize Muslims and Islam.
Attendees of that morning's prayer service who were put through this incident are traumatized by the ordeal. Many have sought mental health services and therapy. Others as young as 13-years-old continue to grapple with the psychological effects of being targeted inside an Islamic place of worship—a place of safety that represents peaceful and spiritual retreat from the outside world.
"This isn't the first time that our places of worship have been violated in one way or another," says NCCM Staff Lawyer Nusaiba Al-Azem. "Our community needs to heal, but that starts with seeing justice carried through when it comes to the person who could have destroyed so many more lives that morning. This is a welcomed step by the crown to lay the appropriate charges. But we know that we need to continue to engage governments and agencies at all levels to take action to keep our communities safe now and in the future."
The suspect of March 19th's attack is being charged just two days after the first anniversary of the deadly Islamophobic terrorist attack in London, Ontario that killed four members of a Muslim family. In all such cases, the victims were caught by surprise. They expected to be safe where they were.
That our community continues to be victimized by such incidents of hate further affirms the need to hold our leaders accountable for their commitment to challenge systemic Islamophobia and hate. Now is not the time for more empty words. We are tired of waiting; we need action now.
Peel Regional Police and the Royal Canadian Mounted Police Integrated National Security Enforcement Team are sharing an update regarding additional charges following an unprovoked incident at the Dar Al-Tawheed Islamic Centre in Mississauga
On March 19, 2022, it is alleged that Mohammad Moiz Omar entered into the Dar Al-Tawheed Islamic Centre in Mississauga and discharged bear spray toward the members of the Mosque while brandishing a hatchet. Following the incident, Mohammad Moiz Omar, a 24-year-old man from Mississauga, was charged with several offences.
Today, it was read before the court that Deputy Director of Public Prosecution Service of Canada and the Assistant Deputy Attorney General for the Ministry of the Attorney General consented to the commencement of terrorism proceedings against Mohammad Moiz Omar. The offences Mohammad Moiz Omar is charged with, listed below, constitute terrorist activity pursuant to sections 2, 83.01(1)(b), and 83.27 of the Criminal Code of Canada:
Assault with a Weapon x2
Administering Noxious Substance with Intent to Endanger Life or Cause Bodily Harm
Possession of a Weapon for a Purpose Dangerous to the Public
Utter a Threat to Cause Death or Bodily Harm
Carry Concealed Weapons
Mischief to Religious Property
"Our community has a fundamental right, and deserves, to feel safe and secure. Any attempt to jeopardize the safety of our community will be met with every effort to bring those responsible to justice. This incident has deeply impacted Dar Al-Tawheed Islamic Centre members and carries rippling impacts throughout our community. People should expect to be able to gather peacefully and safely without fear," said Chief Nishan Duraiappah. "Our service is committed to continue to working with our partners and the community to ensure that hate and violence have no place in our community".