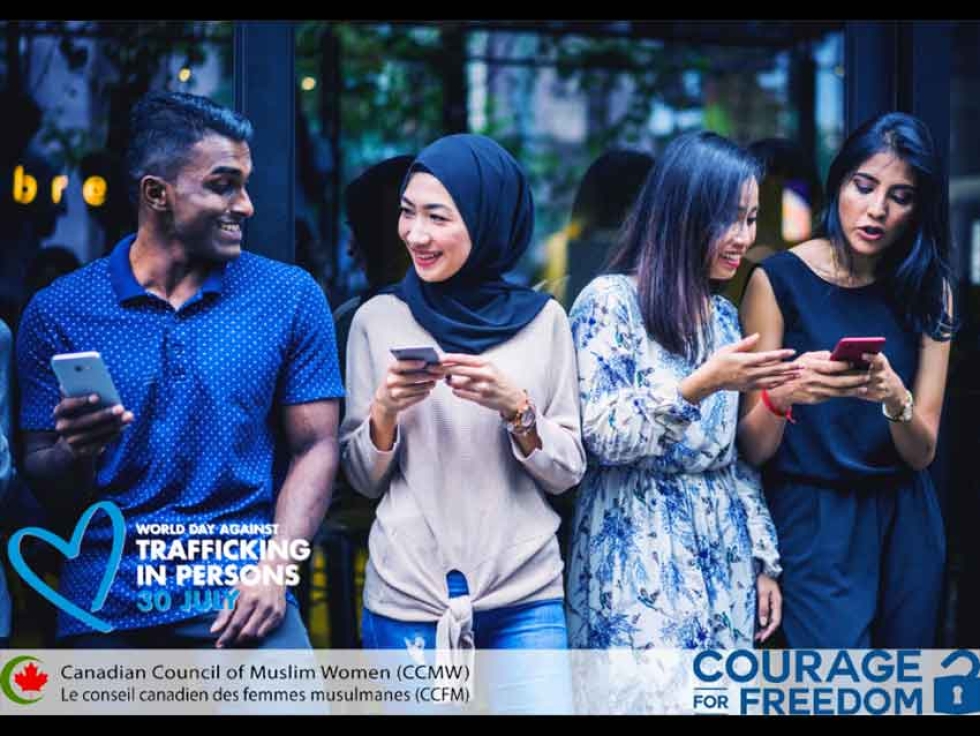 30
Jul


2022
Courage for Freedom Statement on UN Day Against Trafficking in Persons
Written by Courage for Freedom
Today we celebrate the UN Day Against Trafficking in Persons, with the theme "Use and abuse of technology".
Here are some comments and testimonials to demonstrate the importance of raising awareness and growing the movement to eradicate human trafficking.
Did you know?
A new analysis from Statistics Canada reported that:
Luring a child accounted for the large majority (77%) of online sexual offences against children.
Girls aged 12 to 17 are overrepresented as targets of non-consensual distribution of intimate images (86%).
More than one in four (27%) online sexual offences against children involved a secondary violation, usually child pornography.
Words from our trainees:
"I learned a lot in two days. Engaging and traumatic, the info and stories were not easy to hear. The harsh reality was difficult but compelling and my resolving commitment to do something about this is urgent and lifelong. Further, everyone needs to take Courage for Freedom training. It should be mandatory in schools, colleges workplaces and more. Our CCMW organization in hopeful to take this training to our Muslim and non-Muslim partners, allies and chapter members. Men and boys need to be invited to this conversation too. July 30th is just a day, the responsibility to our communities is 365 days a year."
-Firdaus Ali, Canadian Council of Muslim Women and D.A.R.E. 2 Project Manager
"Working together on #ProjectINterclusion we gained a greater understanding of the difference between trauma experienced by victim-survivors of human trafficking and sexual exploitation compared to the trauma experienced by victims of other forms of gender-based violence. Victims of human trafficking tend to face ignorance and/or misunderstanding when trying to get help. It is vital that we continue to learn about, and take action against human trafficking, while also listening to the voices of victims to effectively eradicate human trafficking."
-Iman Ahmednur, Canadian Council of Muslim Women Digital Communications Coordinator
Words from a survivor of human trafficking:
"It might be a day you are all standing and fighting against human trafficking with the United Nations. Today is the day I remember somebody didn't care that I was 15 and crying while they raped me. Today is the day I fight not to cut my arms, take too many pills or step in front of the subway train in the tunnel. Today is the day I remember that I can have tomorrow. That even though I can't feel anything. I know I am alive and safe today."
-A Survivor of human trafficking and Peer Support Leader
Words from one of our staff:
"Looking at the issue through the lens of culture and religion for me was important because there is a stigma speaking up against these issues in the South Asian and Muslim communities. In our community we need to understand how this is affecting our women, girls, and children, and involve men and boys in the conversation so they can be made aware of their responsibilities and vulnerabilities as well. I appreciated the opportunity to take this training as it changed my understanding of who is most vulnerable, and the community's responsibility in preventing trafficking!"
-Qudsia Alvi, Courage for Freedom University Student Staff; Spoken languages: Arabic and Urdu
Dark Highway
Dark Highway is a documentary about the industry of sexploitation and trafficking along the 401 corridor. Through the lens of a bystander, audiences will be engrossed in an investigation to uncover the ways traffickers lure victims, how the highway is used to hide the crime, and how we can help.
Click here to learn more about this upcoming project and to show your support.
Awareness should be multilingual
Here is a one-pager from #ProjectINterclusion about human trafficking in [English, French, Urdu, Arabic, Somali, Farsi, Ukrainian, Spanish].
Share this with your friends, family, and community so we can increase our knowledge and prevention of the buying and selling of girls and boys, children in Canada.