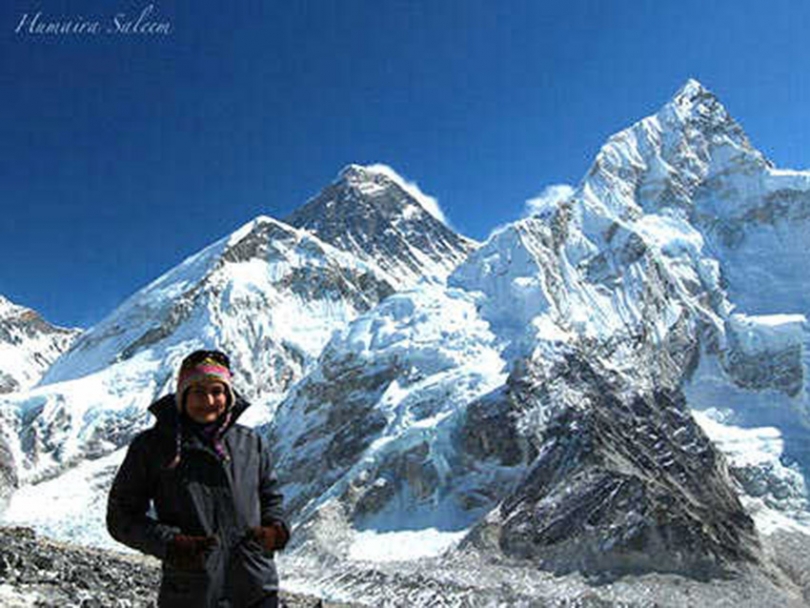 Humaira Saleem climbs Everest for Islamic Relief Canada
15
Feb


2014
From December 9 to 26 of 2013, I traveled to Mount Everest in Nepal as part of a group of young Muslims fundraising for Islamic Relief Canada. For a few years now, I have been personally raising funds for orphan sponsorship by asking family and friends. Two years ago, a friend of mine encouraged me to participate in Islamic Relief Canada's CN Tower Edge Walk Challenge. It was a great experience being 1168ft above the ground, on the roof of CN Tower's restaurant! That's when I was introduced to Islamic Relief's challenges.
Last year, I accidentally came across Islamic Relief's international challenges on their website and immediately thought of how amazing it would be to participate. Since it was around that time of the year when I was starting to collect funds for orphan sponsorship, I decided I would take on the challenge and go on this adventure. I went with two other girls, Freshta Ahmadzai and Dalal Dahrouj. We were a group of three females and the first group from Canada that Islamic Relief has sent to the Mount Everest Base Camp (EBC). I set my goal to raise $5500 for Islamic Relief's orphan sponsorship and was able to successfully raise $5600.
Since I decided to go on the journey in June 2013, I had to start physical training, including running, biking, yoga, and a lot of hiking. Additionally, I had to read articles and watch videos of previous EBC trekkers and what tips they had to offer in regards to the equipment and clothing we needed. It took me a few weeks to find the right outfit and equipment - the last thing you want is to be 4000 m up and not have the right jacket or base layer or sleeping bag.
Finally, it was time to mentally prepare myself. While you can try and read about how the trek to EBC would be, you really only know how it is when you are doing the trek. Prior to leaving for the trek, my greatest fear was of my body giving up on me. I was afraid that I might not be able to continue, be it due to exhaustion or to thin air.
However, the human body is capable of doing anything that one sets their mind to. The human body has amazing capabilities - it adapts to one's environment beautifully. It is the mind that you have to motivate and encourage to keep going in the harsh, cold, dry weather with the steep and long hours of climbing. The thin air definitely affected each one of us, from mild dizziness and headaches to nausea, vomiting, lack of appetite, and lack of sleep at night. However, the beautiful mountains that surround you, Subhan'Allah (Glory be to Allah), made you forget the challenges and focus on being thankful for everything that surrounds us.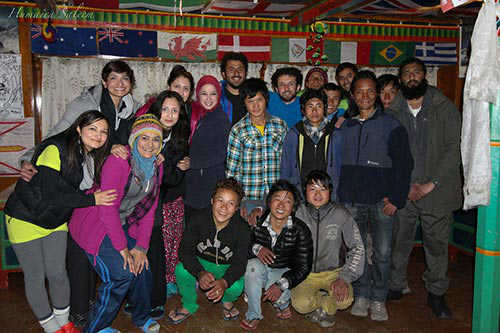 We traveled with sherpas who are Nepalese mountain guides. They are followers of the Buddhist religion. Buddhist shrines are visible throughout the trek to the EBC. Many of the sherpas train to become mountain guides first by becoming porters. During the trek, we would only carry our day packs which had some extra layers of clothing, a first aid kit, water, and some snacks. The extra personal items such as sleeping bags, extra clothing, extra snacks, and so forth were all carried by porters. The porters were amazingly fit - while we trekked with light daypacks, they each carried two people's extra luggage that weighed at least 100 lbs. Sherpas generally start training very young, even if it means hiking with their dads. Later, they become porters and, based on their performance, they become sherpas and later Head Sherpas that lead the rest of the guides and porters. Mash'Allah (Allah wills it), they are an amazing group of people, very down to earth, very open to teaching about their culture and way of life, very hospitable, and very welcoming. They will go out of their way to provide you with what you requested.
During our flight back, we had an eight-hour stop in Guangzhou, China. We decided to visit Masjid Saad Ibn Abi Waqas, which is the first masjid built in China. Sahabi Saad Ibn Abi Waqas is one the first few individuals that accepted Islam. He fought in key battles such as Badr and Uhud, and was the first to bring Islam to China. His son built the masjid in his name. The tomb of Sahabi Saad Ibn Abi Waqas also rests at this masjid. Subhan'Allah, the masjid holds a very large space and is truly peaceful. It was definitely a great decision to have stopped there, it was simply beautiful.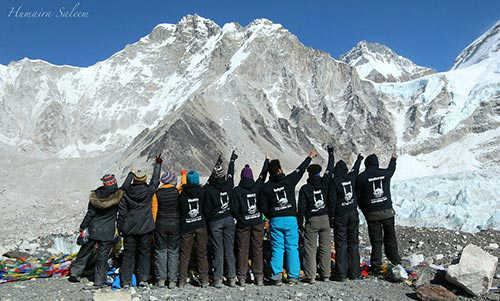 While the journey had many challenges, I want to emphasize that it's exactly the challenges in the journey that made the beautiful moments more valuable and memorable. Similarly, it's the challenges in life that we can learn the most from, it's those moments that strengthen you and help you learn the value of the good that happens in life, which we often forget at times of hardship.
Islamic Relief has various projects to help fundraise for people all around the globe. They have many local and international challenges that you can participate in.
If you're not interested in participating in a challenge, you can simply donate and help those have signed up for the challenges via the Team Fundraising page on Islamic Relief's website: http://crowdfunding.islamicreliefcanada.org
Humaira Saleem is an Afghan-Canadian paramedic from Burlington, Ontario.
For more information about Humaira's next challenge to climb Mount Kilimanjaro in 2015, visit http://crowdfunding.islamicreliefcanada.org/campaigns/humairas-challenge-kilimanjaro-2015/
To view more photos from Humaira's trip to Everest visit http://humaira.smugmug.com/
This article was produced exclusively for Muslim Link and should not be copied without prior permission from the site. For permission, please write to info@muslimlink.ca.