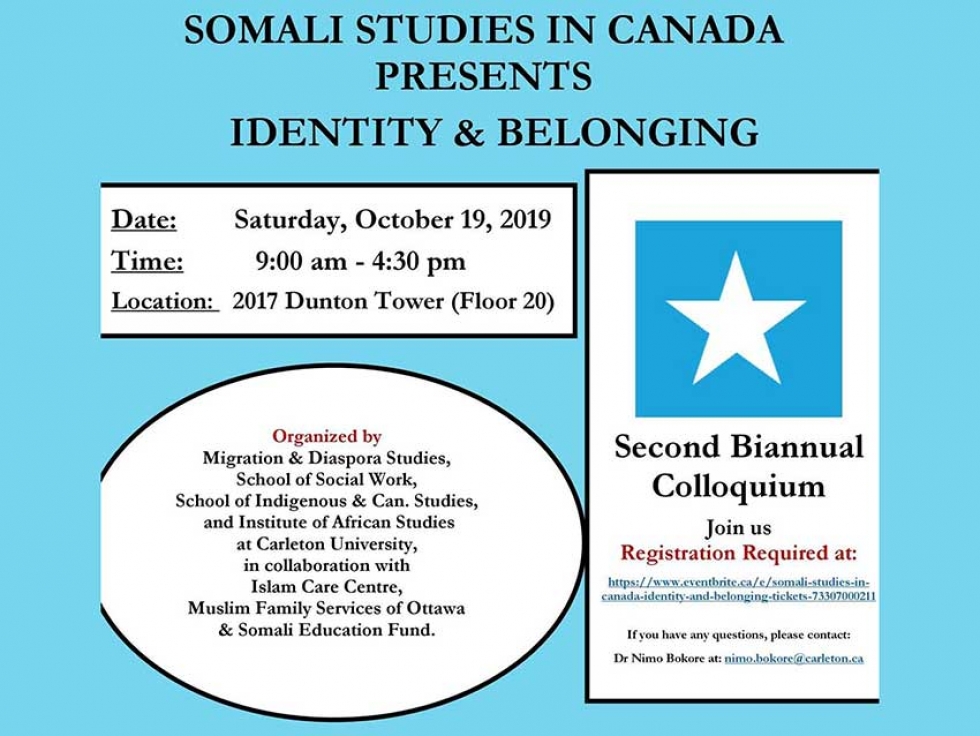 17
Oct


2019
Check out the Somali Studies in Canada Colloquium on Identity and Belonging at Carleton University in Ottawa October 19
Written by Somali Studies in Canada
This year's theme, "Identity and Belonging", will focus on the thematic priorities that emerged from the round-table discussions at the first Somali Studies in Canada Colloquium in 2017.
Dr. Nimo Bokore, a professor of Social Work at Carleton University, organized the first Somali Studies in Canada Colloquium in 2017.
In an interview with York University in 2018, Dr. Bokore discussed how she was able to organize this unique event, "The Carleton School of Social Work is a structural school. It hosts the only Institute of African Studies in Canada and the Migration and Diaspora Studies Initiative, which focuses on the social, economic, cultural and political implications of the movement and transnational settlement of people. I am cross appointed in both faculties, and as a result I was able to organize the first ever Somali Studies colloquium in Canada. There were over 100 registered participants, and 30 presenters, presenting their work in England, Netherlands, South Africa, Kenya and at various universities in Canada."
In the video below, Dr. Bokore discusses how her experiences as a Somali refugee informed her research interest into the impact of historical trauma across generations. (It may take a few moments fro the video to load from YouTube.)
This second conference is designed to play a key role in facilitating dialogue and partnerships among the Somali Studies academic community at local, regional, and national levels. Papers will address issues of identity for Somalis in Canada.
The following are some of the presentations that will be taking place at the colloquium:
What do we know so far about Somali Studies and where are we going? Dr. Nimo Bokore, Assistant Professor of Social Work, Carleton University, Follow on LinkedIn
Somali youth spoken word artists and emerging post 9/11 post 1991 counter publics, Mohamed Duale, PhD Candidate, York University
Theorizing the theoretical gaps within the daqan celis research, Hannah Ali, MA Candidate, York University
Home Away from Home: Examining the Barriers and Benefits of Pursuing Higher Education for Somali Female Students, Ladan Mowlid, MEd
Making room in uncomfortable spaces: An authoethnography of My Fitness Experience as a Somali Muslim Woman, Iiman Darman, BSc student, York University
On the heels of Wakanda: How Strategic Foresight can lead to reimagined futures for Somalia, Liin Nur, MDes Candidate, OCAD University, Follow on Twitter, LinkedIn
The Somali Criminal: A Conjunctural Analysis, Huda Hassan, PhD Candidate, University of Toronto Follow Huda on Twitter, LinkedIn
The Bridging Project, Jaafar Dirie, PhD Candidate, University of Toronto Follow Jaafar on Twitter, LinkedIn
Of White Supremacy and Family Friends, Grappling with Complicity, Race, and the Somalia Affair in Canada's Capital, William Felepchuk, PhD Candidate, Carleton University, Follow on Twitter, LinkedIn
There will also be presentations by community based initiatives such as The Somali Education Fund and The Justice for Abdirahman Abdi Coalition.
Check out the full programme online here.
The organizing committee of the 2019 colloquium includes Dr. Bokore and PhD Candidates Mohamed Duale and William Felepchuk.
The colloquium is organized by the School of Social Work, the Institute of African Studies, Migration and Diaspora Studies, and the School of Indigenous and Canadian Studies at Carleton University, in collaboration with the Islam Care Centre, Muslim Family Services of Ottawa, and the Somali Education Fund.