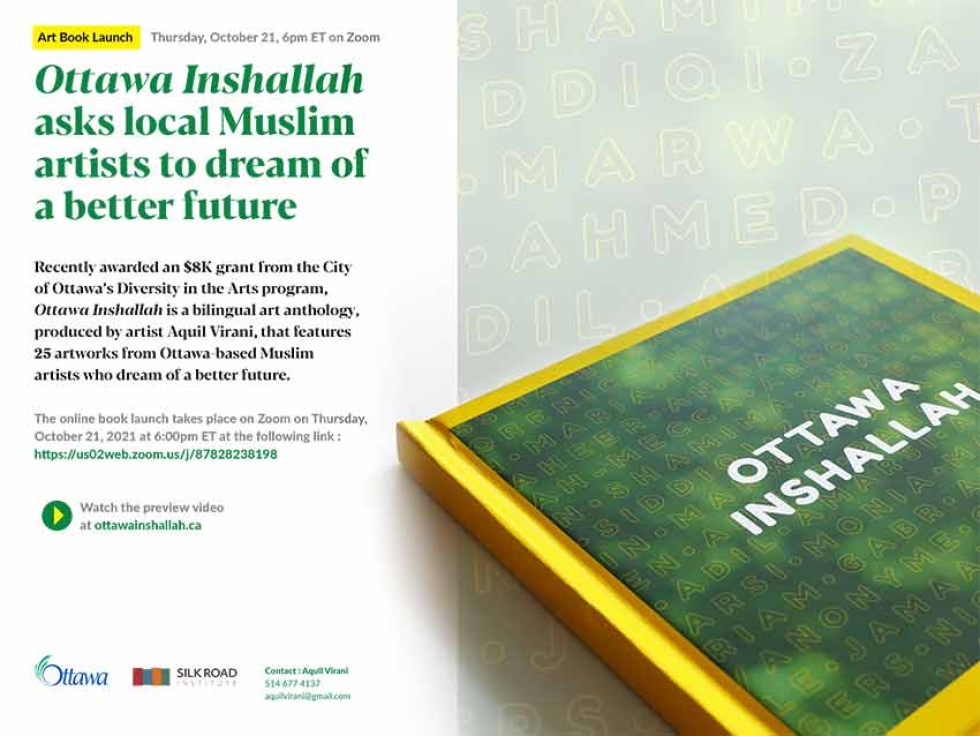 19
Oct


2021
Check Out the Launch of Art Anthology 'Ottawa Inshallah' Featuring Muslim Canadian Artists on October 21
Written by Making Headlines
'Ottawa Inshallah' is a bilingual art anthology, produced by artist Aquil Virani, that features 25 artworks from Ottawa-based Muslim artists who dream of a better future.
The launch event for the book is taking place online via Zoom on Thursday, October 21, 2021 at 6:00pm ET, click here for details about the event.
This interdisciplinary project was funded by the City of Ottawa through its Diversity in the Arts program.
Aquil Virani is a visual artist and graphic designer of Indian and French heritage and an Ismaili Muslim. According to Aquil, he wanted the long-term impact of the book to be as follows: "The first goal is to build community among the plural Muslim groups in Ottawa. I also want to help raise the profile of Ottawa-based Muslim artists. Making creative work during a pandemic is challenging, so my hope is that this opportunity can provide a small, temporary beacon of light. To print a book is to leave a mark. To plant a flag in the current moment and say: this is what some of the artists and writers from our community were creating in 2021 as they looked to a brighter future."
The project started with an open call for submissions in any visual medium that could fit on a printed page – whether drawing, photography, henna art or poetry and writing. Two separate hour-long Zoom workshops helped artists brainstorm creative ideas to submit.
Submissions were judged by an esteemed jury of three including Chelby Marie Daigle diversity educator and editor in chief of MuslimLink.ca, Jamaal Jackson Rogers award-winning spoken word artist and Ottawa's past Poet Laureate, and Nicole Burisch Assistant Curator at the National Gallery of Canada.
Selected artists received a modest honorarium and a free copy of the anthology.
Watch a promotional video about the anthology below:

How can I purchase a copy? When is the launch event?
You can buy a copy of the anthology online here.
If you have any questions, please email me at This email address is being protected from spambots. You need JavaScript enabled to view it..
Why Ottawa Inshallah?
Our stories. Reclaiming the narrative. Dreaming of the future. Building a budding Muslim Futurism movement. Representing pluralism and dismantling the monolith associated with Muslims in broader, Western culture. Growing community strength and inter-community connection.
Who are the artists and writers involved?
The artists and writers in the anthology include:
Pansee Atta, Assma Basalamah, Monia Mazigh, Noor Siddiqi, Sarah-Mecca Abdourahman, Shamima Khan, Self_Saboteur (Naheen Ahmed), Aliya Amarsi, Maria Malik, Zubair Hossain, Mariam Gabr, Marwa Talal, Anisa Khan, Arzoo Zaheer, Adil Amarsi, Anonymous / Anonyme, Iman Korenic, and Zainab Hussain.
There is also an artwork and introduction by Algonquin Anishinaabe artist, Dara Wawatie-Chabot.
Watch a CBC interview with the artist who created "Ottawa Inshallah" Aquil Virani below: