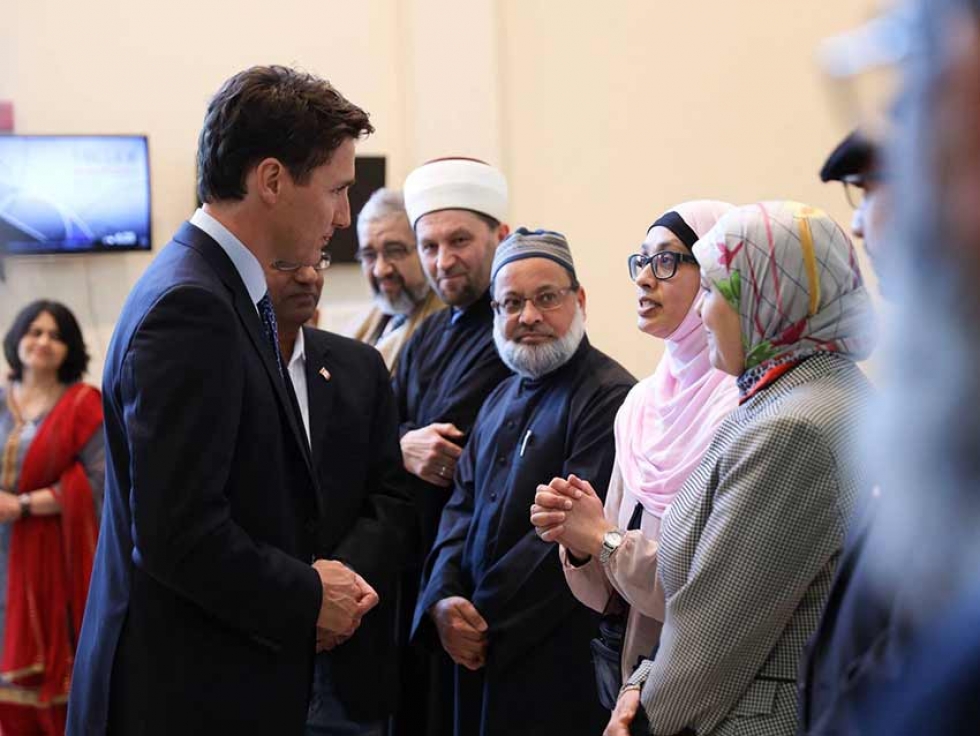 Prime Minister Justin Trudeau visits the South Nepean Muslim Community (SNMC) mosque in Ottawa, Ontario on March 17, 2019.
Prime Minister Justin Trudeau Facebook
18
Mar


2019
Prime Minister Justin Trudeau Meets with Mosque Leaders and Muslim Youth After New Zealand Terrorist Attack
Written by Making Headlines
On Sunday, March 17th, Prime Minister Justin Trudeau visited the South Nepean Muslim Community (SNMC) mosque in Ottawa, Ontario to express his condolences to the Muslim community in the wake of the terrorist attack against Muslims during Friday prayers in Christchurch, New Zealand.
Trudeau was joined by Ottawa Liberal MPs Anita Vandenbeld and Chandra Arya during his visit.
Imams and board members of other Sunni mosques in Ottawa were also present during the visit.
You can watch Prime Minister Justin Trudeau's speech at SNMC below (It may take a few moments for the video to load from YouTube).
For Somali-Canadian Warsame Yusuf, who is currently studying for his Master's of Science in Epidemiology at the University of Ottawa, it was important for Prime Minister Justin Trudeau to reach out to local Muslim communities even though the terrorist attack was against a mosque in New Zealand. When he learned that the Prime Minister would be coming to SNMC from a friend's Instagram post, he made every effort to attend.
"I think it was important for Prime Minister Trudeau to come out and speak directly with Muslims to show support and solidarity for the community," Warsame shared, "It was only one year ago when the mosque in Quebec City was attacked, and the shooter in New Zealand made reference to that attack, so Canada is not immune to such senseless killings in places of worship. I would like to add that I was amazed by the turnout for the event. The mosque was completely filled with congregants eager to hear what the Prime Minister had to say. It is great to see fellow Muslim Canadians being engaged, as this allows our needs and concerns to be addressed by decision-makers in this country. I was hoping for a question & answers session following his speech, but unfortunately that did not happen."
Although Prime Minister Justin Trudeau did not answer questions from attendees at the mosque, he did attend a more intimate discussion with a small group of Muslim youth, facilitated by Shahad Khalladi, who has been organizing annual vigils to remember the victims of the Quebec Mosque shooting since that tragedy took place and she also organized the March 15th vigil at the Human Rights Monument in Ottawa in honour of the victims of the New Zealand Terrorist Attack. She helped to organize Prime Minister Trudeau's visit to SNMC and insisted that there be a more focused meeting where he could hear the concerns of Muslim youth, both high school and university students, from a mix of ethno-culturally diverse backgrounds. Mississauga MP Omar Alghabra also attended this meeting.
Some of the issues raised by Muslim youth in their discussion with Prime Minister Justin Trudeau are reflected in his speech delivered in the House of Commons on March 18, 2019.
You can watch the Prime Minister's March 18 speech below (It may take a few moments for the video to load from YouTube) and read it online here.
The following is an excerpt from this speech:
"Mr. Speaker, the tragedies in Ste. Foy and in Christchurch are ones we've seen too many times before. Innocent people are killed. Headlines blare out as nations grapple with chaos and violence. Mass shootings. Faith-based slaughter. Terrorist attacks.
It is shameful, and sadly, the leaders of the world bear some responsibility. Responsibility we can no longer ignore by simply pointing fingers. Because, in this day and age, those that seethe the loudest are given a larger platform than ever before.
Toxic rhetoric has broken into the mainstream. It's anti-Semitic. Islamophobic. Anti-black. Anti-Indigenous. Misogynistic. Homophobic. The list goes on and on.
This rhetoric is dangerous, hateful, and vile. It lives and festers online, spilling out into the real world with deadly consequences.
We see it here in Canada, in online harassment, anonymous letters, defaced places of worship, acts of violence, and even murder.
When we fail to denounce hatred with total conviction, we empower those people and legitimize their violence."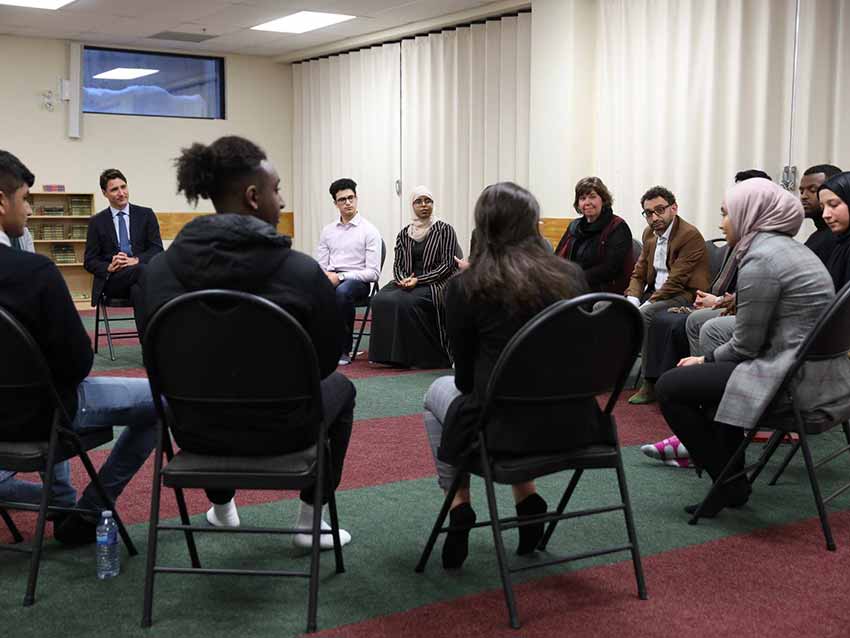 This article was produced exclusively for Muslim Link and should not be copied without prior permission from the site. For permission, please write to info@muslimlink.ca.