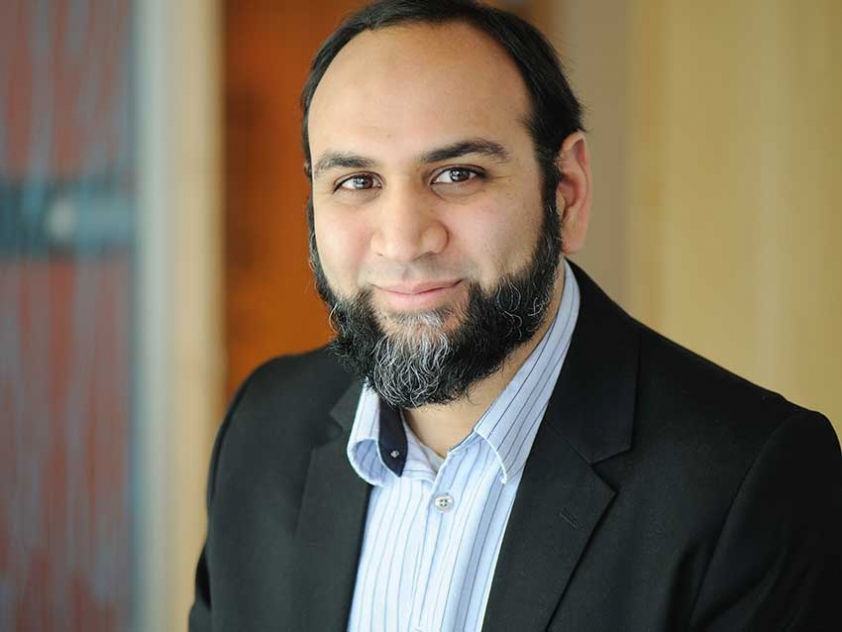 Faraz Abbasi is a teacher at the Masjid Bilal Quran Program, father to two children, and former editor and writer for Muslim Link.
Courtesy of Faraz Abbasi
30
June


2015
Bringing Islamic Schooling back to Orleans
Written by Faraz Abbasi
It is a scene that is likely familiar to many young Muslim families living in Orleans. Usually the conversation starts something like this:
"MashaAllah, your kids have gotten so big! Are they in school yet?"
"The older one is starting next year. Going to try for Abraar School or Ottawa Islamic School."
"Oh, that's a great idea MashaAllah, both schools are great. It's just too bad they're so far from here."
"Yeah, we'll probably be moving to Kanata, or maybe Barrhaven. It's too far going all the way from here every day. We should really have a school in Orleans someday."
"Agreed, some day InshaAllah."
It is an often forgotten fact that Abraar School was once located in the East end, on Navan Road just south of Orleans. This was in 2002, at a time when most youth of Orleans, primarily children of immigrants who arrived in the 70s and 80s, were already heading towards high school and university. The location was not ideal for the majority of the school-going population, and it was only a year or two later that the school moved to its current location on Grenon Avenue.
Fast forward to 2011, and things have changed significantly. In July of that year, the newly built Masjid Bilal opened its doors, and shortly afterwards, a Sunday school was established.  Today, the Sunday school hosts over 150 students every week and there are a number of additional students left on a waiting list. A large percentage of the students live in the new subdivision of Avalon, south of the mosque which is home to a significant population of Muslim families. As a teacher in the Sunday school and a parent to young children in Avalon myself, I've seen first-hand just how large and diverse the community has become. My neighbours on each side are Muslim, coming from Afghanistan, Algeria, Djibouti, and Pakistan, all families with young kids. At my daughter's bus stop and at the nearby park, the large majority of children come from Muslim families. The community is young again.
And thus, the need for a Muslim school in Orleans has resurfaced. In the last year, I personally know of three families who moved from Orleans simply to be closer to Abraar School or Ottawa Islamic School (OIS). I know several other parents in Orleans who have their students already enrolled at Abraar or OIS, and make the lengthy drive to drop off and pick up their on a daily basis. Anecdotal evidence proved that there was demand, but it wasn't easy to quantify.
It was Dr. Mohammed Saleem, principal of Abraar School, who suggested putting out a survey to help quantify the demand. Through the survey, we would be able to have quantifiable data to prove the demand, and it would also help identify those individuals who were willing to put themselves forward to make it happen. There must have been several separate dinner conversations over the years of parents discussing the importance of having a school; through this survey, however, this can now become one unified conversation. Once sufficient data is collected, the plan is to gather the community and discuss the next steps collaboratively. We plan on consulting with the other Islamic schools in Ottawa, and assess which model fits our community needs best. Several brothers and sisters have already come forward to play active roles in the academic aspects of the school, and we hope InshaAllah that more come forward. 
The initial results have shown that parents expect the school to have a full-time gymnasium, and thus work has already begun to assess potential locations. A few have been identified, including a large school which sits 15 km from both Orleans and the Findlay Creek/South Keys area, in the South Eastern corner of the city. If similar demand exists in these communities, this location has the potential of becoming the largest Islamic school in Ottawa. Anyone interested in bringing this project to these South Ottawa communities are invited to reach out.
Establishing a school is obviously a major undertaking, and the project is in its infancy. However, the momentum is building and the community appears ready to take this next important step. Initial feedback has been overwhelmingly positive, and every week, new faces come forward to help. Ultimately, the success or failure of any project is solely at the discretion of Allah Subhana wa Ta'Ala, so we ask everyone to make sincere du'as (supplications) for the success of this initiative.
Click here to take the Orleans Islamic School Survey.
Faraz Abbasi is a teacher at the Masjid Bilal Quran Program, father to two children, and former editor and writer for Muslim Link.  He can be reached at This email address is being protected from spambots. You need JavaScript enabled to view it..
This article was produced exclusively for Muslim Link and should not be copied without prior permission from the site. For permission, please write to info@muslimlink.ca.