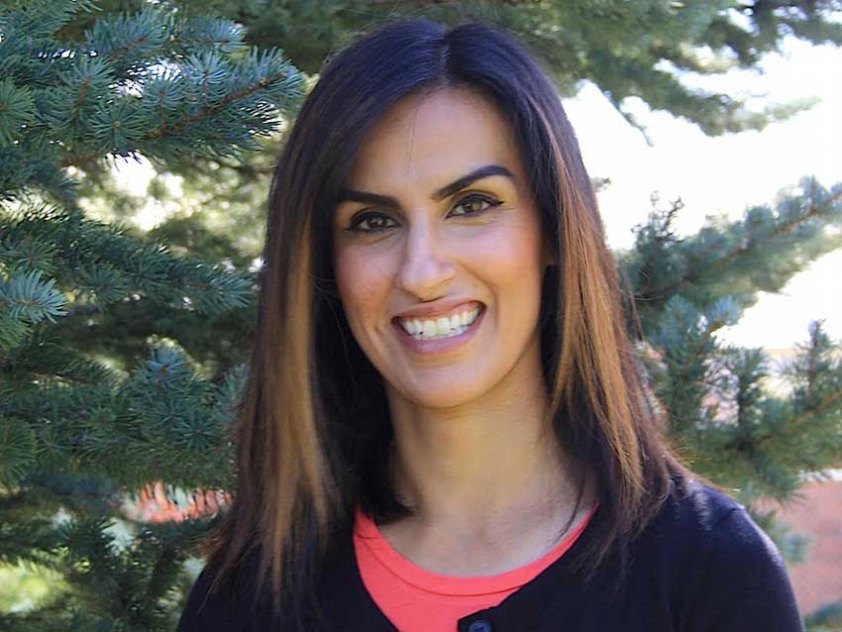 Calgary-based sexual health educator Sameera Qureshi visited Edmonton to promote more open discussion of sexual health within Muslim Canadian communities.
Courtesy of Sameera Qureshi
20
Nov


2015
Breaking the Taboo: Why a Calgary Therapist is Teaching Muslims to Talk about Sexual Health
Written by Sanam Islam
Sexual abuse, pornography, birth control — for many Muslim parents, the thought of discussing sensitive subjects such as these with their children makes them very uncomfortable.
But it shouldn't, according to Sameera Qureshi, a Calgary-based occupational therapist. She recently held a workshop called "The Talk: How to Educate Your Children about Islamic Sexual Health" for the first time in Edmonton. The session was held in collaboration with Tarjuma, a local group that creates gatherings to facilitate the growth of community, Islamic literacy and emotional wellness.
"Religion says we can talk about sexual health issues, but culture says it's taboo, so there's this confusion between faith and culture," she explained to about a dozen parents at the workshop session.
At the workshop, Qureshi shared the results of a study conducted by Heart Women and Girls, a North American nonprofit she works with that aims to improve health literacy in faith-based communities, which showed that 63 percent of Muslim women surveyed in the US and Canada did not receive "the talk" from their parents. 
In addition to being held back by cultural taboos, Qureshi said some Muslim parents may not be educated about sexual health themselves, or they might be scared. "There's a protective factor in there. They're worried that if they talk about it with their kids, it's going to lead to sexual activity."
But her eight years of working with Muslim communities in a sexual health context, as well as third-party research, have led Qureshi to believe that there is no truth to this theory. "When kids are educated about [sexual health] from a values-based perspective, sexual activity is delayed and they're more likely to follow through on their values," she explained.  
The problem is, when youth feel that they can't talk openly with their parents about sexual health issues, they turn to the media or their friends — typically untrustworthy sources — for information. "This often leads them to make unhealthy decisions, and this is troublesome," she shared.
A 2014 PhD study by University of Windsor graduate Sobia Ali-Faisal found that approximately one-third of American and Canadian Muslims had had sex before getting married. Qureshi explained that the decision to engage in intercourse, combined with a lack of reliable sexual health information, can result in negative consequences such as teen pregnancies, sexually-transmitted diseases, and mental health issues such as anxiety and depression.
She has seen these outcomes first hand in her work, and for her, that is part of what motivates her to do the work she does. In addition to speaking to Muslim parents and youth about sexual health in schools, community spaces and mosques, Qureshi has developed sexual health curriculums for Islamic schools in Calgary. She has also collaborated with Calgary agencies around sexual health, and works with Heart Women and Girls to facilitate sexual health programs in Muslim communities across the U.S. and Canada.
Qureshi's hope is that her work will lead to more Muslim women and men, including religious leaders, taking on the role of educators. "I want other people to be able to access information and feel comfortable doing this sort of work, starting with their own families and then bringing it into the community space."
When it comes to action parents can start taking in their own homes, Qureshi's advice is to impart sexual health education from a preventative standpoint rather than only talking about issues when they come up.
That means starting early and continuing to talk to kids from a developmental and Islamic values-based perspective throughout their lives. As a guideline, she recommends the following: talking about anatomy at the age of two; educating kids about sexual abuse before pre-school or school age (as most cases occur at this time); discussing healthy relationships with friends and adults, as well as changes in the body, from ages 9 to 12; and talking about STIs, birth control, and abstinence from ages 13 to 18.
While discussing these topics, parents should avoid lecturing or being too focused on the word 'haraam'. "It's important to have discussions and ask kids what they think about issues," she explained. Qureshi also suggested researching topics together as another way to empower youth and help them think critically about sexual health issues.
But having these talks doesn't mean that children should skip sex education at school, according to Qureshi. Sexual health curricula across all provinces — including the controversial new curriculum introduced in Ontario recently — are developmentally appropriate and should be pre-taught from an Islamic perspective at home.
Umaimah Usmani, a 37-year-old mother of three who attended the workshop, said it was a valuable experience. "I really liked that this knowledgeable person was there and providing us with this information," Usmani said. "Our kids are getting raised in a very different environment to when we were growing up, and there is such a need for these conversations to happen. We are not our parents' generation, and our generation should be okay talking about it."
Ultimately, Qureshi said her work is about building healthy Muslim families and communities for the future. And of course, it's also rewarding on a personal level. "It's really cool to see girls and boys' eyes light up when they have more information and feel empowered," she shared. 
To learn more about Heart Women and Girls visit their website. Follow Sameera Qureshi on Twitter here. You may also visit her blog here.
This article was produced exclusively for Muslim Link and should not be copied without prior permission from the site. For permission, please write to info@muslimlink.ca.