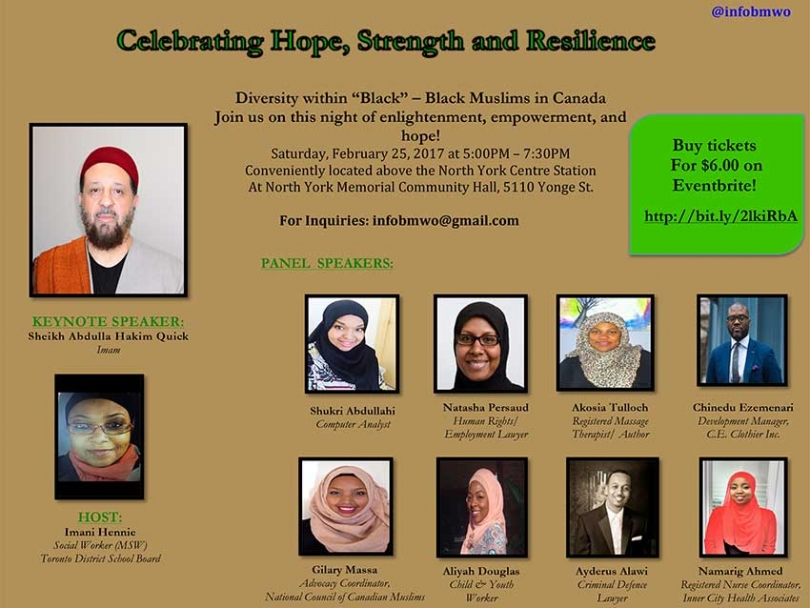 This Black History Month, Check Out Celebrating Strength, Hope & Resilience: Black Muslims in Canada on February 25 in Toronto
23
Feb


2017
Check Out Celebrating Strength, Hope & Resilience: Black Muslims in Canada on February 25 in Toronto
Written by Imani Hennie
Muslim Link interviewed Imani Hennie, a Jamaican Canadian social worker, who spearheaded this event, about how her experience attending the Black Muslim Psychology Conference in the US inspired her to bring a similar event to Toronto.
******
As a social worker for the past 25 years, my life's work has always been to focus on the psychological impact of harm and trauma on the psyche of individuals. Why should I not use my knowledge, skills, and expertise to also help the healing process in my own community?
As a Black Muslim I was inspired to be very proud of my dual identity after attending the Black Muslim Psychology Conference in Philadelphia last July, "Deeply Rooted, Reflections on Black Muslim Activism, Resilience & Healing, organized by the Muslim Wellness Foundation. These proud Black Muslim professionals and woke Arab professionals who were all about looking at the emotional impact of our dual histories and identities and of historical and current oppression. We were the only Canadian contingent that attended. It was exciting for me, my 20 year old daughter, along with two other Black Muslim Social workers, to meet people like ourselves, whose purpose is tofocus on participating in the emotional healing of trauma.
I met a group of professional Black Muslims who were very confident about being present in the social spaces they occupied, who were mental health professionals, clinical psychologists, professors, social workers, psychiatrists, imams, and social workers; most where doing research and providing evidence-based solutions and strategies for healing within the Black Muslim community. 
The discussion most personally relevant to me at the conference was about how racism and micro-aggressions hurt and demonize racialized people. We learned about the fragility and guilt of those in positions of privilege andpower. When these people's oppressive behavior is called out, their emotional response is sometimes one of wounded denial and intense backlash to the victim. Often there is cruel targeting or attempts to shame the victim using words like "they are being dramatic, exaggerating, prolonging the issue, angry, not getting over it after 400 Years, etc". There is the expectation thatBlack people should be quick to forgive, be silent, and sweep the harm they experience under the carpet.
Now that we are in the Post-Trump and Post-Quebec Shooting era, I am concerned about how these events are impacting my community.  My teenagers grew up in the Post-911 era and I remember the emotional impact it had on them as a Black Muslims. I felt that I needed to participate in starting a conversation about trauma and healing for my community.
As a diverse people, Black Muslims in Ontario need to focus on empowering and healing ourselves. We need to instill hope and confidencein our youth and in our young emerging leaders and professionals. We cannot look to others to heal us and become experts about us. As a matter of fact all races in the Muslim community should be doing this in their own respective communities, to help counter the emotional harm that intense Islamophobiacan haveon their young people and to help ensure their emotional wellbeing.
So I began to organize this event. Once I risked asking people to participate they were also willing to take this journey with me. We are a team of three who are putting this conference together, with many who will volunteer on the day of the event.
Why should people fear Black Muslims getting together to do something positive, to empower our youth, to help us celebrate our resiliency? So it is my hope that people will not be afraid to attend this event regardless of religion or ethnic background.
We want all people to come out and celebrate the strength, resiliency,and hope that witnessing eight amazing and successful Black Muslims from different ethno-cultural backgrounds can bring. They will speak about how they overcame challenges. Their stories should be viewed as examples to model and learn for all communities.
Maybe those who attendcan also participate in the healingprocessby doing some of the work themselves if they come with objective and open hearts. They maycome to realize that they might have unknowingly participated in microaggressions against Black communities unintentionally.
It is my hope that they will be inspired listening to the world renowned Sheikh Abdullah Hakim Quick speaks about the history of Black peoples and their strength and resiliency in overcoming many adversities. Further, it is my hope that people will come to listen to respected Black Muslim professionals speak about their careers.
Let us not forget that in the Quran it states …"O mankind! We created you from a single (pair) of a male and female, and made you into nations and tribes, that ye may know each other not that ye may despise (each other)…" (Sura 49, Verse:13)  
Learn more details about this event here.
This article was produced exclusively for Muslim Link and should not be copied without prior permission from the site. For permission, please write to info@muslimlink.ca.