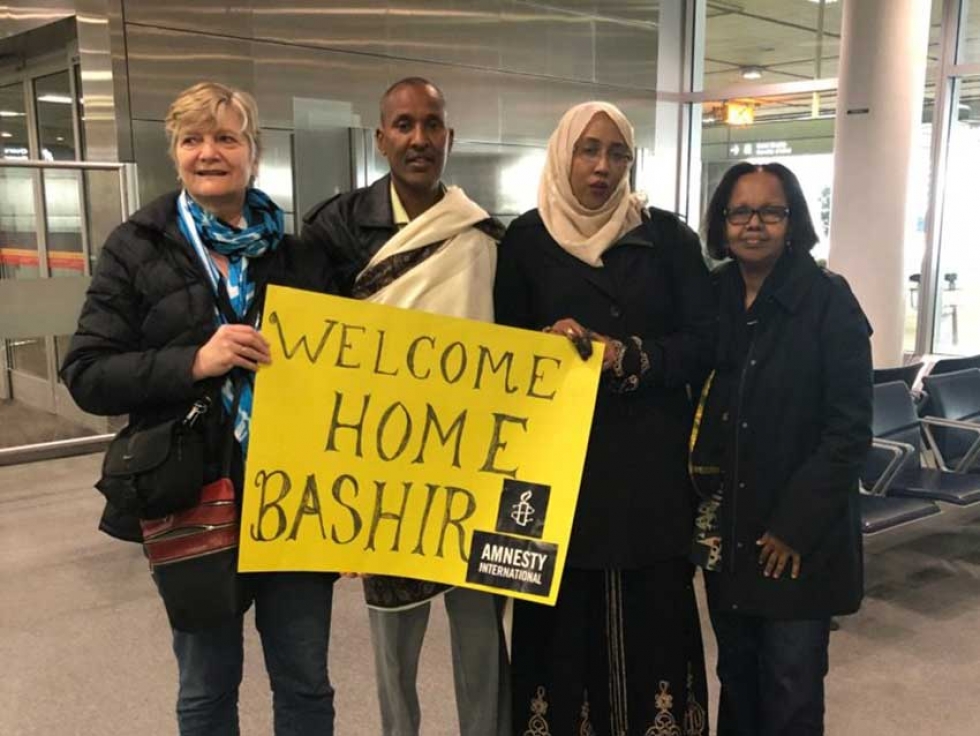 Bashir Makhtal arriving at the Toronto Airport after his release from prison in Ethiopia, where he had been unjustly imprisoned for more than 11 years.
Farah Aw-Osman (Twitter)
21
Apr


2018
Amnesty International Welcomes Canadian Citizen Bashir Makhtal's Release from Ethiopian Prison and Return to Canada
Written by Amnesty International Canada
Amnesty International welcomes the return home today of Canadian Citizen Bashir Makhtal following his release from prison in Ethiopia on April 18, where he had been unjustly imprisoned for more than 11 years.
"Bashir's long-overdue release is a triumph of human rights following an 11-year saga of grave injustice," said Alex Neve, Secretary General of Amnesty International Canada. "On behalf of the thousands of Amnesty International supporters who have campaigned for justice on his behalf, we wish Bashir a warm welcome home to Canada. Our thoughts are with him and his family as they reunite after such a long and indescribably difficult ordeal."
"This day has been so long in coming, we hardly are able to believe it is true," said Said Maktal, who resolutely led the campaign for his cousin's release and return home from the moment of his arrest. "We send our thanks to everyone who signed a petition, wrote a letter or came to a public event about Bashir's case, including the tireless support from Amnesty International, members of the Somali and Ogaden communities and our lawyer in Canada, Lorne Waldman. And we are very grateful for the assistance and support we have received from Canadian officials, particularly over the past two years from Parliamentary Secretary Omar Alghabra."
Makhtal returned to Canada on Saturday aboard a flight from Addis Ababa to Toronto's Pearson Airport, where he was greeted by family, friends and close supporters. He had been held in prison in Ethiopia, including in incommunicado detention, for more than eleven years after his arbitrary arrest in Kenya in 2006, followed by summary and unlawful deportation to Ethiopia in January 2007, leading eventually to a blatantly unfair trial and life prison sentence. Amnesty International campaigned for his release and expressed grave concerns of possible torture, unfair trial proceedings, incommunicado detention, coerced confessions and other forms of ill-treatment.
"After such a prolonged ordeal marked by grave injustices and concern of torture and medical problems, to see Bashir back on Canadian soil and reunited with his loved ones was a beautiful sight," said Amnesty International campaigner Gloria Nafziger, who was among the group of supporters to welcome him at the airport. "Bashir and his family have been through far too much to put into words. It is so good to know that the process of healing can now finally begin."
Bashir Makhtal and his family are asking media to please respect their privacy at this time, as they reunite after many long years apart. Makhtal will hold a media availability at a later date.
BACKGROUND:
Bashir Makhtal is a member of the Ogaden ethnic group, who have experienced decades of grave human rights violations in Ethiopia, which continues today. His grandfather had been a prominent Ogaden leader and many members of the family have endured imprisonment and other persecution in recent years.
Throughout his eleven years of imprisonment, Amnesty International repeatedly expressed grave concerns about harsh and inhumane prison conditions as well as the risk of torture or other ill-treatment in Ethiopian prison. We highlighted that the trial and appeal in his case did not meet international fair trial standards. When it became clear that a fair trial would not be held, called for him to be released and allowed to return to Canada.
Bashir Makhtal has reported numerous episodes of torture or ill-treatment during the months that he was held in incommunicado detention.
Mr. Makhtal reported to a relative that he faced a number of painful, even debilitating medical problems, including a blood clot in his left leg, loss of the use of his right shoulder for more than two and a half years and severe pain and restricted movement in his left hip, right shoulder, back and neck. He was denied access to timely medical treatment for many of these injuries.
MEDIA CONTACT:
Beth Berton-Hunter; Media Officer, Amnesty International; 416-363-9933 ext 332; This email address is being protected from spambots. You need JavaScript enabled to view it.
Jacob Kuehn; Media Officer, Amnesty International; +1 613 744 7667, extension 236; This email address is being protected from spambots. You need JavaScript enabled to view it.