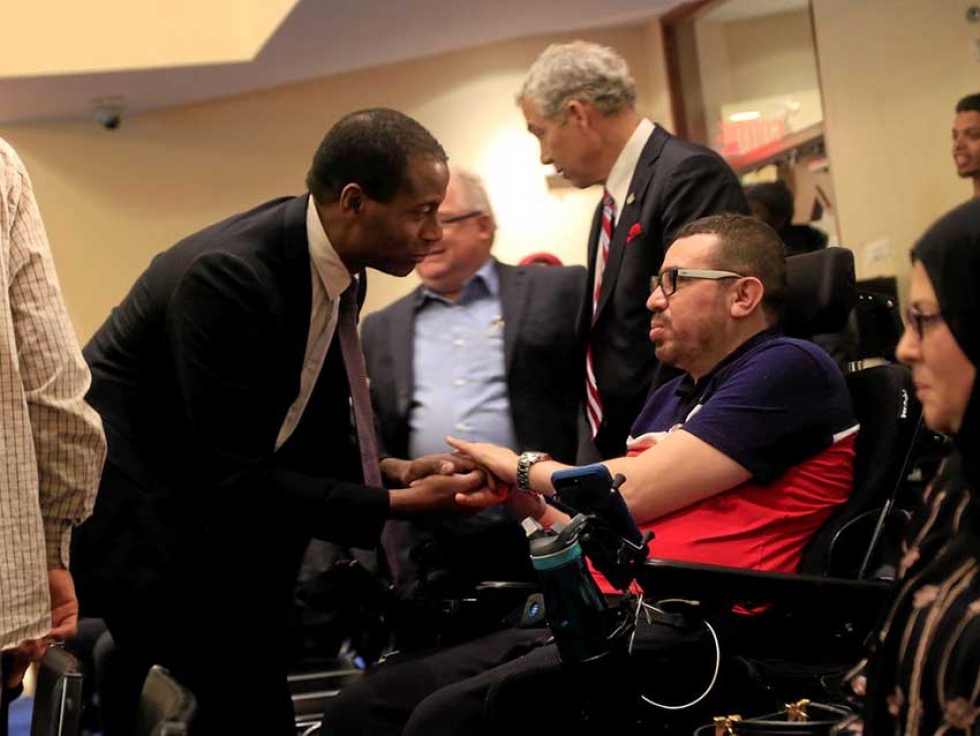 Member of Parliament for Hull-Aylmer Greg Fergus speaking with Aymen Derbali at the Centre Islamique de l'Outaouais (CIO)
Etienne Ranger, Le Droit
10
February


2019
Aymen Derbali: Hero of the Quebec Mosque Shooting Visits Gatineau Mosque
Written by Making Headlines
Quebec mosque shooting survivor Aymen Derbali attended the commemoration of the January 29th Quebec Mosque Shooting at the Centre Islamique de l'Outaouais (CIO) in Gatineau, Quebec on January 29, 2019.
Members of federal, provincial, and municipal government were in attendance.
In his speech, Aymen encouraged those gathered to reach out to one another and offer support. He encouraged Muslims to get more involved in local community organizations. He stated that "If we offer a good action in return for a bad one, our enemy could one day become our friend. As Muslims, we need to open up and reach out to others. It is true that we have organized a lot of events inviting people into our mosques, but it's not enough. We need action on the ground."
Aymen received a cheque for $10,000 from the Ottawa-based Canadian Islamic charity Human Concern International at the gathering.
He has been able to move from a rehabilitation centre to a new home with his family that is specially designed to be wheelchair accessible, thanks to the generosity of Canadians who raised over $400,000 through another Canadian Islamic charity, DawaNet, to purchase the home.
DawaNet has now released the documentary, "Your Last Walk in the Mosque", filmed only four months after the shooting. The documentary takes its title from an interview with Aymen Derbali, who at the time was recovering in hospital from his live-changing injuries. The documentary begins with Derbali in a hospital bed stating "I walked in the mosque. I no longer walk, My last walk was in the mosque."
Earlier in February, Aymen was honoured by the province of Quebec with a medal for his courage in fighting Alexandre Bissonnette, who shot him seven times, leaving him paralyzed.
Quebec mosque shooting victim Azzedine Soufiane also received an award for fighting Bissonnette. His family received the award in his honour.
This article was produced exclusively for Muslim Link and should not be copied without prior permission from the site. For permission, please write to info@muslimlink.ca.