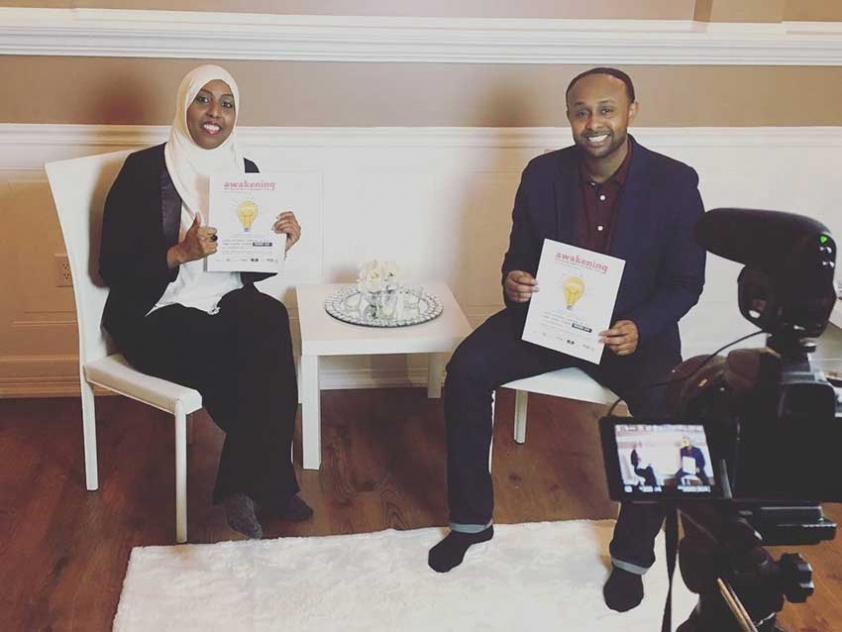 Sharmaarke Abdullahi and Ifraah Hassan shooting the 5th Annual Awakening Conference promo video.
Courtesy of The Awakening Conference
28
January


2016
The Awakening Conference: Creating the Space for Somali Youth to Tell Their Own Stories
Written by Chelby Daigle
The initiative began in 2011 when five community activists came together while organizing fundraising efforts in response to the Somali famine. The team of volunteers has grown over the years to include university students, recent graduates, and young professionals in their early 20s and 30s, including Sharmaarke Abdullahi and Ifrah Hassan who are two of the seven organizers.
Sharmaarke, a Carleton University graduate with a Master's in Public Policy, works for the City of Ottawa, and Ifraah Hassan, also a Carleton University graduate in economics, works for the Federal Government. Both see Awakening as a way of taking back the narrative about Somali Canadians as it is often framed in the mainstream. "The only way to do that is to tell our own stories. We don't often hear about the successes in our community," Sharmaarke shared, "You often hear about the negative stereotypes of Somalis in the media, but we want to be seen as an asset to Canada. We also create an opportunity for people to hear from Somali professionals on how to address some of the challenges our community faces in a constructive way. Last year, we discussed some of the challenges Somali youth face in the education system. The year before that we discussed the issue of mental health, which is considered a taboo in our community.  We wanted to start the dialogue and create a platform for that discussion. Since raising the mental health issue, we've received an overwhelming response from our participants and members of the Somali Diaspora around the world, thanking us. "
Awakening often takes a unique approach to these discussions by who they invite to speak at the event. Their speakers are experts not only in terms of education and work, but also in terms of lived experience. For their conference on mental health, one of their speakers was Ayan Yusuf, a mental health advocate who herself lives with schizophrenia and depression.
For an earlier conference exploring gang violence, they invited a speaker who had been involved in gangs and had even been to prison. "I remember when he was speaking the room was in complete silence and everyone was teary eyed," Sharmaarke shared, "He is a young man who has experienced many challenges growing up, living in poverty, joining a gang at a young age, going to jail, and getting shot and stabbed by people he once called his friends. But all of these things haven't broken him. He found a way to pick up the pieces and learn from his experiences. He's back in school, working part-time, and sharing his experiences with other youth so they don't go down the same path he did."
Choosing who to have as a speaker is a core part of the team's work. "We have been meeting since July," Ifrah explained, "six months planning, brainstorming ideas on who can we invite, who is the best to speak to this issue. Every year, we have never had the same speakers."
"We want people to connect with people," Sharmaarke explained, "It's important for our speakers to connect with the audience and I think we do a really good job identifying the most appropriate people to speak."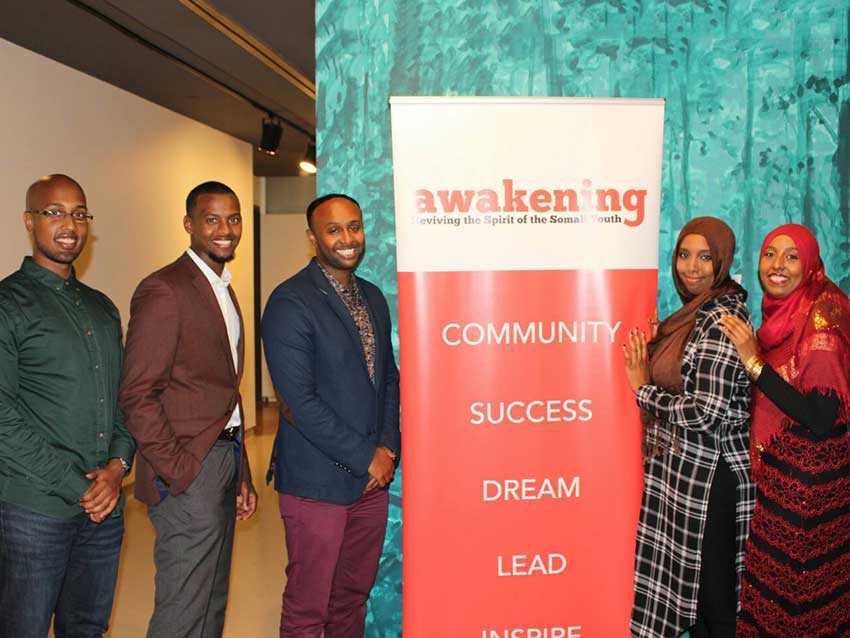 Sharmaarke feels that the diversity of their choices of speakers testifies to the dynamism of the Awakening team, "We have people who know the community well but in diverse ways, some are mosque-based, some are involved in women's rights issues, and some are involved in the community and social services sector in Ottawa."
The team also feels that the conference is a great way for non-Somalis to get a more accurate picture of the Somali community. "Our conference is a space for non-Somalis to get to know us and meet our professionals. We invite service providers. Everyone is welcome. The Somali community is a leader in a lot of ways in Ottawa. There are a huge amount of people doing community work and we often support each other in what we do. And our community is very engaged in the Muslim community in Ottawa, in MSAs and on campus, the Somali community's contribution is huge."
That is partly because the Somali community is so young; half of the Somali population in Ottawa is under 30. "When a Somali youth becomes successful, she or he gives back to not only the Somali community but also the Muslim community and the wider Canadian community," Ifrah explained. The team strongly encourages Muslims and non-Muslims interested in gaining a better understanding of the community and building better networks with local Somalis to come to the conference.
For the Awakening team, the conference, which always happens at the beginning of the year, is not just a one-off event but a catalyst for change throughout the year within the community. "Going back to the mental health session in 2013," Ifrah shared, "shortly after our event, it was amazing to see so many people here in Ottawa but also in Toronto talking about mental health in the Somali community. It became a more normalized discussion. If someone like Ayan Yusuf could share her personal story in front of hundreds of people, then that can change people's perspective—that's our bigger vision. Then people can carry on from there."
Sharmaarke feels that part of the impact is because of the composition of the audience who attend the events: youth and parents. "Our conference facilities an intergenerational dialogue which doesn't happen too often," he stated, "So, it wasn't just the young people talking about mental health, it was parents, it was grandparents."
This year, the team has started a crowdfunding campaign to raise enough funds to sustain conference-related activities for the next two years.  "We thought that if we want to continue this and develop a five year plan, we want to have a fund available so that if we need to do things we are not running around last minute trying to get sponsorships or paying out of our own pockets," Ifrah explained.
The team also feels that as they often record their sessions, they are creating community resources which can be referred to again and again. This has gained them an international following whose support they hope to engage. "The internet is a powerful tool," Sharmaarke stated, "and we have a huge following online, so we just wanted to create a platform for those who want to support us, no matter where they are in the world."
The theme of this year's Awakening Conference is "Inspire" with the sub-themes, "Disability Is Not Inability" & "Global Engagement". Speakers will be sharing their personal stories.
The Awakening Conference takes place Saturday, January 30th at 5pm to 9 pm at Ben Franklin Place, 101 Centrepointe. Tickets are $10. 
To contribute to the Awakening Conference Fund click here
To view the Awakeing Promotional Video click
This article was produced exclusively for Muslim Link and should not be copied without prior permission from the site. For permission, please write to info@muslimlink.ca.