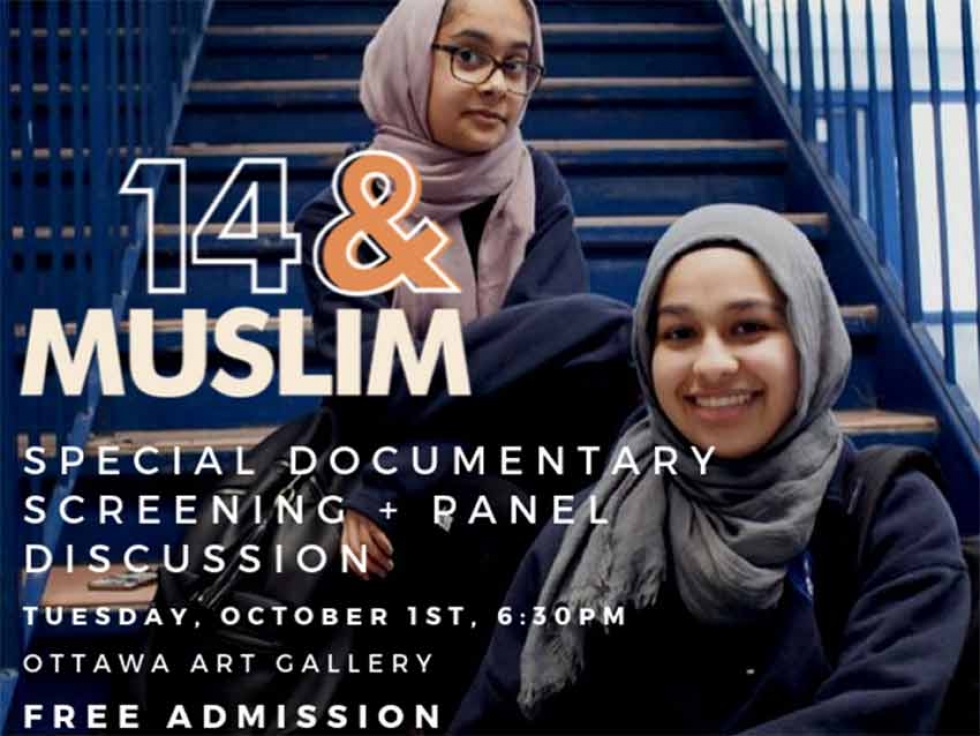 Malaieka with her mother from the CBC documentary "14 & Muslim" directed by Wendy Rowland
30
November


2018
Interview with "14 & Muslim" Director Wendy Rowland
Written by Chelby Daigle
14 & Muslim follows Sahar, Malaieka and Ahmad as they transition from Islamic elementary school into high school, capturing what it means to be young, Muslim and growing up in Ontario.
The CBC documentary follows students as they transition from attending the Islamic Foundation School (IFS) in Scarborough, Ontario to pursue their high school studies at local public and Catholic schools.
"14 & Muslim" has been screening across Ontario in schools and libraries since October 2018.
The documentary is screening in Ottawa on October 1st, click here for more details.
Muslim Link interviewed Wendy Rowland, the director of the documentary, about its conception and production.
Muslim Link: Tell us about yourself and why you went into documentary film-making.
Wendy Rowland: That was a long time ago! I started film-making when I was in university, in my undergrad, and I was always drawn to documentary. I think I like research, I like stories, I like things that are important and are human issues, and so that's kind of what drew me to it, and I've been doing it now for, I don't know, 30 years.
Muslim Link: Do you feel there's a theme or approach to how you tell a story or what stories interest you or intrigue you to tell?
Wendy Rowland: No, it's always changing. Often just something catches my interest or my imagination or maybe I've been reading about something and I see it more and more in sort of the zeitgeist, something that's happening in the world, and I guess what I try and tune in on is the personal story. So it might be a wider issue, and I like to find the human part of it or the real personal moment.
Muslim Link: So what drew you to follow the stories of Muslim teens who go to private Islamic schools?
Wendy Rowland: I have a young daughter who just started Grade 9 this year actually, and I had been reading about the Islamophobia that has been growing in Canada and the US, and around the world, really since 911 and in particular since Trump was elected. I was just sort of listening to that , and following it in the news with horror, especially as more and more of it started happening in Canada, and I have a daughter, and she's sort of an anxious kid, and I thought, you know the world is hard enough for my daughter Frances, who isn't Muslim, but who is negotiating social media and everything that's happening out there, and what if you were a Muslim kid, what would that be like?
The producer of the film, Cornelia Principe, she was the one who came to me with the original idea. She has a nephew who is Muslim and he was starting high school, and she was also thinking about these issues, and what it must be like for him and we started talking about it, and we were saying we were going to look at older young adults, and then just somehow through our research and talking to people, we kind of narrowed in on 13-14 year olds, as it's a real "coming of age" time, and we thought it would be interesting just to sort of see what their lives are like right now.
Muslim Link: How did you go about getting access to kids that age for a documentary? I would think that that's not really easy no matter what religious community the children come from.
Wendy Rowland: People have to trust you as a filmmaker, and I do think reality television has really kind of destroyed documentaries in a lot of ways, and lessened a lot of people's trust. We really started talking to Muslim Canadian experts and journalists, Muslim university professors, and as I said, we did a lot of background interviews and then one thing leads to another. It just so happened, two people that we met with, one in academics, and one a journalist, actually had kids that went to Islamic Foundation School, which we didn't even realize when we first met with them, and so they met us, and after a long conversation liked us, and liked what we were doing, and they helped connect us to different Islamic schools, and we had sort of a short list of probably had 5 to 6 different schools that we were meeting with, and then it narrowed down for various reasons, and Islamic Foundation School was the one that we settled on, and also we did some filming at ISNA in Mississauga but that didn't end up in the final documentary . Islamic Foundation School (IFS) almost sort of became a character in the story itself.
Muslim Link: Yes, because of the unexpected closure of the IFS high school on pretty short notice. So the documentary became the story of three middle class South Asian Muslim Canadian students from IFS who unexpectedly have to leave their relatively sheltered educational and social environment to venture into public or Catholic high schools.
Wendy Rowland: Yes. It's a very particular Muslim teen experience in many ways.
Muslim Link: There is a website that accompanies 14 & Muslim and it includes an educational guide. There are also public screenings of the documentary that have been hosted and continue to be hosted across Ontario. Was it always your intention to make this documentary a conversation piece and educational tool?
Wendy Rowland: It was always the idea in the beginning that this would not only just a documentary, but a tool for people to use. That's why we also produced an educational guide to accompany the documentary that you can find on the website. I always find when I make a film, the hard thing is you put all this work into it, and everybody else puts so much work into it, including the people that have given you so much of their time, and then the film screens a couple of times, and it disappears from the world. We just really felt this could be a really important educational tool, and be brought into schools just to help increase people's understanding, and open their minds and awareness. So it was always a hope from the beginning, and you never really know where things will take you, but we were really pleased that in the end we were really able to do the educational piece, and take it into schools in Ontario. It's our hope that it gets out there, and it gets people having conversations.
Muslim Link: How long did it take to make the documentary?
Wendy Rowland: January 2017 is when we really started thinking about it and doing our preliminary interviews. Then in March, we started meeting people, going into different schools, and again because of the nature of the topic and the age of the documentary's subjects, we first of all had to start with the principal of a school, and then often the board of directors of the school, and then we would meet with all the teachers, you know, because we just wanted everybody to be on board and know what we were doing. Because as soon as you see a camera, you sort of think 'What the heck is going on?', so we really wanted to make sure everybody was comfortable with it, and then we met the kids, and then of course we had to meet the parents and make sure they were comfortable. So it was a long process, just that whole part of it. But the CBC really liked our proposal, we sort of did a little short trailer based on the first meeting with the kids, and so it moved pretty quickly compared to how often things tend to move in getting projects supported and funded, and so, we sort of found out in early May that CBC was really interested, and we just started filming as quickly as we could.
Muslim Link: Were there any unexpected highlights of the journey for you?
Wendy Rowland: I think there were lots of unexpected highlights. One is just how well I got to know these kids and their families, and I was really just welcomed into their families and I almost feel a part of them, you know, and that was really a lovely experience. That doesn't always happen, you hope it does, and all of a sudden, you become really close with people that you're filming. Because these were young teens, I was talking to their parents on an ongoing basis. And then within the film, I just think, I mean for me, I just didn't really expect that I'd see the kids really grow up in such a short period of time of following them, but you do realize, there's a few moments in the film, one is when Malaieka is getting ready for her grad, and she's sort of looking in the mirror and her cousin's putting makeup on her, and I feel like, oh my gosh, we've just seen her grow up. We've just seen her going from a kid to a young adult, in the first 15 minutes of the film, which is really the first 3 months of filming. For me that was really lovely, and you just realize what an impactful time it is for many kids, no matter their religion, that change that moves from Grade 8 to Grade 9, from 13 to 14.
Muslim Link: In terms of the context of Islamophobia, were there any sort of key lessons that you learned through the journey of making this documentary?
Wendy Rowland: I was already aware of how rampant Islamophobia was but when we started making the film the killings at the mosque in Quebec happened. We had already begun filming, but that made us just feel like this film needs to be made. But I think for me what really surprised me is how much these kids have had to normalize Islamophobia, and after my first few meetings in the schools, we would sort of meet with the class as a whole, and just get them to talk about their own experiences, and it was just kind of a given that on any day, especially for girls who wear the hijab, on any given day, if they go down to the Eaton Centre or they go to Yorkdale or they go to Scarborough Town Centre, there's going to be somebody who looks at them strangely or says something to them or says something to their mother. For Ahmed, the trip is a simple family trip to the US, he's at one of those gas station/rest stop places, he's feeling really uncomfortable by the way people are looking at his mom, and he says to me at one of our first meetings, 'I didn't want to say anything to my mom, I didn't want to make her uncomfortable, but I wanted to get out of there". You know, and these are young 14 year old kids, and I feel like, you know as the principal says at one point in the documentary, they are just like every kid, but they have a greater struggle or more difficulty in that they're Muslim, and right now, I don't think that's easy. I think the way that they've normalized it, and it's just part of every day life, you know, it's heartbreaking.
Muslim Link: I think it's an unfortunate reality for a lot of Indigenous children and racialized children in North America that you just normalize that you're an other, and that you're perceived a certain way.
Wendy Rowland: I hadn't perceived that, I mean I should have I guess, it's naive I think on my part. I think that for kids, they go about their daily lives, they kind of live in their bubble, but what we try to do in the film is show that Islamophobia is always part of the back drop.
Muslim Link: You talked about how IFS itself became a character. How did that work because that was an interesting year for IFS.
Wendy Rowland: Yes, again a totally unexpected thing for us. We had become really close with the teachers, and the principal and had spent a lot of time there, and we really didn't want to go into what happened, and to be honest, I still don't even really know. The school closed and it was totally out of the blue or at least it seemed like it was for many of the people who we were talking to. So we wanted to keep filming, but what I said to people is this isn't what the film is about. We're not going to get into the politics of why IFS closed or what really happened, but we have to follow it in terms of how it affected our kids because two of the kids originally planned to go back to IFS for Grade 9. That was basically their plan, and then all of a sudden, two weeks before school started, they had to find a new school.
Muslim Link: Yeah, that's what I found fascinating about the documentary because it became this story of these kids actually now having to transition not only to high school, but to non-private, non-Islamic, ethno-culturally diverse high schools.
Wendy Rowland: Yeah, that's what I find fascinating thing about making a documentary, is you never know which direction it's going to go because these unexpected things happen, and you just have to go along with them. So it kind of pushed our film in a different direction, when IFS closed, all of a sudden, these sort of decisions and choices and anxiety for the kids and their parents, had a different kind of weight. And so it was a real turning point for us for the film.
Muslim Link: How have you prepared for the possible Islamophobic backlash to the documentary?
Wendy Rowland: During filming, we went to some of these anti- Muslim rallies, these hate-filled rallies, because they are part of the back drop of the documentary. In order to protect the kids, we are not using the kids' last names. I guess it's hard to know how far this hatred can go, and you just hope that the CBC is a responsible broadcaster. We've got lots of great people and it's one of those things you hate to think that there will be some sort of backlash, but you just hope that 99.9% of the people who watch the film will be watching it for the right reasons, and will love the kids in this story as I do.
Visit the website for "14 & Muslim" to learn more about the documentary and educational guide.
This article was produced exclusively for Muslim Link and should not be copied without prior permission from the site. For permission, please write to info@muslimlink.ca.