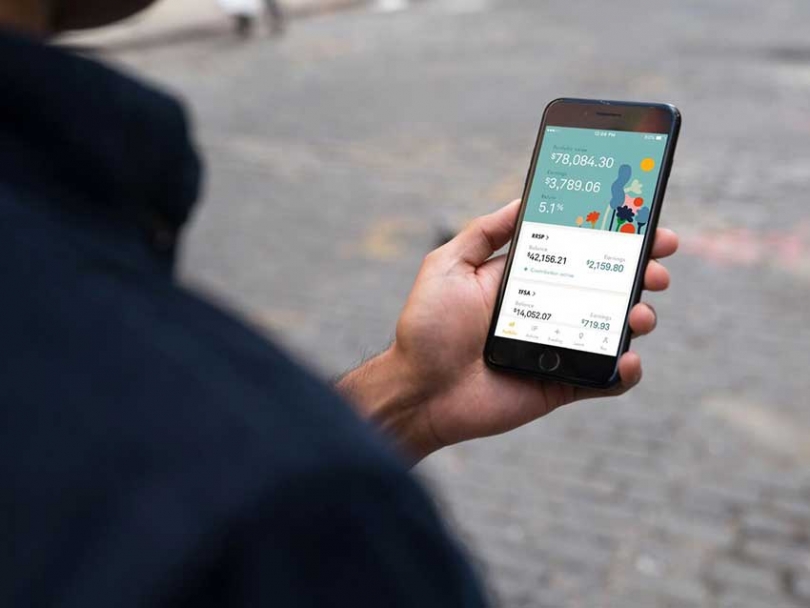 Wealthsimple's Canadian Halal Investing portfolio makes investing in shariah compliant stocks easier for Canadian Muslims.
Wealthsimple
14
Oct


2017
Wealthsimple Makes Halal Investing Easy and Affordable
Written by Sawitri Mardyani
For Canadian Muslims who want to invest in the stock market but don't have the confidence to pick halal stock investments on their own, the choices have always been limited. If you're looking to invest more than a few hundred thousand dollars, you can hire a financial advisor knowledgeable in Shariah compliant investments. If you're investing less than that, you can invest in a halal mutual fund, which charges management fees of 2.5% or more. That's it. So when Wealthsimple announced their Canadian Halal Investing portfolio in August of this year, it was reason to celebrate.
Wealthsimple is a Toronto-based online investment manager that handles over a billion dollars of investments from more than 40,000 investors in the US and Canada (they also just opened in the UK in September 2017). With no investment minimum, a user friendly website, and a team of advisors on call to answer additional questions, they make investing easy and accessible.  They are also able to charge lower fees than either financial advisors or mutual funds by using technology for service delivery and taking a passive approach to investing.
Instead of trying to beat the market by picking winning stocks, buying them when they're low and selling when they're high, a passive approach to investing aims to match the market.  This means investing in a diverse a selection of stocks and holding them for the long haul.  The approach works because although the market has ups and downs, the overall trend over a long period of time is that it goes up.  This strategy allows you to reduce risk as well as costs.
Wealthsimple's halal portfolio consists of 50 stocks that track the MSCI World Islamic Index This index consists of companies from 23 countries in over 10 different sectors, which are considered Shariah compliant and are therefore permissible (halal) for Muslims to invest in.  The index currently contains over 500 stocks.
Ensuring Investments Are Halal
MSCI uses two screens to establish Shariah compliance: a qualitative screen and quantitative screen. The qualitative screen of Shariah compliance looks at the business activities of each company. To pass this screen, companies in the index may not derive more than 5% of their revenues from alcohol, tobacco, pork-related products, interest-based financial services, weapons or adult entertainment.
The quantitative screen looks at the amount of interest income the companies receive and how much debt they carry. To pass the quantitative screen of Shariah compliance, the companies may not derive significant income from interest or have excessive debt. MSCI uses three financial ratios as a measure of excessive debt: 1) total debt over total assets; 2) the sum of a company's cash and interest-bearing securities over total assets; and 3) the sum of a company's accounts receivables and cash over total assets. For a company to be considered a halal investment, none of these financial ratios may exceed 33.33%.
Every quarter the MSCI World Islamic index is rebalanced. The financial statements of each company in the index are examined to ensure that they still pass the quantitative test of Shariah compliance. Any companies that don't pass the screen will be removed from the index and new companies that do pass may be added. In August 2017, for example, 25 stocks were taken off the index and 21 were added. Once a year, the business activities of all the companies in the index will also be reassessed to ensure they are still halal.
Composition of the Halal Investment Portfolio
When creating their Halal Investment portfolio, Wealthsimple worked with scholars from MSCI to create a list of 50 Shariah compliant stocks designed to track the broad market as closely as possible and reflect diversity of the MSCI World Islamic Index. This committee of Shariah scholars is chaired by Dr. Hussain Hamed Hassan, who holds a PhD from the Faculty of Shariah at Al Azhar University, Egypt.
25.5% of the Halal Investment portfolio is in Canada, 40% in the US, 10.2% in Asia Pacific and 24.3% in Europe. The list of companies in Wealthsimple's Halal Investment portfolio can be found here. This portfolio is rebalanced each time the MSCI World Islamic Index is rebalanced.
Investors in Wealthsimple's Halal Portfolio will be automatically investing in all of these stocks at once.  There is no minimum investment, so if you're only investing a small amount, you'll just have a small fraction of each of the 50 stocks in the list. Regardless of how much you invest, your asset allocation will be the same. In addition, because of their passive investment strategy, Wealthsimple's management fees are 0.5% and drop to 0.4% when you invest $100,000 or more.  There are also no additional fees for rebalancing, withdrawals, transfer outs, or leaving your account open with a zero balance.
How To Start Investing
It only takes about five minutes to open an investment account with Wealthsimple. You click on this link and answer a series of questions about your age, investment goals, income and risk tolerance and they will recommend an investment strategy to best meet your needs. They'll tell you what portion of your savings you should keep in cash (to mitigate risk) and an amount that you should save and invest each month to meet your goals.
You can then decide what sort of account you want to set up, including options for tax-sheltered accounts like an RRSP, RESP, TFSA or LIRA. After agreeing to legal conditions you can then connect your new investment account to a bank account to make automatic savings deposits every month.
Setting up periodic automatic deposits allows you to invest regularly and consistently without a second thought.
Wealthsimple investment accounts are also backed by the Canadian Investor Protection Fund, giving account holders coverage for up to $1 million.  This is standard coverage.
Wealthsimple's Halal Investing portfolio is a simple and low-cost way to grow your money for the long term, while complying with Islamic investing principles. Muslim Link has partnered with Wealthsimple to give readers their first $10,000 of investments with no management fees for a year when they sign up for their first account at Wealthsimple. Sign up here to open your acccount with this special offer.
This article was produced exclusively for Muslim Link and should not be copied without prior permission from the site. For permission, please write to info@muslimlink.ca.
This article was produced exclusively for Muslim Link as part of a paid advertising package. For more information on how to advertise through Muslim Link and support the running of Canada's Online Hub go here.