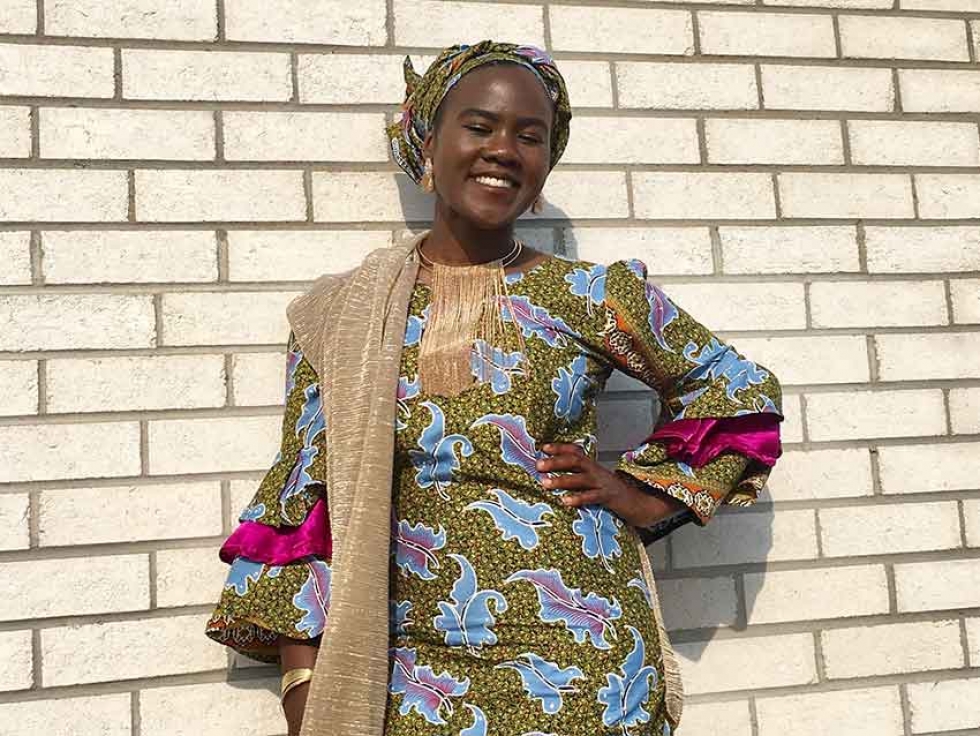 Yoruba Nigerian Canadian Suliya Mazou sporting an ankara print dress and gele (headwrap).
20
July


2018
Want to Learn about the Nigerian Canadian Muslim Association?
Written by Chelby Daigle
Muslim Link is starting a series of profiles about ethno-cultural Muslim community associations across Canada. We feel this is a great way to help our community become more informed about our diversity and complexity.
Here we interview Yoruba Nigerian Canadian Suliya Mazou about her involvement in the Nigerian Canadian Muslim Association in Toronto.
Tell us about yourself
My name is Suliya Mazou- I am a third-year university student majoring in Global Health. My dream job is to become a human rights lawyer working on an international scale.
I am a second generation-Nigerian Canadian. I am very passionate about community empowerment and encouraging a sense of belonging for young black youth.
I organize various events for my community – such as a sister's circle for young girls, march break camps and lectures throughout the year and an annual camping trip that's coming up in August.
I love watching Nigerian movies- especially Yoruba movies, meeting people and eating puff puff and plantain.
Tell us about the Nigerian Canadian Muslim Association (NCMA)
NCMA is a community in which all Muslims can come together on a common platform to worship ALLAH (swt), where the Qur'an, the Hadith; the teaching and practice of Prophet Muhammad; (P.B. U.H.), is the fundamental principle of our faith- and our congregation.
Our membership represents the diversity of ethno-cultural groups in Nigeria, but most of our members are Yoruba or Hausa people.
We hold various Islamic events throughout the year that have a nice Nigerian twist!
Why would you like to see more Muslims learn about and meet Nigerian Muslims?
Nigerian Muslims are a relatively small group in Toronto that you'll often never meet unless you look for us. Most Muslims do not think that they exist and no we did not just convert, we've been followers of Islam for centuries!
Tell us more about Nigerian Muslim style
Nigerian Muslim style is modest clothing with incorporated Nigerian prints. For example, ankara- which is a traditional West African printed fabric, that is usually colourful and custom made. Women also wear these prints on their heads, often in the form of head wraps (gele) and use a larger scarf to cover the rest of their body. The wrap style of the 'print scarf' varies depending on ethnicity – Yoruba or Hausa.
During an "owanbe" – which is the Nigerian term for a party, women wear a gele. Yoruba people absolutely love geles because not only are they tied in various styles but they are an aspect of culture that make women feel beautiful no matter the occasion.  The style and color of the gele can be a reflection of your mood, style or personality. Creativity is key! Also during this "owanbe", guests usually dress in "uniformity"- the colour of their ankara, lace and gele is decided by the celebrant of the party and the guests comply. So everyone matches!
Tell us about some of the events that NCMA has organized this year
This year NCMA organized a lot of events as per its annual program. These included health day, parenting workshops, a march break camp and a youth seminar/ workshop that explored the issues of Islamophobia and bullying.
The annual health day event is usually organized by Nigerian Muslim health professionals and is very important to ensuring that our community is aware of the health resources available to them and we facilitate constructive dialogues around "taboo" subjects.
My favourite events to organize are the youth seminars and camps because these events are a part of ensuring that Nigerian Muslim youth have a safe space to be who they are and develop a sense of community. I am usually involved in all youth planning and events at the masjid- like our upcoming 2018 Summer Camp to Thousand Islands.
This article was produced exclusively for Muslim Link and should not be copied without prior permission from the site. For permission, please write to info@muslimlink.ca.