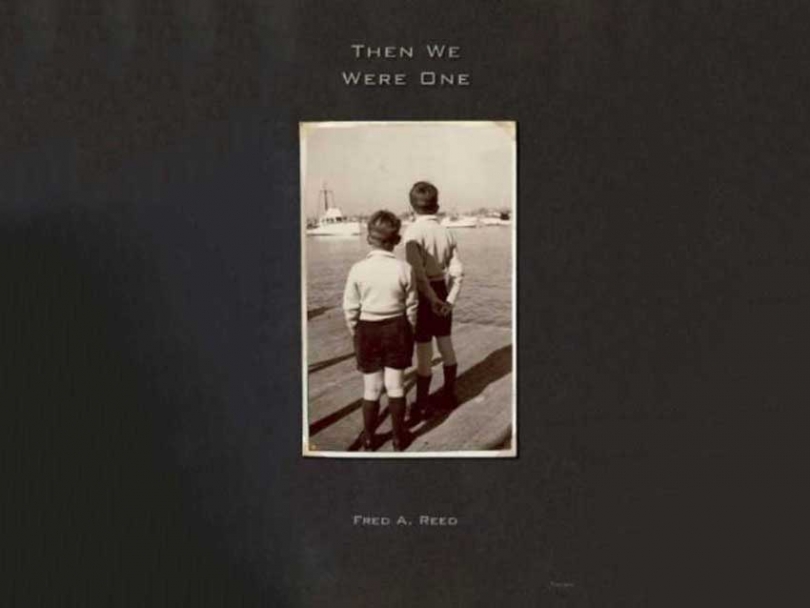 Then We Were One.
Photo Credit: amazon.com
06
Apr


2012
Then We Were One: Fragments of Two Lives by Fred Reed
Written by Monia Mazigh
I met Fred Reed at a CAIR-CAN fundraising in Montreal few years ago. I didn't know at that time that he would one day be one of the translators of my memoir Hope and Despair. Later on, I read one of his numerous books on the Middle-East and I discovered with delight and curiosity a glimpse of the man who stood behind this tall and shy personality. An American War Resister? International journalist? A translator who chose Canada, and more particularly Quebec, as a land of adoption?
Then, I read his latest book Then We Were One, a memoir he wrote that was published by Talonbooks in November 2011. After I finished reading this book I realized how little I knew about the life of this fascinating Canadian author.
The book recounts the journey of two brothers, Fred and Jim. Born in conservative Southern California in the early 40s, in the city of Pasadena, "city of orange groves, mountain vistas, high concentrations of wealthy widows and eccentrics and a climate of semi-perpetual spring." The author takes us back and forth between the past and the present.  But what is really the past?  Isn't it just a recollection of certain moments  in our lives? Fred Reed revisits these childhood and adulthood moments, as well as his present life. He does this with a very deep and elliptical style. He shares with us these moments with intense words and high emotions.
Raised in a traditional and conservative catholic family, Mr. Reed describes to us his fading childhood along with his little brother, Jim, under California's burning sun. As two little boys they were discovering the world, growing up as close brothers, almost inseparable, until the day they would be pushed apart by the things adults do: love and war.
The fate of Jim is so tragic. He enters the whirlwind of marriage and fatherhood early on in life but feels the bitterness of separation just as quickly. This episode will haunt him forever. His life seems to be a succession of disappointments and separations. Separation from loved ones and the quiet and deep America of his childhood to the violence of Vietnam War and perpetual loneliness until his death.
Mr. Reed attempts to understand what really happened to his brother Jim and to his own family. But this family is no more than a microcosm capturing well what has happened to our world.
At many passages in the book, Mr. Reed's story reminds me of that of Salman Al-Farsi, a companion of Prophet Mohamed, may peace be upon him. Some historians call Salman Al-Farsi "the seeker of the Truth", a very knowledgeable person who was in a continuous quest for answers. Mr. Reed, shares many characteristics with this companion of the Prophet, peace be upon him. He challenged the conformist vision of his parents and their bourgeois expectations. He didn't fall into the dangerous mirage of the American Dream. Instead, he chose to travel and read.
Nikos Kazantzakis is one of the Greek authors that would "enchant" Mr. Reed and plays a key role in his decision to live in Greece for few years. But the long voyage of Mr. Reed does not stop at immersion in Greek culture or at the gates of the Cretan Islands but goes far beyond in search of new horizons. Mr. Reed later decides to live in Quebec with his wife where he would eventually raise his family. There, a new culture, a quiet revolution and boiling political ideas are waiting him.
Wherever he goes, Mr. Reed sympathizes with the causes of the vulnerable and the "oppressed."  He goes to them and learns from them. He transports us to these exotic places but he digs deeper down and is never contempt of presenting a simple postcard or a nice souvenir. He discovers through several encounters ancient civilizations and more ammunitions for his quest for the Truth.
Mr. Reed alternates between hope and despair, between life and death, and between light and darkness. His writing can be so joyful and humorous at moments but very serious and depressing at others. After all, isn't that a common feature of our lives?
Fred Reed's memoir is an excellent testimony about the chaotic world we live in. Among terrible times, he finds some pockets of relief to learn, to understand, to love, to appreciate, and ...... to start all over again.
Monia Mazigh is an author and human rights activist based in Ottawa.  
This article was produced exclusively for Muslim Link and should not be copied without prior permission from the site. For permission, please write to info@muslimlink.ca.