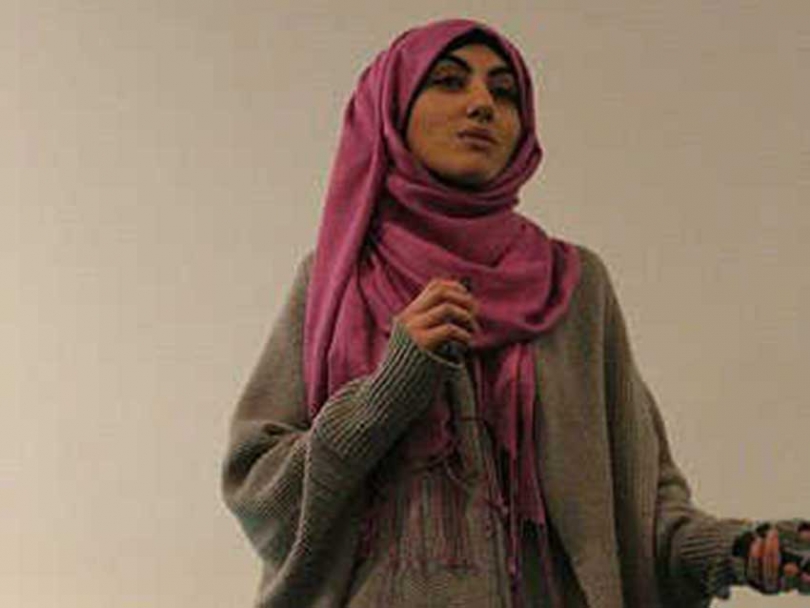 05
Jun


2013
Haneen Alhassoun: Spoken word lets hijabi artist have her say
Written by Chelby Daigle
Haneen Alhassoun recently won second place this month at the Ottawa Youth Poetry Slam. At 16, the Brookfield High School student is both humbled and excited about her win as she has been working towards it for the past two and a half years.
She first became involved in spoken word poetry when poets Greg "Ritalin" Frankson and Beth Ann-Fisher ran a two-day workshop at Fielding Drive Public School.  They were impressed by her work and introduced her to the Ottawa Youth Poetry Slam, which provides a space for children and youth interested in spoken word to hone their writing and performance skills.
Haneen, a Palestinian-Canadian who wears hijab, has found Ottawa's spoken word scene to be incredibly welcoming and accepting of Muslims. Haneen has performed across the city and lent her talents as a performer at various fundraisers. She hopes to record a poetry/rap mix-tape in collaboration with other local Muslim artists.
Uplands Boys by Haneen Alhassoun
This
Is for the boy who always dreamed to be a thug
For the one who lives in a home
But claims his home is the streets
For the one who chops green
And inhales it every morning like it's oxygen
His O2 became HTC
And HTC replaced the ABCs on his triangles
And I missed him in math class
When my thoughts were slightly off the graph
Because he was outside hustling cash
But still felt like an outcast
This is for the boy who always dreamed to be a rapper
Trying to get girls' attention with his swagger
Blasting Lil Wayne pretending that his crappy words mattered
This is for the boy who looks at his blunt papers like they're newspapers
As if he's a subject and green is the dictator
This is for the boy who walks with that thuggish limb
Can't get any girl but still calls himself a pimp
This is for you
For your red puffy eyes, your pale yellow skin and the green in your pocket like you're a traffic light
But fail to see the light of God outshining your sins
So you tweet , "sukran in the afternoon"
That means drunk in the afternoon
Not trying to drink down your misery or heal a wound
But simply paint one
Don't get me wrong, but you're the one who told me stay strong
But now I see you crumbling like the ashes falling from your cigarette
Maybe if I collect the ashes
Transform them back into a thin good looking bullet
Ignite it
Smoke it
Reenact your life with the smoke
You'll wake up to reality
You'll wake up to the fact that wanting to be like those boys behind the fence at school is not the best choice
And this
Is for you too boys
You're the ones I used to see in that Uplands corner
And I used to walk by you like you're criminals
But I realized that life and poverty are the criminals
They're the ones who stole your innocence
Murdered your dreams
And buried your sorrows in a Smirnoff bottle
You are soldiers
And the soles of your shoes look like at some point you were running from death
But still hold a killer in your palms
That trigger looks more like a stripper
So you pull her closer
But I promise you
The struggle is almost over
You're the ones who deserve statutes from gold like Romeo and Juliet
Because the love for your dreams is almost stronger
You're the ones who have rap battles in front of the drug mart
To show them that hip hop is the real medicine
You're the ones who dunk that basketball like you're kangaroos
Jumping so damn high hoping to fly out of this zoo
I've always wanted to stop and talk to one of you
But each one of you has faced charges
They charged you for trying to live better
But here's something better
Dear "wanna be" kid and the boys of Uplands
You all believe in God,
So it's time to pull your hands out
Of your pockets and pray for him
And allow him to outshine your sins and wash them with his mercy
Let the prayer mat kiss your forehead
Hold rosary beads in your hands instead of bra straps
Hold a holy book in instead of blunt papers
Recite God's words instead yelling, "five 0 five 0 five 0"
Chase your dreams
And I hope to see you all in heaven
God willing  
This article was produced exclusively for Muslim Link and should not be copied without prior permission from the site. For permission, please write to info@muslimlink.ca.