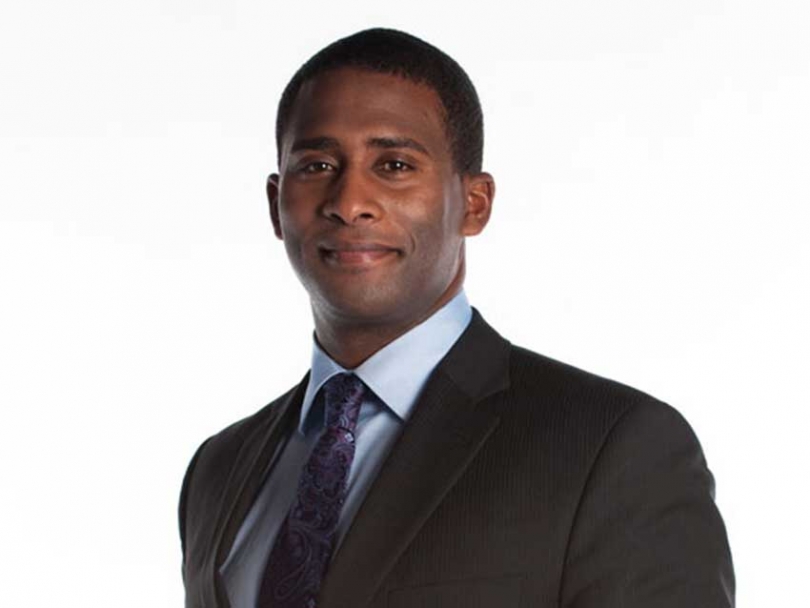 24
April


2010
One on one with CBC's Adrian Harewood
Written by Faria Zaman
Having recently recognized that people are hungry for local news, CBC is turning its attention to local communities after having left community news in the backseat for so long due to budget cuts. As a result, changes are occurring within the CBC Ottawa newsroom. One of the recent changes is Adrian Harewood.
After three years on CBC Radio, hosting Ottawa's number 1 drive home show, All in a Day, Adrian Harewood has taken the leap to television to join Lucy van Oldenbarneveld and the CBC News Ottawa team.
With an extensive hosting background with national programs such as As it Happens, Sounds Like Canada, The Current and Metro Morning, it is reasonable to think that the leap was simply a normal progression. But to Adrian, the leap meant serious change.
With radio, he says, you are in a dialogue; you speak directly to each listener. The difference on television is that you are more scrutinized and you realize that your body language really plays a role in how you communicate the message. 
 ...diversity is lacking in the mainstream media and in the newsrooms ... youth and minority groups, such as Muslims, [need] to get more involved in society, and in the media.
For example, when he first started on CBC News, his wife noticed a frequent shoulder movement and told him to limit it. The next day, a producer, having noticed the change in shoulder movement, remarked that he seemed too stiff. Anchoring, he smiles, is not easy. Aside from having to be more selfconscious as one is conveying the information, the dynamic between television and radio is also different.
On All in a Day, Adrian was required to do nine interviews per show whereas on CBC News, he hardly does any interviews. However, the reduced workload is a welcomed challenge. Hosting CBC Ottawa News at 5, 5:30, 6 and 10:55 pm, means his schedule begins at around 2:30 pm and ends at around 11:15 pm which gives him more time to participate in the community, visit schools, conduct talks, and write.
Being active in the community is of particular interest to Adrian because it allows him to hear the News Faria Zaman One on one with CBC's Adrian Harewood CONVERSATION stories of those who don't have a voice or aren't being heard.
During our interview, he recounted his meeting with a woman named LC Darcy while he was travelling around southern United States, interviewing locals. LC Darcy's father was a share cropper. At the end of civil war, many planters in the United States had a lot of land but not enough money for wages. As a solution, they hired former uneducated slaves to work in the farm, under rigid conditions and as compensation, gave them room and board. These former slaves became share croppers.
Thus, LC Darcy went through life in dire conditions and found herself in her mid 20's with 6 children when one day, someone from the Southern Christian Leadership Conference -- an organization founded by Martin Luther King Jr. -- came knocking on her door, asking her to join their movement and promote civil rights.
LC Darcy joined the movement. She was so welcomed, appreciated and embraced by her community for her efforts that 40 years later, when she was talking to Adrian, she was Dr. LC Darcy, a civil rights advocate. Her community encouraged her to become more educated.
According to Adrian, while the elite receive media attention, it is ordinary people that make the stories. He says diversity is lacking in the mainstream media and in the newsrooms and he encourages youth and minority groups, such as Muslims, to get more involved in society, and in the media.
In order to have our story told, he says, the Muslim community needs to be present in the mainstream media and public politics.
"(The) Muslim community is us. (We are) the black community... the women...," he says.
And as CBC encourages more diversity in the newsroom, our community needs also to encourage Muslims to raise their voices and affect the news that is told and how it's told.
So what does Adrian Harewood recommend to aspiring journalists? Don't become complacent. There are always questions to be asked. Read, expose yourself to a lot of media, write and be deadline driven. 
This article was produced exclusively for Muslim Link and should not be copied without prior permission from the site. For permission, please write to info@muslimlink.ca.