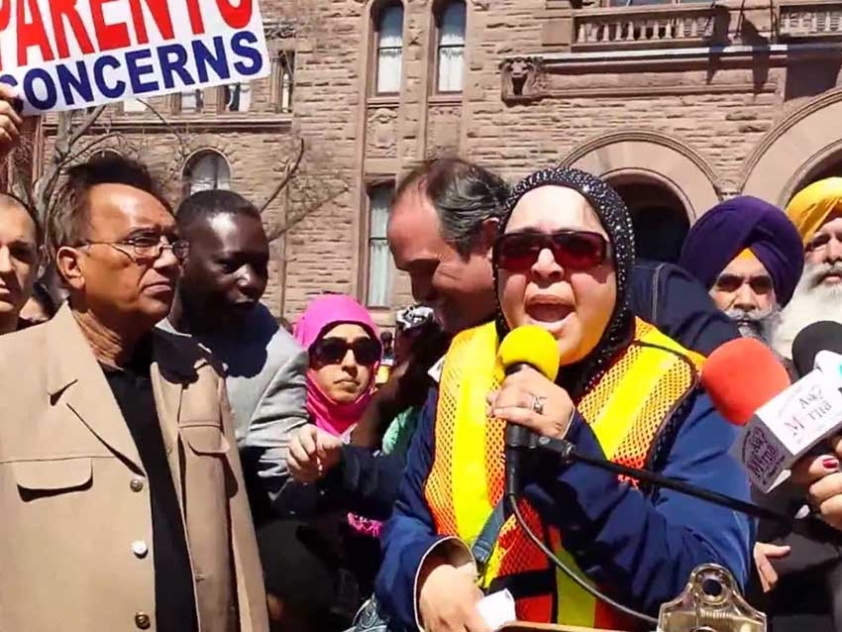 Pakistani Canadian Farina Siddiqui has been an active organizer against the revised Ontario health curriculum through the group Coalition of Concerned Parents.
25
Apr


2015
A Muslim Activist on Ontario's New Sex Ed Curriculum
Written by Opinions
Many readers expressed their agreement with chanicka's support of the new curriculum and the need to ensure that public schools are safe spaces for all children, regardless of race, religion, sexual orientation or gender identity.
However, we also received requests from our readership that out of fairness we should present the opposing opinion.
On April 14th, a large demonstration took place in front of Queen's Park protesting the planned implementation of the revised Ontario Sexual Education curriculum. One of the speakers at the protest was Pakistani Canadian Farina Siddiqui who has been an active organizer against the revised curriculum through the group Coalition of Concerned Parents. Siddiqui has been interviewed previously by Al Jazeera on the subject and Muslim Link connected with her to get the opposing side to chanicka's opinion piece which our readers have requested and to better understand the concerns of Muslim parents who are going as far as to publicly protest against the new curriculum.
Tell us about yourself.
My name is Farina Siddiqui, I'm a resident of Mississauga here in Ontario and I'm a concerned mom and a parental rights activist. I never thought I would be on the road to fight for my children or for the rights of other people's children. I've been a community strategist and non-profit management specialist. I'm currently self-employed as a resource development consultant. I have a Masters in Psychology from Pakistan.
You also ran to be a School Trustee in the last municipal election? Why?
A lot of concern was raised because of this book called My Chacha is Gay**. Chacha means uncle in Urdu. Some teacher got fascinated with it because of all the Muslim names in it and read it to kindergarten students.*** The kids came home and they were talking about the book so moms got alarmed. They went to the school and spoke to the principal and the response was either rude or was like 'Our hands are tied. It's the policy. We have to be an inclusive school." These moms were upset and they reached out to me. We had a meeting of over 40 moms and we discussed how we needed to be more involved in parent's council meetings so the school can understand some of the cultural values that the school needs to be sensitive about. I also told them that they should pay attention and get involved in the 2014 municipal elections.  They asked me if I would run as a school trustee and I said no. Then a sister said "How can you ask us to do something when you won't do it yourself?" So, I thought I should run in order to make a difference. So, I decided to run. My decision was quite last minute. During the campaign, I reached out to so many different people, Muslim and non-Muslim.
Are parents worried about other educational issues in Peel Region?
Yes, they are talking about lower rates of mathematical performance; they are talking about spelling. A lot of moms, especially coming from other countries, feel that they were ahead of their kids at their age when it comes to mathematics. Another large group of parents are concerned about mental health and stress management. We see these as the real issues so we don't understand the Ministry's focus on sex when we need to tackle these issues.
It appears that you are doing a lot of outreach in Muslim communities. Could you talk to us about how you are doing that?
I don't just work with the Muslim community. I started to do outreach to other faith communities like the Sikh community, the Jewish community, and other Christian communities, to see what other parents are thinking about this curriculum. And they were on board. The Coalition was started and really grew as a Facebook Page where we share information.
You have also been rallying people to actually come out to demonstrations against the curriculum, like the one on April 14th. How have you been doing this as that isn't something we often see members of our communities do?
First-social media. For example, I had a commitment from every parent to reach out to ten more parents and help them understand what is going on and ask for their opinion. The second thing I did was women's circles. I started with Muslim Mom circles in different regions, Halton, Toronto, York, Peel, everywhere. I've been to Milton, Burlington, Cambridge. I started doing these women only information sessions.
You didn't just stay in the Muslim Pakistani community; you also reached out to other Muslim ethno-cultural communities?
The more you reach out, the more people you know. This is a sad part about our Muslim community-we usually just work in our own silos. These issues are common to other parents so you need to reach out. I always just reach out to new people, even at the bus stop. I ask "do you know about this new curriculum? Would you like to join the conversation on Facebook? Here is the page." I'm also lucky to be connected to people who have their own large networks. So, what I did was I activated the moms at the grassroots level. Many of these mothers didn't really know what was happening. So I mobilized those mothers to reach out to other mothers like them.
What is it exactly that your group is asking for?
We are asking for four things. First, the age inappropriateness of this curriculum is a big concern. I've studied child psychology and I understand how too much of this information at a young age can put pressure on a child. Our second concern is former deputy Education Minister Benjamin Levin's involvement in this curriculum when he has been charged with child pornography. The Ministry of Education denies that he was involved but we feel we have proof that he was. Our third concern is that the Ministry is consistently demeaning the parents for raising their concerns which is so unfair.
In what way do you feel parents have been demeaned?
We have been labelled as homophobes. We have been labelled as federal conservative agents. They have called us fringe groups, radical groups, religious fanatics. We are not. We are concerned parents. Why can't they just think of us as concerned parents and come to the table and talk to us and listen to our concerns?
So, you are upset that people from the Ministry of Education are accusing parents of just trying to push a Federal or Provincial Conservative agenda?
Why are people from the Ministry saying we are Conservatives? Just look at the Muslim community, look at the Chinese community. We are huge Liberal supporters. You can't say we have a Conservative political agenda. It's about our kids. They should understand that.
But you understand that there are concerns about the safety and human rights of children who identify as gay, lesbian or transgendered or who have parents who are, in Ontario schools? There are concerns about bullying and the Ministry is responsible for the safety of all children in its schools. What is your response to that concern?
It is the right for parents to teach their children in a culturally sensitive manner about these things. I teach my children and the mothers in our group that we have to respect people as human beings living in the same society where we all live together. But these practices are not accepted by everyone because of our religious beliefs so they can't be taught as if they are accepted by everyone. I teach my children not to bully or mock them and I tell the other mothers to teach their children that as well. We don't want the school to co-parent with us on these things. And when we write letters stating this, they write back threatening us with the human rights code! That is demeaning.
What is your fourth issue?
The flawed consultation process. According to the Ministry, over 4000 hand-picked parent's council members were consulted on this curriculum. They completed a survey. There were just 4000 people consulted out of 5000 Ontario schools. That is so unfair on many levels when you think that some schools have over 700 to 800 parents.
And the survey was so generic. It asks about talking about sexting and cyberbullying in you school. Nobody would say no to that. And parents were asked to fill out that survey without having a chance to actually look at the proposed curriculum. That's unfair as well. That's why I say it was an unfair consultation process. And people on parent's councils are not elected as representatives of parents. They are self-appointed. I've been on parent's councils. Our job as executives in a parent's council is to act as liaisons between the school management and our own respective communities. We are not parent's representatives.
But we elect our school trustees, they are our representatives and they were not engaged in this consultation process. The survey went out to selected parents in October 2014. The newly elected trustees started work in December 2014 and the curriculum was released at the end of February 2015. We picked these trustees and put them into office for a reason as voters and they were not consulted. But on the other hand, the Ministry is consulting with these selected parents who are not our elected representatives. And they were consulted in a very vague way. And the Ministry is using this to say that they consulted with parents. What did these parents say? What were their comments? That should be a published document.
What do you see as your options moving forward?
We want to see this curriculum scrapped. There was not proper consultation and Benjamin Levin's hand was on it so we do not want it. I know that there are Muslim activists who say these things have always been taught in the schools, they tell us we don't know because we didn't go to school here. That's a demeaning thing to say to concerned parents. I didn't go to school here myself but my children have gone to school here and I have been a very involved mom. I have three daughters, alhamdulillah, they are 15, 12, and 10 and my basic concern is about my 10 year old and my 12 year old and the age inappropriateness of this new curriculum. And there are younger children in other families who have more concerns than me and I'm speaking up for them.
We have another protest planned for June 5th on Parliament Hill. Our last resort will be to pull kids completely out in September.
So, is the issue really more about the conflict that could happen if a child is getting one message about sexual education at school and another at home? Are you concerned that this could divide parents and children?
Yes, and it puts pressure on the parents. The teacher is an authority figure. If the teacher says one thing and then the parent says another thing, the child could just say "Well, my teacher said so." It is confusing for children. It just creates a very cloudy situation which is hard for both parents and children to deal with.
What alternatives do you see to the public school system?
We are looking at a model to see if we can develop affordable schools run by Muslims. We are studying examples within Mennonite communities and Jewish communities which have done a fabulous job at developing affordable schools. Because if you look at established private Islamic schools, they are not affordable for everyone so parents are stuck. And what if you have more than one child? Some can barely afford to put food on the table and we expect them to pay these expensive school fees?
But, I have a strong faith in the public school system. I value the public school system, to be honest. It is increasingly secular and I respect that and I understand that. But just as we are not imposing one religion on our students we should not impose one worldview on the students as well. We need to be sensitive to different communities' values. But I still have faith in our public school system. But we need to fix it. We elected these officials with our votes. And they are happy now because it is a long time between now and 2018.
There were Progressive Conservatives who came to speak at the recent rally on April 14th so are you saying you would support them?
We are not influenced by a political party. If a political party wants to support us they need to join us, not just use us for their own political advantage. If the Provincial Conservative Party wants to use us for their advantage, we won't agree with that. We are just concerned about our kids, we are not political agents. But many of the Conservative MPPs, they came out because their constituents demanded that they come out and talk to us.
So you just appreciate that some Provincial Conservative MPPs came out to talk to you?
Yes, they showed us some respect. You need to show respect to your voters. We have been writing to our other MPPs and they won't budge. They won't come out. They shouldn't wait until 2018 to knock on our door. They need to listen to us now because maybe when 2018 comes we won't listen to them. If you are not there in times of trouble when I need you, I'm not going to be there when you need me.
As you know, a group of Muslims has developed a document which tries to explain the new sex ed curriculum to parents and they feel that the new curriculum does not necessarily come into conflict with religious values. What is your response to this?
Our Muslim leaders who support this curriculum need to support these families instead of saying "Oh, it is because you don't take the time to educate your children about sexual health so the Ministry has to do it?" I can see that parents are trying to do their job but they don't always have time to be involved with the parents' council or things like that when they are trying to put food on the table. They are doing their best as parents. If you really want to complement that, build their skills, build their capacity. Don't demean the parents by saying they are not doing their job. I understand that many parents are not watching to see what their children are watching online, but let's give them a wakeup call and help them. Don't discount them. I also have a problem when there are Muslim leaders telling us to support this curriculum but they themselves do not have their own children in public schools. If you have so much faith in the public school system and you want us to support it, why are you not putting your children in there? I would like to ask them this question.
But there are many other challenges facing Muslims Canadians, challenges which some would see as much more serious than the new sex ed curriculum, do you plan on doing any work on those issues?
I have also been doing work to raise awareness in our communities about Bill C-51. This is a separate federal issue which concerns our communities. It has been important to talk to the moms about this. So, we will be doing more work to mobilize our communities around that issue.
I also want to start focusing more on policy issues. There are a large number of Muslims in Ontario living below the poverty line. We have to do more to support these families. They are really struggling.
** "My Chacha is Gay" is a book by Toronto-based Pakistani Canadian blogger Eiynah which is about Ahmed and his uncle who is gay. Eiynah wrote the book in order to raise awareness about homophobia in Pakistan and the way it can isolate people from their families.
***It appears that during Day of Pink in 2014, which is a day where schools across Ontario address the issue of bullying, particularly against gay, lesbian and transgender communities, "My Chacha is Gay" was read in some schools in the Peel Region. Hina Mirza, writing for ISNA Lanterns, shared her reaction to this situation. 
This article was produced exclusively for Muslim Link and should not be copied without prior permission from the site. For permission, please write to info@muslimlink.ca.