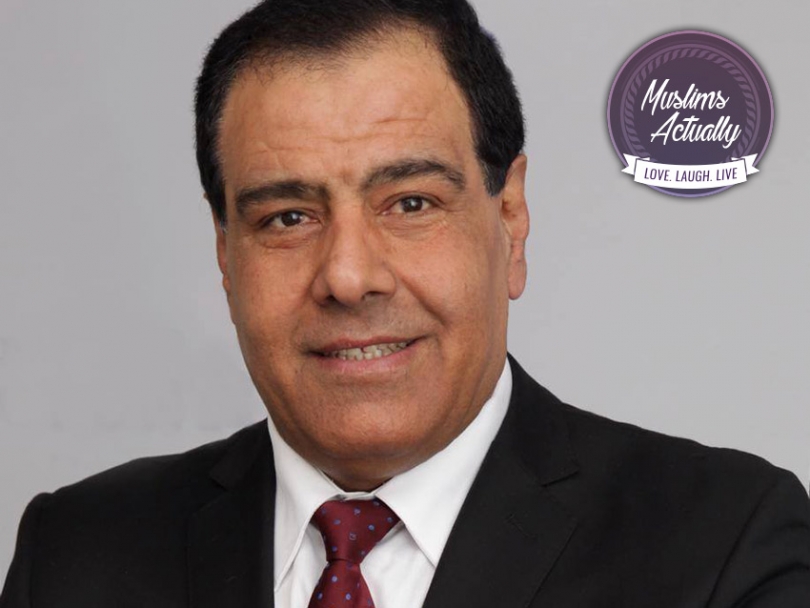 Interview with Palestinian Canadian Dr. Izzeldin Abuelaish
05
Jan


2017
Izzeldin Abuelaish – From Refugee Camp To "The Gaza Doctor"
Written by Ninar Fawal
Dr. Izzeldin Abuelaish received his elementary, preparatory and secondary educations in the refugee camp school system in Jabalia, Gaza. As a child and as an adult, he and his family endured the dismal and severely impoverished conditions of the refugee camp, as well as the constant humiliation and inhumanity of the siege and its associated checkpoints and travel restrictions.
At all times, Dr. Abuelaish strived to maintain a balanced and positive perspective toward his experiences and the Israeli people, knowing that the latter are not representative of the sentiments that fuel one of the world's longest conflicts and the conflict that threatens overall world security.
Currently, Dr. Abuelaish is an Associate Professor at the Dalla Lana School of Public Health at the University of Toronto, Canada. He is teaching three courses in public health: Women's Health in Countries of Conflict, Health as an Engine for the Journey to Peace, and International Perspectives on Health Services Management. These courses center on understanding the underpinnings of social and political conflict, and providing tangible and pragmatic ways to promote health as a strategy to building peace.
Dr. Abuelaish is the Founder and President of the Daughters for Life Foundation, a Canadian charity that provides awards and scholarships to young women in the Middle East in memory of his slain daughters. His aim in establishing the Foundation was to give other young women the opportunity to fulfill his daughters' dreams for an educated future as agents of change in the journey towards peace.
Where were you born and raised?
I was born and raised a Palestinian refugee in Jibalia in the Gaza Strip, which was established after the 1948 Nakba. They were exiled to leave their homeland, roots, culture, and to become refugees scattered to Jordan, Egypt, Gaza Strip, Iraq, and so on, thinking they would go back home in a few days… but now it's been 70 years and still they are waiting. They never lose hope. I still remember in 1985, my father passed away and was buried in the Gaza strip, but his soul was buried in our home in that village.
Thank God for all that he gave me and all that he took away from me. To be a refugee to is to understand the suffering of others … to be deprived of humanity, of life, and of dignity … to lose your house, your roots, your memories, and your life. I feel on a daily basis of the children that are suffering, it reminds me of my childhood. To feel angry about it, millions of children that are suffering just like I had in the past. The abject poverty, the deprivation, the challenges we face, it's a war for those that living in refugee camps. They are fighting on a daily basis just to survive. They are not sure if they live tomorrow or not. It's time others that are living in the world to fight and put an end to injustice. That's different to "fighting to survive" and someone who is living to "fight" – injustice to oppress, to deprive. The goal of our life needs to be to ensure that people are treated with honour, respect and dignity … "Oh man kind and you were created to by Adam and Eve, we created nations and to get to know you." My life is as precious as yours. We bleed the same blood."
What did you study and why?
My family and I lived in the Jalabia camp. The size of the entire house was 9 square meters, but it was our home. I had to find a way to get rid of this misery. It's man made. No one is born to be miserable. We were all born free, and later on, the misery and challenges we face is manmade. I believe that God wants every human to live a good life. The biggest challenge in our life is individual responsibility. The only way to get out is to immerse myself in education, in learning, in studying to go to school. I went to school and I finished elementary, high school and was eldest of 6 brothers and 3 sisters and used to participate in school competitions for Quranic recitation, which would get prizes for the family. In one of the competitions, I received an eraser, and my mother put that eraser on a string. I was playing with it and it got lost. When I lost it, I lost the world. After school, I would go to the market to sell ice cream or anything to earn for something for the family.
Did you always want to be a doctor?
When I was young as a child, I got sick and ended up in the hospital. I loved the values that they exuded.
I dreamed of being a medical doctor. I dreamed, I worked hard and with God's will and my parents' approval, I did what I could do. I went to study medicine in Cairo with a scholarship. I did well and I wanted to continue my speciality but my family was waiting, so I returned. I was the eldest and I had a responsibility to return home and give my family to see the fruits of the investment they made in me. When I returned, my father was very ill and he saw me as a doctor for a few months and then he passed away. I wasn't able to get a job in Gaza and when I finally did, I thought there was something good in this as well.
My mother is my weakness. She lived for us and give her life. She is my mother. Paradise lies under her feet. I returned to Gaza from my job in Saudi Arabia after the 1st Intifada, and I was the first Palestinian doctor to practice in Israel. Medicine and health are the human equalizers and stabilizers. We can use it to humanize and equalize when we deal with the people. Within the hospital we deal with the person with diagnosis, not based on culture, race, faith. We give the diagnosis based on their needs. We need to equalize between people, not to politicize people. To take this message to practice this message outside the walls of the hospital.
A moment of pride and a message to all that we are a nation that is alive and we will be kept alive. I wish my family; my parents could have been with me when the flag was raised at Harvard along with other flags when I completed my Masters in Health Management at Harvard University. God was with me all along. He was supporting me. Continued then work in Israel and other countries and now I work with the U of T (current role)
Do you believe there can be peace in the Middle East?
Nothing is impossible. The Middle East is a part of the world. Peace in the Middle East will bring peace to the world. Peace that is not by force, but by choice. Peace is a way of life. We need people to believe in peace and to live and to "walk the talk", and to achieve peace that brings people all together. In life we constantly succeed … we reached the moon. Everything has been done to achieve great heights in health and technology, why then can we not achieve peace?
How does your work as a doctor support peace building between Palestine & Israel?
My work as a doctor, as a human, as a father, as an advocate, as a teacher, is a human equalizer. To dig deeper and learn the causes of the problem. When there is conflict in the world, the conflict leads to violence, and hatred has its causes. We need to get rid of the root causes of the problem. To help the people to be pure and to be healed. It helps me a lot as a personal level, family, community, national and international level, that my peace comes from the peace of the people. I'm trying to use medicine and health as an engine to promote peace. Health is about dignity, happiness, freedom. If you are not healthy, you do not have peace. You do not have peace if you are not healthy. Health and peace are mutually connected.
Tell us about your Daughters for Life Foundation, when and why did you found it?
Daughters of Life was established after my three daughters were killed. They are away from me, but they are still very alive and with me. So this organization is about keeping them alive. I will never forget them. My faith teaches me that a person who has passed away has left three things that you can leave behind for those have passed – 1. Knowledge. 2. Send them prayers. 3. Charity "sadaqa" in their memory. I fully believe that this world can be a better world, a free, sustainable, and just world by education. And in particular, education of young girls gives them the opportunity to make a change in this world. Women are the main pillars in any community. If you go to any country and you want to know about the level of development in a country, don't ask about the GDP and so on, but ask about the women's literacy and their role in decision making for the country. We need to give our women the means to raise the community in a healthy and peaceful way. In this way I can keep my daughters alive and to provide that we were not broken and we were not defeated and even in every bad thing there is something good. Life is in our hands. We can take our life and responsibility in our own hands and to change our own lives. I see the young women that are receiving our scholarships, I see my own daughters in them.
You have been nominated for the Nobel Peace prize a number of times, please tell us your feelings on being recognized for your efforts.
It's mixed feelings. Feelings of pride, and of sadness. I feel that the world is watching what I do. We don't need to suffer to be acknowledged. We need to prevent suffering. When they nominated me, I dedicated to those who are suffering in silence. To those who don't have names when they die and are just a number. To every mother and to every child in this world. The nomination is acknowledgment. It gives me more responsibility. I will continue to do my work and one day I will see my daughters again and then I will be able to give them the gift of "justice" for what they sacrificed.
How do you stay motivated and inspired to continue this work as a Peace Advocate?
As a human advocate, what keeps me motivated it's my Faith. Faith. Faith.My education. My life experience. I see the hope and motivation in my living children and that motivates me.
What role has or does family in your journey of life?
I am a family person. My happiest moments I travel with my children. My children are my life. They give me life. They motivate me. When I feel stressed, I have to just go home and see my son Abdullah and give him a hug, I feel alive. Tey will continue to carry the message that I carry. I learn from their kindness, love and determination that we have to succeed. I learned from them, even my daughter Shada showed me that the antidote to hatred is education and success. I learned from my son Mohammad (he was 12 when my daughters were killed), my son didn't turn to violence or anger after this incidence. He looked at me while I was crying and screaming in agony in pain. He said "why are you crying? Why are you screaming? You must be happy". I said, "how can you be happy?" He said "I know they are killed, but they are with my mom, she asked them to come and they are with her now. They are happy there." Now my children have pursued university education and continue to spread the message of hope and of peace.
What advice would you give anyone interested in pursuing peace building work?
We need to believe in it. We need to believe in what we want. We need to look around. To ask to learn. To act and to connect with each other. We need to have peace with ourselves. To reconcile with our environment. That's the first step. To know the other. There is nothing called the other. We need to use not he or she, but we in a collective way. If we started to see 2 eyes without judging others. By understanding the other. By advocating for the other. Put yourself the position of the others. If you don't accept it for yourself, how can you accept it for the others? To feel angry about what's happening in this world. TO imagine for a second for a moment if someone is living as refugee in Syria etc, what would you like the world to do for you? Not to watch it from far and say it's far from me. No one is far from risk. It's time to come together and to create justice and peace for all.
This article was produced exclusively for Muslim Link and should not be copied without prior permission from the site. For permission, please write to info@muslimlink.ca.