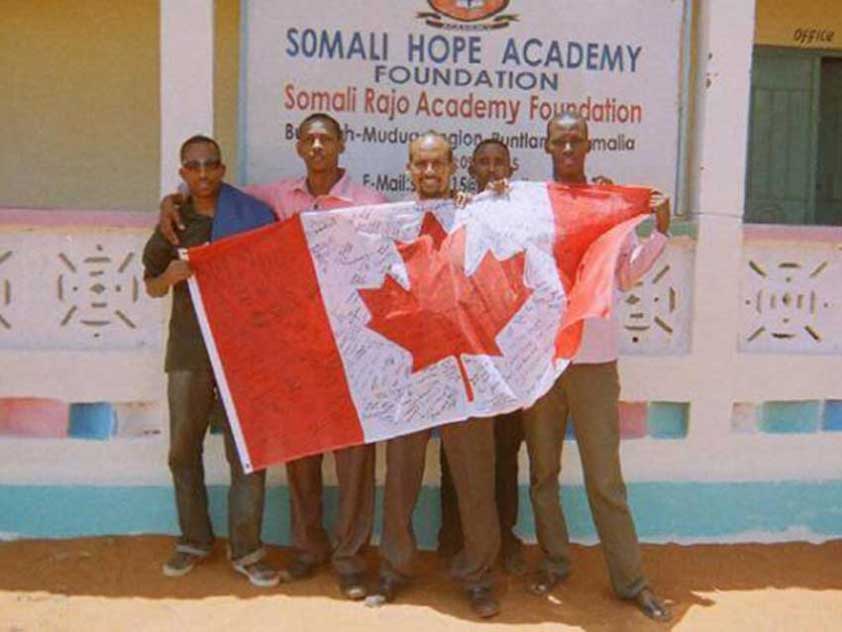 The Somali Hope Academy, which offers educational opportunities to Somali children in need, is an example of the development work being done in Somalia by the Canadian Somali diaspora. To learn more visit www.shaf.ca
Courtesy of Abdullah Abdi
29
Sep


2014
Canada's Role in Somalia and Harnessing the Power of its Citizens
Written by Abdullah Abdi
Norman Paterson School of International Affairs graduate student Abdullah Abdi reflects on the need for the Canadian government to take a leading role in the development of Somalia. Originally written for thepanelonline.

Canada has long prided itself on its role as a responsible global actor that looks beyond its borders to prompt positive change for peoples around the world.
As the only G7 country to have not possessed overseas colonies, and with a long and storied past of supporting multilateralism, this notion certainly holds some credence. Canada's international assistance programs are among its primary and most direct tools to effect these changes. In an ideal state of affairs, Canadians would be able to trust that their government directs this assistance to recipients based on sincere need. However this is not always the case.
The question of where Canadian development assistance is directed is always a contentious topic for a bevy of reasons including the issue of encroaching commercial interests. However another oft ignored element factors into the equation: results. As a field that prides itself on being able to measure how effective its programs are and with bilateral donors under domestic pressure to make the most effective use of its resources, it leads to risk-adverse choices being made.
Nowhere is this dynamic more clear than Canada's role, or lack thereof, in Somalia. Why is it so hesitant to get involved? Simple. Somalia is a complicated, frustrating, seemingly never-ending dilemma that has no easy solution. It is a much harder place to run programs in than say Tanzania or Senegal.
Unknown to most Canadians, despite the government's apprehensive stance towards involving itself in stabilizing Somalia, Canada has proven to be a key player. Somali-Canadians have played and continue to play a prominent role in shaping events in the country. Forming the largest group of Somalis in the diaspora and the largest African group in Canada, with official numbers of 45,000 and unofficial figures as high as 150,000, Somalis have a strong presence in Canada. With the vast majority of them arriving in Canada as refugees, Somali-Canadians have an important stake in resolving the conflict.
In both Canada and Somalia, the absence of government involvement in improving the situation on the ground, or its inability to do so, has taught Somalis to take on that responsibility. On any given weekend in the banquet halls of Toronto, Ottawa, and Edmonton, one will find fundraising events for hospitals, schools, political parties and rallies for the multitude of autonomous breakaway tribal regions.
The involvement of Somali-Canadians extends to the highest levels of government in Somalia with a number of individuals holding positions in current and past transitional governments. This list includes Abdiweli Sheikh Ahmed, the current Prime Minister, and the Ambassador to the United States and Carleton alum, Omar Abdirashid Ali Sharmarke. Interestingly, while they attempt to govern and stabilize the country, their Somali-Canadian compatriots are also deeply involved in the governments of the long list of semi-autonomous regional governments that are often at odds with Mogadishu. Holding cabinet positions and legislative seats in the fiefdoms of Puntland, Galamudug, Jubbaland, and Raskamboni, they take part in the new federalist model for Somalia where governance is more decentralized. Other regions such as the de-facto independent Somaliland have not only become an oasis of peace but thrived as well with Somali-Canadians playing a key role.
Despite the emergence of actors and governance institutions in Somalia, poverty and underdevelopment are still prevalent. Filling in the vacuum left by these actors, Somali-Canadians have taken a leading role in providing essential services and sustaining livelihoods. A significant percentage of the $1.6 billion USD in remittances that flows into Somalia each year comes from Canada. These funds are directed to relatives and are used to cover basic everyday expenses such as food, medical care, and education.
In addition to this, Somali-Canadians have pooled their efforts together to tackle the overarching issues of underdevelopment in their homeland with the establishment of NGOs and charitable organizations. These organizations have proven effective in raising funding for various initiatives in health, education, access to water, and even road construction. Often operating in areas that donors neglect or are unable to access, these organizations have been successful in reaching some of the neediest population groups. Due to their native knowledge and personal links with their stakeholders, these groups are able to do more with much less than many of the established international donors and agencies.
The success of the African Union (AU) peacekeeping mission in driving Al-Shabab out of its strongholds in the south, has made the notion of a post-conflict Somalia a more attainable reality. These developments have led to a rapprochement from the international community, including Canada, seeking to re-establish relations with the country.
However many countries are using the recent developments to take a much more proactive role in stabilizing Somalia than Canada has been willing to. Actors such as the EU, Turkey, Japan, and the US have identified that building on the current successes is key to bringing peace and prosperity to the country.
With the EU announcing $2.4 billion USD in its "New Deal" for Somalia, Turkey carrying out countless projects on the ground, and the US providing logistical support for the AU mission, Canada has missed a key opportunity to play its responsible actor role.
Despite Canada sitting on the sidelines of the international community's efforts to stabilize Somalia, it does not mean that it's too late join the party.
Canada is better positioned than almost any other country to make a meaningful contribution to improve the situation in Somalia. Policymakers can harness the power of the Somali-Canadian community to drive new efforts of positive engagement with Somalia to aid in its stabilization. With the high posts held by Somali-Canadians in its governments and administrations, Canada would certainly have the influence to foster deep working relationships. Furthermore, with the numerous Somali-Canadian run NGOs and organizations already achieving successes, Canada can more effectively increase its bilateral assistance to the country.
However, all this will not be possible without the conscious decision of the Canadian government to be part of the solution. For a country capable of doing great things in the world, Canada needs to look beyond the low hanging fruit and use its abilities to solve the most pressing issues of our world, no matter how difficult they may be. Canada already has a great team; it just needs to stop keeping it on the sidelines.
This article was originally written for thePanel blog and is reprinted with permission.
The following are examples of Ottawa-based Somali-community led initiatives working on development in Somalia, compiled by Muslim Link:
The Somali Hope Academy Foundation
Horn of Africa Development Assistance (HADA)
University of Hargeisa School of Social Work (in collaboration with the Carleton University School of Social Work)
This article was produced exclusively for Muslim Link and should not be copied without prior permission from the site. For permission, please write to info@muslimlink.ca.