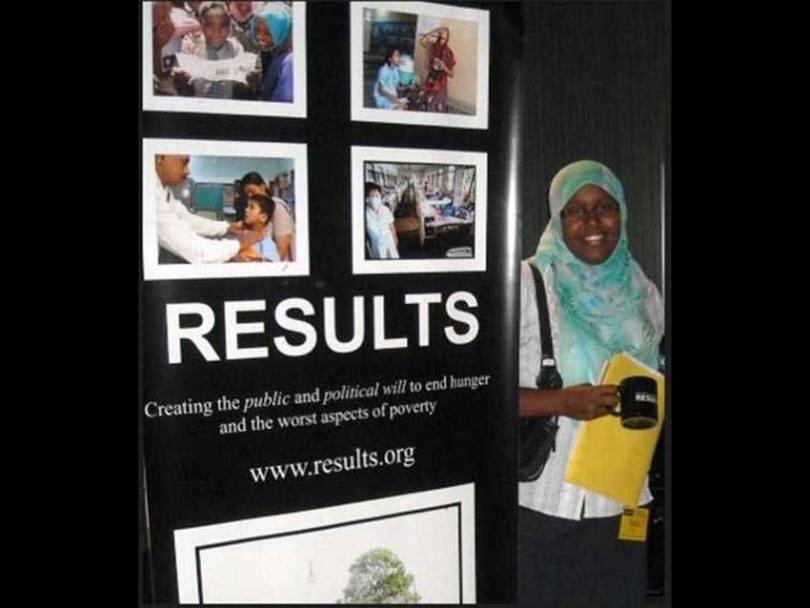 Sadia Jama is a volunteer with RESULTS Canada
21
February


2014
Active Citizenship and Making a Difference: Volunteering with Results Canada
Written by Sadia Jama
In 2012 alone, more than 6.6 million children globally under the age of 5 died from preventable diseases such as pneumonia, diarrhea, malaria, HIV, and measles. 1.7 million children die annually because of Severe Acute Malnutrition and 3.6 million die because of Moderate Acute Malnutrition. To put it simply, they die because they don't have access to food. Globally, 67 million children do not have access to basic education. That means they will never graduate from grade 8 and go on to high school.
Tragic isn't it?
Making a difference on any of the above issues - access to health care - food security - access to basic education can appear impossible.
But it's not.
You can make a difference in the lives of the world's most vulnerable and you don't have to go across the world and volunteer in Africa to bring about real change.
Every citizen of a developed nation like Canada has access to power through active citizenship. Active Canadians can help shape government policies and keep the government accountable and responsible. We can bring about a government that believes it has an ethical responsibility to help create a more just and equal world.
"Every great social gain of our time has come from the will of the people - people who did not believe that their duties as citizens ended at the ballot box, but instead decided to become active and contributing members to the political process in their communities." (RESULTS Canada)
RESULTS Canada is a citizen advocacy group that has been "providing Canadians with the tools they need to enact change on global poverty issues."
As a volunteer for seven years, my transformation has been exponential. I was moved from feeling frustrated and powerless to being a powerful advocate that meets with senior bureaucrats in the World Bank and IMF advocating for better government legislation and aid to curb global poverty and enhance access to basic education and health care.
You may be wondering if we really do make a difference? Working through engagement with media, advocacy and community mobilization, RESULTS Canada contributed to a 20% increase in Canada's renewed commitment to the Global Fund to Fight AIDS, TB, and Malaria.
If I have been successful at persuading you and you are itching to join a slew of fully committed and informed Canadians that believe they can bring about a better world "" feel free to reach out and email This email address is being protected from spambots. You need JavaScript enabled to view it..
I am also available at This email address is being protected from spambots. You need JavaScript enabled to view it. for a chat about citizen advocacy and volunteering opportunities at RESULTS Canada.
Take the plunge. The world's vulnerable needs you to do it and you will feel better for having done it.
I leave you with Margaret Mead words "never doubt that a small group of thoughtful, committed citizens can change the world; indeed, it's the only thing that ever has.
To learn more about RESULTS Canada visit http://results-resultats.ca/ 
This article was produced exclusively for Muslim Link and should not be copied without prior permission from the site. For permission, please write to info@muslimlink.ca.