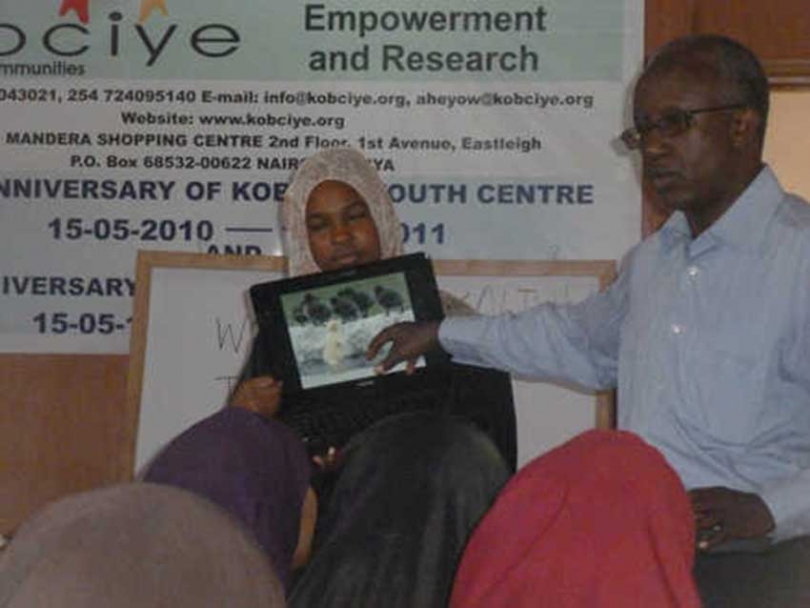 The author's sister Kaltum, and their late father, Abdullahi Hassan Eyow, at a workshop last summer.
Photo Credit: Afrah Hassan
08
Jun


2012
Abdullahi Hassan Eyow: A life spent in the service of others
Written by Afrah Hassan
Almost everybody, at different points in their lives, thinks about their legacy and the type of impact they have made on their family, friends and community. Each individual's legacy is different but one simple fact remains the same: we all leave one. My father, Abdullahi Hassan Eyow, left a lasting legacy of compassion and sacrifice that is now felt immensely everywhere he has lived. As a Somali refugee, he knew how fortunate he was to escape the instability and conflict that has plagued Somalia for the last 21 years, yet he never forgot the shattered communities he left behind.
My father was born in Mogadishu Somalia part of a large and mostly poor family. His father worked as a military officer while his mother was a local food vendor. From a very young age he was engaged in school and worked extremely hard to not only educate himself but also his extended family. He eventually was able to finish a degree in petroleum geology from Somali National University and went on to earn multiple scholarships in the United States, ultimately obtaining a master's degree from the University of South Carolina.
During this time however, Somalia was going through extreme changes. The political climate in Somalia was worsening eventually leading to the fall of the Siad Barre regime, followed by the outbreak of an all-out civil war. At this time, my father was working in the United States while his still young and growing family was stuck in the dangers of a bloody civil war. With the help of his colleagues at his university he was able to secure a travel visa for us to leave Somalia and eventually settle in Toronto, Canada.
This journey to escape a conflict zone and resettle in a new community tremendously shifted my father's perspective and the way he wanted to live his life.  This is where his passion to help his native community was sparked. It began in 1993, where he helped the new wave of Somali refugees escaping war. He helped people settle and transition into a new and mostly foreign way of life. He was responsible for finding adequate housing, registering students for local schools and finding employment for the thousands of new Somali refugees.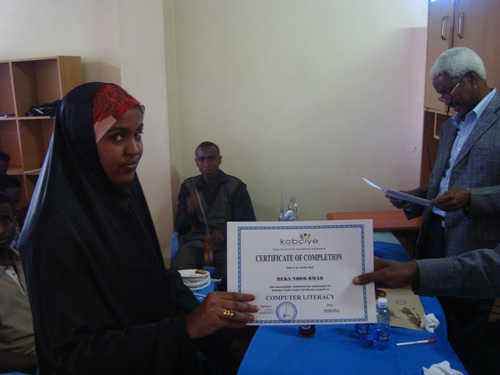 His passion for his community eventually led him back to Somalia in 2001, where he began work with UNICEF as a Child Protection Officer. During his time in Somalia he would often meet and collaborate with local community leaders and discuss the ways in which the Somali community could strengthen and develop. He continued this work for seven years, battling health issues along the way, but never wavering in his commitment to help the Somali community.
In 2010, his life-long passion and drive was manifested into Kobciye, a community organization dedicated to empowering Somali communities in Somalia and the diaspora in Kenya. He believed that the best way to empower people was through education and literacy. Over the past 2 years, more than 1200 students have passed through Kobciye having learned everything from basic literacy to more skilled academic training such as web and graphic design.
My father thought the best way to combat the penetration of violence was through the positive engagement with the community and further empowering these communities to identify and find a solution for local issues. Kobciye, which means "empowerment" in Somali, has quickly established itself as a community leader in education and social engagement. It has provided opportunity and hope to individuals in the Somali community who were otherwise mired in a constant state of instability and fear.
One of the programs my father developed at Kobciye was a youth empowerment program. This program was intended to strengthen the capacity of the youth in seeing the detrimental effects of violence and conflict by empowering them through providing opportunities and education. This included radio discussion programs and the development of a local newsletter. Both youth and civil society members were involved in discussing various issues and concepts directly related to their community through these mediums. It also included recreational activities such as free internet access and soccer tournaments which provided social relief to the constant struggles confronted by youth in the volatile regions of Somalia.
I recently was able to take a trip to Nairobi and see first hand the workshops and classes these students were benefiting from. One particular event, I believe epitomized my father's wonderful legacy. It was a graduation ceremony, where 62 students were graduating, however; of those 62 students 10 students were unable to attend because they were able to find jobs with the skills they gained through their education at Kobciye. His undying vision of empowering Somalis, was at last flourishing, even if it was on a small scale.
However, through the will of Allah, he was not able to see his dream all the way through. While rebuilding a youth shelter in Somalia's central province of Dhusa Mareeb, my father received a cut on his foot that became severely infected. He passed away on March 4th, 2012 with his dream incomplete, yet well underway. Though his death was the most painful experience of my life, I chose to remember and honor the lessons he taught through the way he lived his life: his steadfast endearment to his family and community and his relentless work ethic to better his community. This was his legacy, and the legacy of Kobciye, and with the help of the Muslim community and the help of the larger Ottawa community we can work to keep his admirable legacy alive.
Afrah Hassan is the son of Abdullahi Hassan Eyow. He recently graduated from the Human Rights and Law programme at Carleton University, and plans to go to Africa to keep Kobciye running. For more information about Kobciye, visit: http://kobciye.org/  
This article was produced exclusively for Muslim Link and should not be copied without prior permission from the site. For permission, please write to info@muslimlink.ca.