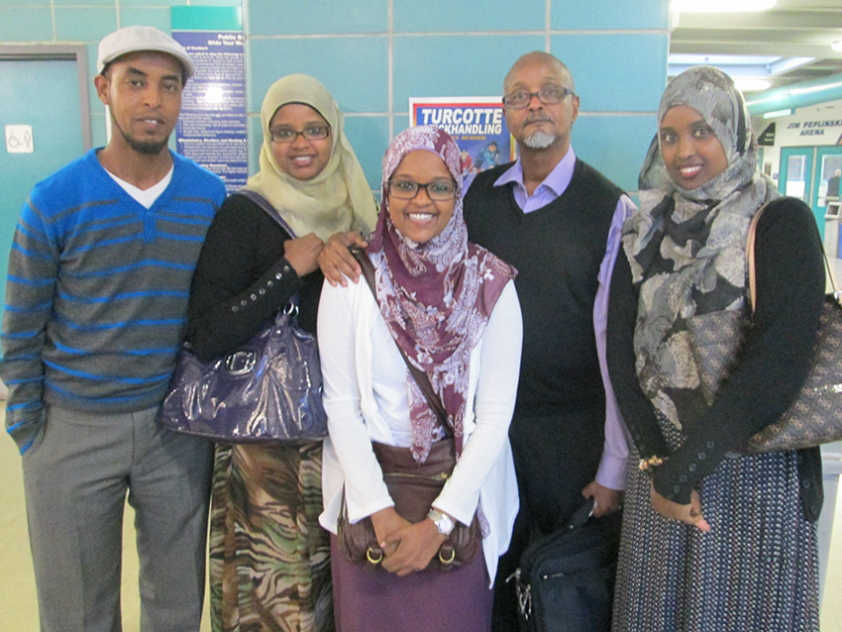 Abdul Arale with his daughters Nasra, Maryama, and Kawthar, and his son-in-law Abdisamad Ibrahim
Chelby Daigle
20
June


2014
A Father's Day Reflection: On Being a Somali Single Father
Written by Chelby Daigle
On June 15th, the Canadian Somali Mother's Association honoured exceptional Somali fathers for their leadership within the community at the annual Father's Day Celebration. Abdul Arale was one of the speakers at the event. Arale was widowed when his eldest child was just six and he went on to raise three daughters and one son as a single father.
He spoke about how living among his fellow Somali refugees in Ottawa-South in the 90s posed challenges, including his choice to remain a single father. His focus on spending equal time and energy on his daughters and son was often questioned by both men and women. "They saw me always with the children, taking them somewhere. Even I had women calling me and asking 'Why are you playing ball with your daughters? Just play ball with your son and leave the daughters behind.' I just ignored it." He resisted pressure to remarry in order to avoid creating a difficult environment for his children.
But despite their judgement, he also expressed gratitude for the support of his Somali neighbours. "As a Somali man, I didn't know how to cook so I had to learn from the women. I would have to go and knock on their door and ask 'How do you do the injera (flat bread)?'"
During his talk, Arale also joked about figuring out how to support his daughters through the changes brought on by puberty, an awkward time for any father, no matter his culture.
Arale particularly focused his efforts on tutoring his children "I knew that it was a duty for me to educate my children, both male and female equally," he stated. He is proud that all of his children are university educated, including one daughter who holds a Masters' degree. One way he supported his children through university was that he went back to school himself. "I showed them that if I can do it, you can do it too," he explained.
In his talk, Arale stressed the importance of fatherhood as a commitment to prioritize the needs of one's family before one's self. He asked would-be fathers to seriously consider the implications of having children. "You can't just say oh there is a pretty girl, I will go marry her and have some children. What are your intentions, how much are you going to commit?" he stated. And for Arale that commitment is as much about time as it is about money. He feels the characteristics of a good father are being "committed, caring, mindful, and empathetic of other people's sorrows."
Arale feels that his choices have paid off and he is "reaping the fruits of his cultivation" which are his accomplished children, who he also feels he has raised to be "good Muslims who pray". All of his children are married, save one, and he still lives happily with them which he also sees as a reward for his efforts. "They are now thanking me for the time I invested in them," he explained.
This article was produced exclusively for Muslim Link and should not be copied without prior permission from the site. For permission, please write to info@muslimlink.ca.