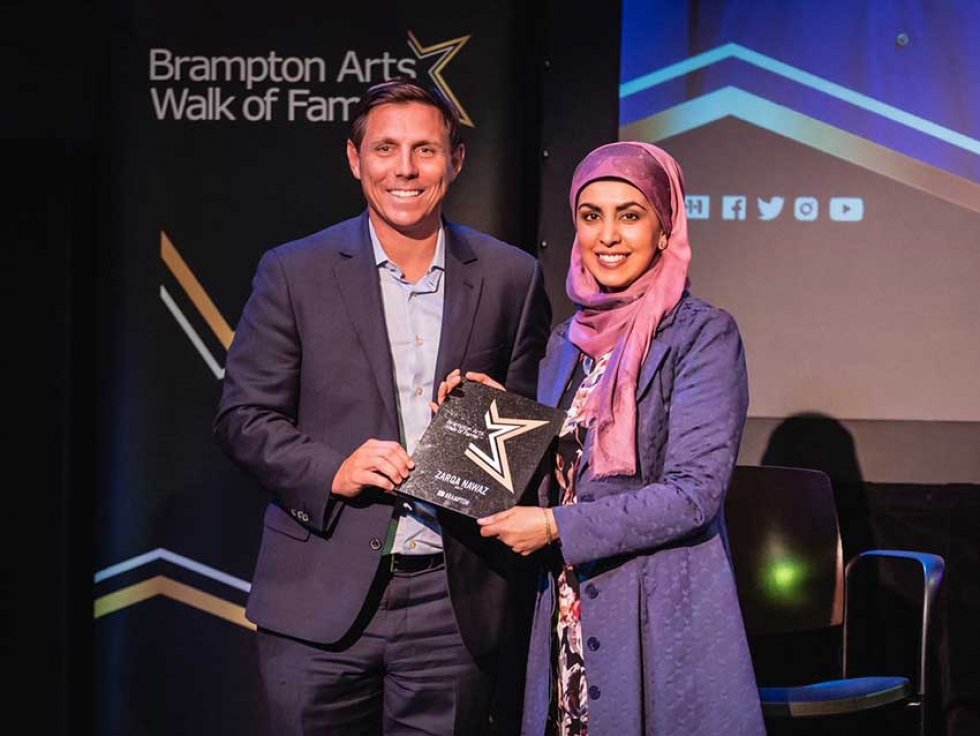 Zarqa Nawaz with Patrick Brown, the Mayor of Brampton, at her induction into the Brampton Arts Walk of Fame on March, 22, 2019.
Culture Brampton
04
Apr


2019
Zarqa Nawaz Inducted into Brampton Arts Walk of Fame
Written by City of Brampton
The City of Brampton inducted Zarqa Nawaz into the Brampton Arts Walk of Fame on March 22, 2019.
Nawaz is best known as the creator of CBC's Little Mosque on the Prairie, the world's first sitcom about a Muslim community living in the west. The hit show ended in 2012 after six successful seasons and is now broadcast in over 60 countries. She is also a best-selling author for her comedic memoir Laughing All the Way to the Mosque, on growing up as a Canadian of Muslim faith. Nawaz is a frequent public speaker on Islam, comedy, gender, faith, multiculturalism and plurality. She currently hosts CBC News Saskatchewan.
Born in Liverpool, England, Nawaz's family moved to Brampton in the 1980s, where she attended Fallingdale Elementary School and Chinguacousy Secondary School. In her memoir, Nawaz explores the struggles of fitting in with her classmates as a child of immigrants, and being "the only brown girl in [her] class."
"Brampton's Arts Walk of Fame puts the spotlight on some of the outstanding talent that has emerged from our diverse community," said Mayor Patrick Brown. "We're pleased to welcome Zarqa Nawaz back to Brampton to celebrate her contributions to the arts in Canada."
Brampton's Arts Walk of Fame is one of the City of Brampton's key recognition programs, celebrating and building connections with the incredible artistic and creative talent emerging from Brampton, while inspiring the next generation of artists and creators in Brampton to follow in their footsteps. Hailing from Brampton or having spent their formative years there, inductees are selected for achieving excellence in the arts and entertainment industry, for building pride in the Brampton community, and inspiring emerging artists and creators.
An Evening with Zarqa Nawaz also took place on March 22nd at the Rose Studio in Brampton, Ontario. The event included a screening of Nawaz's hit show, a reading from her memoir, a Q&A and her Arts Walk of Fame Induction Ceremony and reception.
You can view video from the event on YouTube below (May take a few moments for the video to load from YouTube).
Follow Zarqa Nawaz on Twitter here