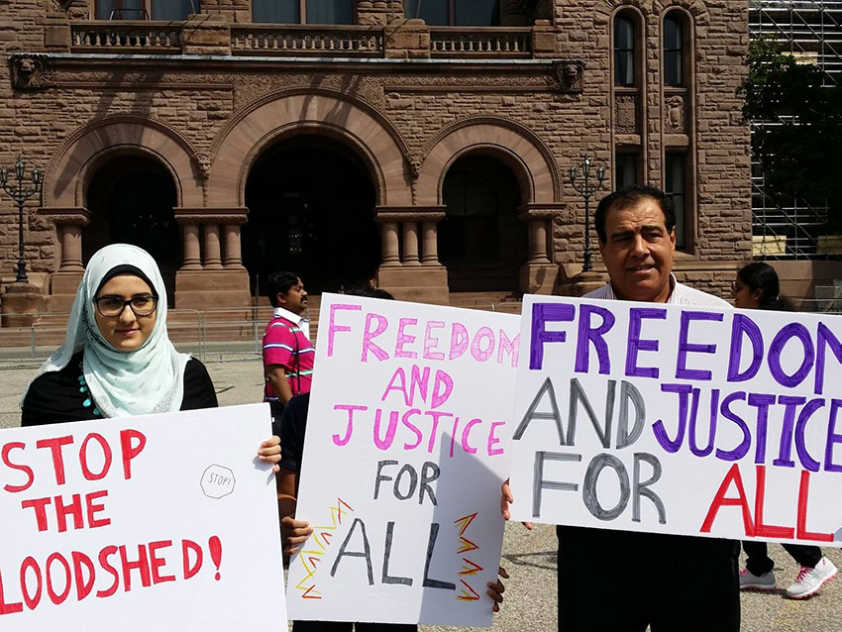 Izzeldin Abuelaish and his daughter Shatha at the July 15th vigil in Toronto
Courtesy of Izzeldin Abuelaish
01
Aug


2014
"You can be angry but not hate." Canada's Most Famous Palestinian Resident Speaks out about Gaza
Written by Chelby Daigle
Canada's most famous Palestinian resident, University of Toronto Professor Izzeldin Abuelaish, has been tirelessly working to demand an end to the current conflict that is costing the lives of so many civilians in Gaza, his homeland.
Dr. Abuelaish knows firsthand the crushing loss that these conflicts bring to ordinary Gazan families. When an Israeli missile crashed through his house his three daughters and niece were killed in Gaza in 2009. But Dr. Abuelaish vowed not to hate and wrote a memoir, 'I Shall Not Hate', calling for an end to the occupation and the hatred between Israelis and Palestinians that he saw as responsible for the death of his family members.
Although he strongly advocates for peace and condemns violence by groups like Hamas, he feels there is a real need to speak out against any justification for the deaths of civilians in Gaza by the actions of the Israeli Defence Forces in the name of the state of Israel's right to defend itself.
"This bloodshed is a result of the occupation," Dr. Abuelaish stated. He does not believe this conflict can really ever be resolved through military actions. He also feels that it is inaccurate for media to describe this conflict as if it is between two equal sides, when clearly one side is in a much stronger position to inflict harm and protect its citizens than the other. "One side is the occupier and the other is occupied," Dr. Abuelaish stated. He feels that now is the time for world leaders to push for peace between all sides and the implementation of the two-state solution to end the occupation as he feels this is the only way that there will be a long term solution to this seemingly unending conflict.
He has written Op-Eds for publications like the Guardian and the Globe and Mail, been interviewed by international media, taken to the streets at several protests in Toronto, including organizing a vigil on July 15th himself, and rallying Canadian academics and opinion leaders to issue an open letter demanding that Canadian Federal Parties take a less partisan stance on the current conflict.
He still wants to promote understanding over hatred but for him that does not mean keeping silent and not expressing outrage at the current situation. "You can be angry but not hate," Dr. Abuelaish stated. "You need to take your anger and turn it into useful action," he explained. He encouraged Canadians to call and write to their Members of Parliament demanding that the government push for a ceasefire in order to save the lives of innocent civilians. He also is looking for support for his initiative to try to bring 100 Gazan children who are in need of critical medical care due to their injuries to Canada for treatment.
He worries about the long-term impact of this violence on peace in the region as Palestinians once again are faced with a devastating humanitarian disaster with little to no expression of sympathy from world powers. "Palestinian children are experiencing the destruction of their homes; they are seeing the bloodshed and the killing of their loved ones. What do you expect from them? They will hate as a result of that," he explained.
Dr. Abuelaish, a medical doctor by profession, sees hatred as a sickness which needs to be treated but in the case of Palestinians, he feels this can only happen when there has been room to heal from the trauma they are experiencing under the occupation. "I can't treat you if your life is the same violence, the same suffering, and then ask you 'Please don't hate'," he stated, "No facilities. No water. No power. No future. A total lack of freedom. What do you expect from people if you put them in a cage?" He believes that if the safety and security of Palestinians could be assured then there would be an opportunity for those traumatized to unlearn hatred through education.
But he feels it is unfair to focus all concern about hatred on the side of Palestinians and their supporters while ignoring statements and actions which also demonstrate hatred towards Palestinians from the Israeli side and their supporters. With the recent vandalism against an Islamic Centre in Thornhill, it is clear that some of that hatred against Palestinians, and by extension against Arabs and Muslims, has spread to Canada.
Dr. Abuelaish has worked in Israel and still is in touch with friends and colleagues there. He has called on them to speak up against the actions of their government. He feels that those who are seriously concerned with Israel's future should speak out against the current violence. "We have to say to the Israelis this violence is not helpful to you, it is not going to guarantee your safety and security. This is madness," he stated. He wants to see world leaders step in and take on the role of an "honest broker" who can mediate for peace between all sides and a viable two-state solution. "Otherwise, we will all be losers," he stated.
He also argued against statements which accused those demonstrating against the attack on Gaza in Canada as 'importing conflict.' "Canada is a country of immigrants. People who come here are often still concerned about their homeland and their family there. Why do we expect a Palestinian Canadian, an Israeli Canadian, and a French Canadian to be any different? Canadians need to understand each other. We can't have stereotypes and be misinformed about each other. Palestinians who came here who are happy and running a normal life, who are happy to be Canadian, we can't expect them to be disconnected from where they came from and from their families there," he stated.
Dr. Abuelaish has hope that more Canadians are becoming informed about the conflict and expressing concern for the lives of Palestinians. At the vigil he organized on July 15th, he was moved by the diversity of those in attendance. "The people came from everywhere, from different ethnic backgrounds, from different religious backgrounds, as Canadians," he explained, "Muslims, Jews, Christians, Buddhists. They came because they believed that we need to end this bloodshed."
At the end of the interview with Muslim Link, Dr. Abuelaish inquired about when the article would be published and wondered "How many more innocent people will have died by then?"
Editor's Note: The death toll in Gaza is 1463 with over 8,400 wounded according to NBC News, to better understand how causalties are counted read this article.
To learn more about Izzeldin Abuelaish and his work visit:
The Daugthers for Life Foundation, fonded by Dr. Abulaish and his family, the foundation offers scholarships to young women and girls in the Middle East
Help 100 Kids Initiative, aimed at getting government and financial support to bring 100 Gazan children to Canada for medical care who have critical injuries that cannot be treated in Gaza
Help 100 Kids Initiative Petition to Health Ministers on Change.org
Please don't revive the anger that killed my daughters by Izzeldin Abuelaish in The Globe and Mail (July 9, 2014)
As a father who lost his children in Gaza, I call for an end to this bloodshed by Izzeldin Abuelaish in The Guardian (July 18, 2014)
Gaza Doctor Refuses to Hate by Gerald Caplan in The Globe and Mail (July 18, 2014)
Statement by Ontario Health Minister on Supporting Children in Need of Medical Attention as a Result of Conflict by MPP Eric Hoskins
This article was produced exclusively for Muslim Link and should not be copied without prior permission from the site. For permission, please write to info@muslimlink.ca.