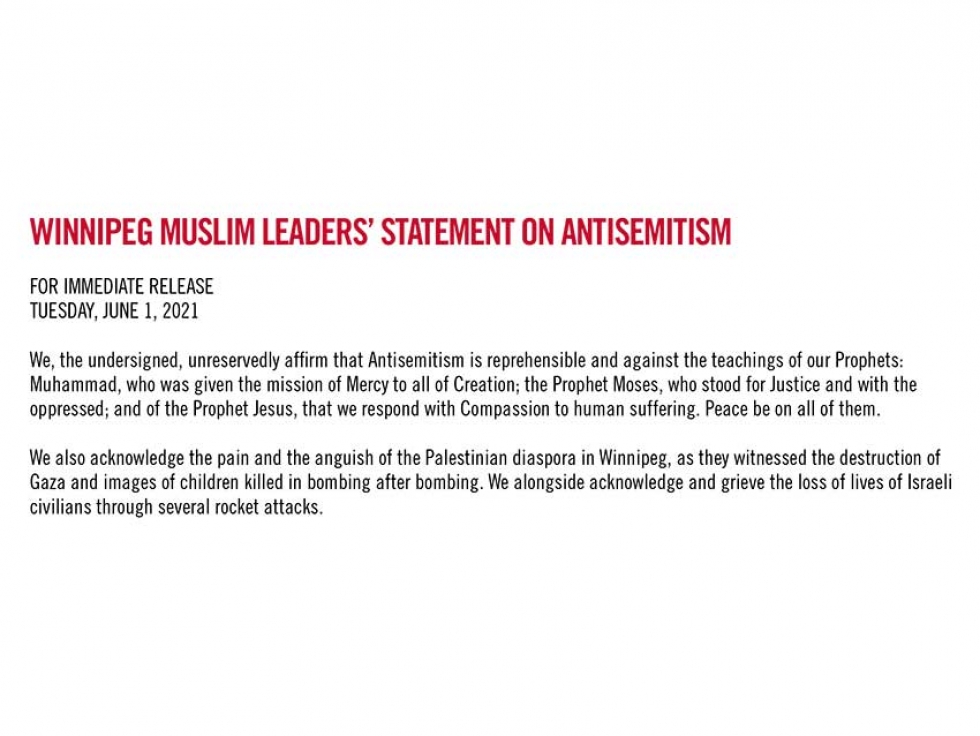 03
Jun


2021
We, the undersigned, unreservedly affirm that Antisemitism is reprehensible and against the teachings of our Prophets: Muhammad, who was given the mission of Mercy to all of Creation; the Prophet Moses, who stood for Justice and with the oppressed; and of the Prophet Jesus, that we respond with Compassion to human suffering. Peace be on all of them.
We also acknowledge the pain and the anguish of the Palestinian diaspora in Winnipeg, as they witnessed the destruction of Gaza and images of children killed in bombing after bombing. We alongside acknowledge and grieve the loss of lives of Israeli civilians through several rocket attacks.
Within this context — and in the environment of raw emotion, worry for families in Gaza, and the ongoing suffering of fellow
Palestinians — it was bound to trigger trauma and anger when some people showed-up at a Palestine rally event, who were perceived as mocking their suffering. This regretfully provoked severe emotions within some rally attendees, who came to stand-in solidarity with the victims of Gaza and mourn the dead and suffering of the wounded.
However, the antisemitic chants by some were regrettable and unbecoming of the spirit of the gathering. We can criticize the policies of the Israeli government, but it is not acceptable to denounce any peoples because of their religion or to promote hate no matter how angry or hurt we are.
As Canadians, it is also important for us to understand that decades of neglect by world leaders to bring an end to violence in the region (through a just two-state solution for both Israeli and Palestinian peoples) has sown seeds of distrust, anger and despair.
As Canadians — as all peoples — we must never stray from the path of pursuing justice and human rights for all of humanity.
The horrific discovery of the human remains of 215 Indigenous Residential School children in Kamloops, BC, is a stark reminder of how low we can sink when we give in to hate and turn a blind eye to colonial injustices. Let us teach the world from our experiences so they are not repeated elsewhere. The suffering of children around the world should be equally condemned by all of us — regardless of who the victims and the perpetrators are. Islam compels Muslims to stand up for justice and reject hate against any peoples — this, regardless of race, orientation, gender, culture, religion and ethnicity.
Hate, violence, injustice and divisive political rhetoric is our enemy — not any religion or race.
Sincerely,
Abdo Eltassi, LLD, OM, CM (Alhijra Islamic School)
Dr. Jennifer Rahman (Winnipeg Central Mosque)
Ramsey Zeid (Canadian Palestinian Association of Manitoba)
Dr. Idris Elbakri (Manitoba Islamic Association)
Shahina Siddiqui (Islamic Social Services Association)