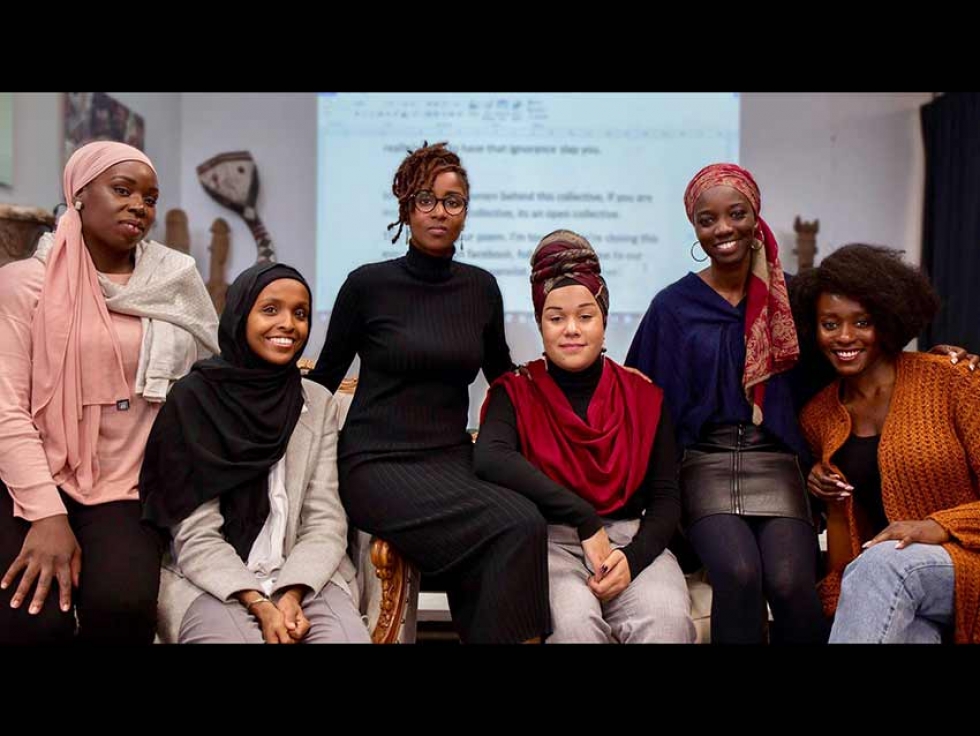 Founders of the Black Muslim Women in Quebec (Femmes Noires Musulmanes au Québec) and speakers at the initiative's launch in October 2018.
19
Oct


2018
Why Black Muslim Women Are Organizing In Quebec
Written by Chelby Daigle
Black Muslim Women in Quebec (Femmes Noires Musulmanes au Québec) is a new initiative that was launched on Saturday, October 20 in Montreal at Espace Mushagalusa. The initiative is funded by the Inspirit Foundation and supported by DESTA Black Youth Network. 
Their next event is taking place on February 9th in Montreal.
Muslim Link interviewed Oumalker Idil Kalif about why this new organization is needed during the current climate for Muslims in Quebec.
1. Tell us about yourself and why you spearheaded this initiative.
My name is Oumalker Idil Kalif. I was born in Djibouti and lived in Quebec for more than 30 years. As a Black Muslim woman living in Quebec for many years, it is was clear to me that Black Muslim women's priorities aren't being heard in this province, especially during and after the last election. I understand how Islamophobia and anti-Black racism has affected and is still heavily affecting the society we're living in. At first, I was alone with myself thinking that this project is important. Then, I reached out to other amazing Black Muslim women and realized they felt just like I did, in so many ways.
2. Tell us about how your team partnered with Inspirit Foundation, DESTA, and Espace Mushagalusa.
I decided to present this project to the Inspirit Foundation for support because they fund initiatives aimed at addressing Islamophobia.
DESTA has been doing work with Black youth in the neighberhood I grew up in for many years. It only made sense to partner up with them.
Espace Mushagalusa is the only gallery and gathering spaced focused on African art. It represents a space where many organizers choose to celebrate our cultures and legacies.
Once I received a positive answer from Inspirit in terms of funding, we had a team and partners supporting what was at first a simple idea. We're very proud of how everything has come together.
3. Do you feel that the current organizing against Islamophobia in Quebec is excluding Black communities? Delice Mugabo, a Black Muslim academic from Quebec, has coined the term "anti-Black Islamophobia" and argues in her paper "Of Rocks and Hard Places: A Reflection on Anti-Blackness in Organizing against Islamophobia", that both non-Black Muslims and non-Muslim activists are consciously excluding Black Muslims from the anti-Islamophobia movement because anti-Blackness often shapes the language and activities of these movements as non-Black Muslim communties try to demonstrate that they deserve to be treated well by the mainstream because they are "better" than Black communities. As one Muslim woman activist from a prominent Muslim organization quoted in Mugabo's paper actually stated in 2015 "Muslims will not be the Blacks of Quebec." What are you thoughts on this?
I have a lot of respect for Mugabo's work. I think she's a brilliant scholar and I agree with that specific perspective of hers. There's a clear blind spot concerning Black Muslim women in Quebec. I believe that Black Muslim women are at the bottom of the social pyramid in Quebec. Black Muslim women, ironically, especially being silenced in social movements within the province. In the imaginary collective in Quebec, Muslim women are never Black AND Muslim. Where does that put Black Muslim women? What does that mean for their quality of life in Quebec? That leaves them in the dark, so easily and often violated in there identities, minds and bodies. I have myself been part of different groups fighting against Islamophobia and/or anti-black racism, and I can confirm that the blind spots are real and deep. Even in social movements where "woke" people are fighting the good fight, the understanding is you can only be Black OR Muslim. If you are both that is just too complex to comprehend or grasp. As a Muslim woman who is also Black, I had to step out of many Muslim groups organizing against Islamophobia because of the discrimination and silencing I experienced from non-Black Muslim women.
4. You have brought together a diversity of Muslim women who identify as Black, women who were born Muslim and others who converted, women who are connected to all regions of the continent of Africa and women from the Caribbean and American African diasporas. Why was it important to make sure that there was this level of diverse representation of the Black Muslim experience for this event?
It was very important to me that Black Muslim women be represented in all their diversity as speakers at this event. I intentionally reached out to a diversity of Black Muslim women.
Being Somali, I easily could have gathered only Somali women. But that would have been a misrepresentation of what it is to be a Black Muslim women in Quebec and Canada. We could not run this project any other way. As Black Muslim communities our cultures, languages and experiences are intensively diverse. This project is a platform to learn from one another. 
5. Language is a huge barrier to organizing in Quebec and also between Black Muslim women. How are you trying to figure out how to bridge the gap between Francophone and Anglophone Black Muslim women with this event?
Amazing question. It's a challenge but we have to invest time, money and energy to build bridges between Black people speaking all languages in Quebec. With 3% of Black people in the province, we can't afford these barriers to our organizing together. We need to stick together, as much as possible. I speak speak both French and English so that obviously made things easier for me to mobilize Francophone and Anglophone women. Many talented and skilled Black Muslim women live in Quebec and we wish to give them an honest and authentic platform so we have to do our best to create space in both English and French. We have a long way to do, but we are intentionally trying to do this and are committed to doing the best we can with the resources we have.
6. How have people responded when they learned that this launch event is just for Black women, both Muslim and non-Muslim?
We consciously decided to have a launching event for ONLY Black Muslim women and Black women. That decision has been taken to create a space that will be sensitive to Black muslim women's needs and educate our closest Black allies : Black women. Even if Islamophobia is a reality in Black communities, Black women only have each other in the end. So we wanted to create a space to have an honest discussion about Islamophobia among Black women.
We have received many messages from people of colour and White Muslim women who didn't understand why we decided to keep them out of the launch event on Saturday, October 20th. Our team doesn't feel the need to justify ourselves about the decision to prioritize dialogue between Muslim and non-Muslim Black women.
Black women, both Muslim and non-Muslim are often ignored, silenced, or just an afterthought in the organizing of non-Black Muslims, so why can't Black Muslims take some time to focus on each other? We really wish that many non-Black Muslim women would instead start thinking about the physical and psychological violence they consciously and unconsciously perpetuate against Black women, both Muslim and non-Muslim, and put their energy into unlearning that and creating their own events to educate themselves about anti-Black racism.
7. Black Muslim are organizing to address issues of anti-Black Islamophobia in cities across the country. How can they and their allies, both Muslim and non-Muslim, support your initiative given that in many ways Black Muslim women in Quebec are facing some of the greatest challenges around anti-Black Islamophobia in this country and must find ways to organize with less resources and supports in BOTH English and French?
Of course, the proper support of non-Muslim Black people and people of colour is always welcome. For example, the two photographers at the event are non-Black North African Muslim women and they are covering the event for free. Other non-Black Muslim women shared this event through their networks in order to help us reach a diversity of Black Muslim women. They did this without complaining to us that this event was exclusively for Black women. Two non-Muslim Black women have volunteered to do interpretation from French to English and English to French during the event. These are great examples of support an allyship. We are grateful for all of the love and support we have received from these true allies.
You can contact Black Muslim Women in Quebec on their Facebook Page or by email This email address is being protected from spambots. You need JavaScript enabled to view it.
This article was produced exclusively for Muslim Link and should not be copied without prior permission from the site. For permission, please write to info@muslimlink.ca.