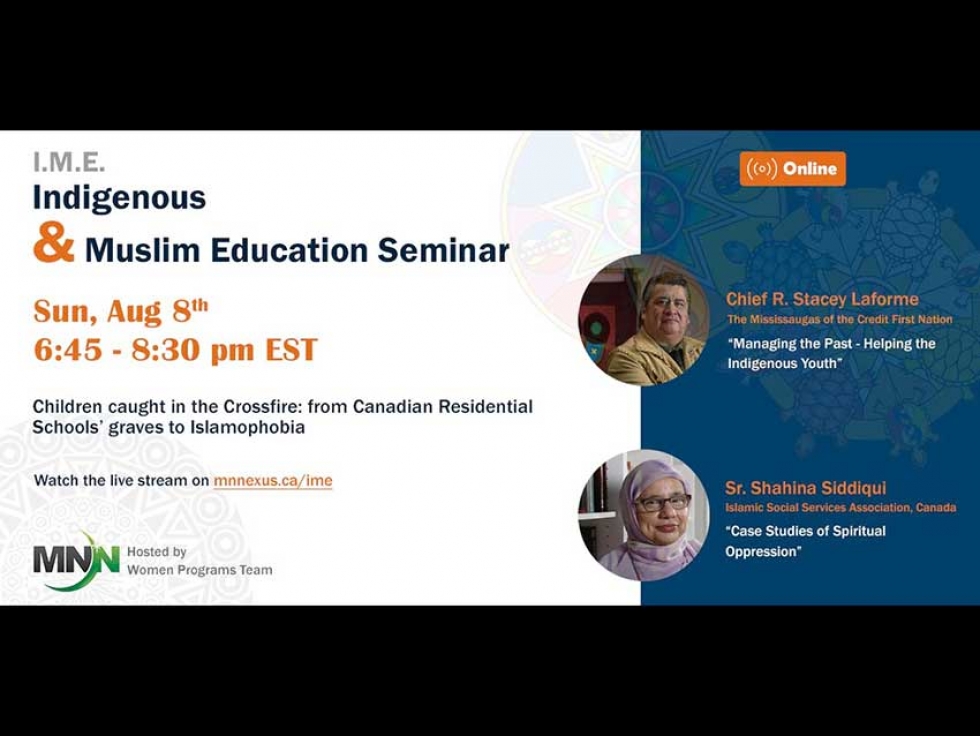 05
Aug


2021
Watch Muslim Neighbour Nexus' Seminar on Children Caught in the Crossfire From Residential Schools' Graves to Islamophobia Online
Written by Muslim Neighbour Nexus
Linking threats to Canadian children from mass graves at residential schools to the Islamophobia
The main purpose of the Indigenous and Muslim Education Seminar is to present why the federal government set up the Residential School for Indigenous children, allowed the horror to knowingly take place, and further continued wrong-doings of oppression through which Indigenous Peoples are affected by to this day.
The first step in correcting any wrong is to be aware – a history we need to acknowledge. This seminar will enlighten us with the history of Residential schools, their impact on us as Canadians, and how we can help treat these scars of intergenerational trauma. Meanwhile, this discussion may also help us to understand why Muslims are the new "othered" ethnicity in Canada. Why Islamophobia is on a rise and what remedies can be taken to provide our children with a better and more secure future.
Watch the video of this talk online here (It may take a few moments for the video to load from Facebook)
AGENDA
6.45 – 7.00: Opening
7.00 – 7.10: Event Introduction & Goals
7.10 – 7.30: Chief R. Stacey LaForme - Managing the Past, Helping the Indigenous Youth
7.30 – 7.50: Sr. Shahina Siddiqui - Case Studies of Spiritual Oppression
7.50 – 8.20: Q & A
8.20 – 8.30: Action Plan & Closing
SPEAKERS
Speaker 1 – Chief R. Stacey LaForme
Chief R. Stacey LaForme is the elected Chief of The Mississaugas of the New Credit First Nation - whose traditional territory is made up of 3.9 million acres in Southern Ontario. Chief LaForme was born and raised there and has served his community since 1999.
He has also been the Chair of the Pan Am Games Secretariat, helping to raise the profile of all First Nations. Currently, Chief LaForme serves on Ryerson's School of Management Dean's Council.
Finally, he is also a notable storyteller and poet, where his collection is published in Tall Grass: Poems of Reconciliation.
Follow Chief R. Stacey LaForme on Twitter here
Speaker 2 – Sr. Shahina Siddiqui
Sister Shahina is from Winnipeg, having lived there since 1976. In 1999 she helped establish the Islamic Social Services of Canada – for which she is currently the volunteer Executive Director.
She is a strong proponent of social justice and female leadership. She has worked with the Indigenous women - whom she considers to be her "sisters and daughters" - has helped with the Reconciliation Process in Winnipeg.
Her leadership is commendable, given Winnipeg is possibly the most racially polarized city in the country, with the highest urban Indigenous population of 95,000 or 12% in total.
CREDITS
Indigenous art piece by Karen Bisson turtlelodgetradingpost.ca
Islamic illustrations design by vexels vexels.com