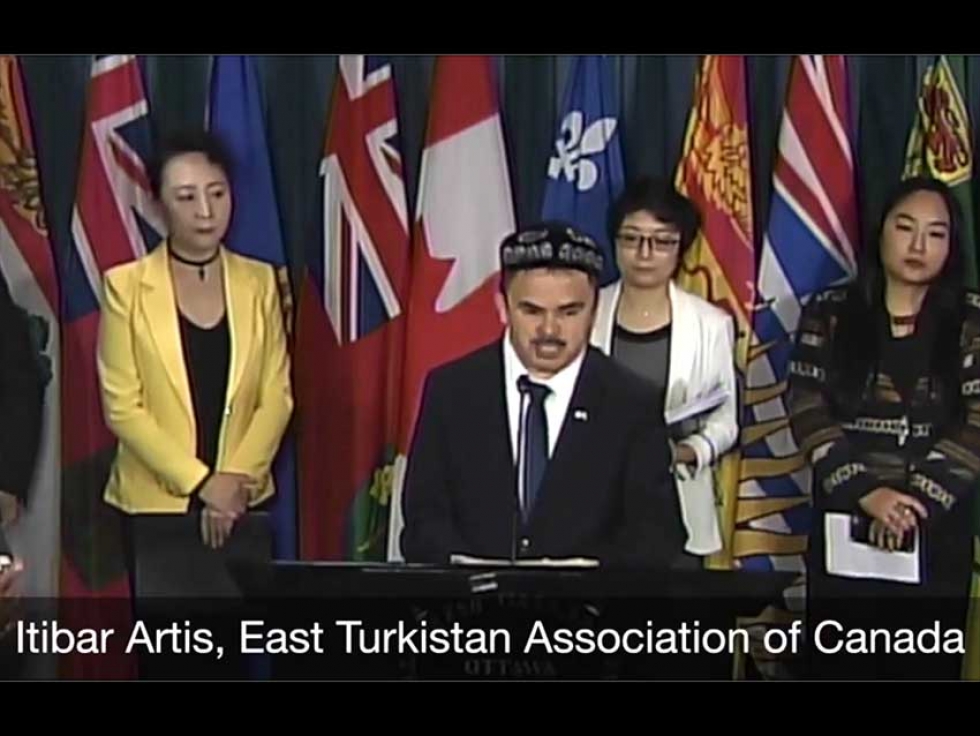 Uyghur Canadian Itibar Artis, a member of the East Turkistan Association of Canada, spoke at a Parliament Press Conference on December 10th.
31
Dec


2018
Uyghur Canadians Speak Out About Persecution in China
Written by Chelby Daigle
Members of the Uyghur community in Canada are speaking out and organizing to raise awareness about the plight of their families in East Turkestan, an autonomous region in China.
The Uyghur are a Turkic people in contrast to the Han people, the majority ethnic group in China. The majority of Uyghurs identify as Muslim.
Human rights organizations have been speaking out about attacks on the religious and cultural freedom of Uyghur Muslims in East Turkestan for many years now, but in recent months, reports are coming out of China that Uyghur communities are facing persecution en masse with many Uyghur community members in Canada and across the globe stating that members of their families are "disappearing" into Chinese "re-education" camps.
Uyghur Canadians in Ontario have been speaking at well-attended events organized by their local mosques in cities like London (Windsor Islamic Association), St. Catharines (Masjid An Noor), and Toronto (Noor Cultural Centre), to inform their fellow Muslims about what is happening to their relatives in China.
Recently, Uyghur Canadians have established the East Turkistan Association of Canada. The association was formed by merging the Uyghur Canadian Association and the East Turkistan Cultural Centre in October 2018.
The Association organized a demonstration in front of the Chinese Consultate in Toronto on January 4th after which they marched to Queen's Park.
Itibar Artis, a member of the East Turkistan Association of Canada, spoke at a Parliament Press Conference on December 10th, organized by One Free World International, an organization founded by Egyptian Canadian Majed El Shafie aimed at addressing lack of religious freedom for religious minorities, particularly in the Middle East.
Artis spoke as part of a delegation made up of other Chinese religious and ethnic groups who have been witnessing an escalation in attacks on their freedoms such as Chinese Christians, Tibetans, and members of Falun Gong.
A second-generation Uyghur Canadian, Babur Ilchi, recently wrote a reflection about the dilemma facing many Uyghur in diaspora as they try to get Western government to help their families.
Muslim Link has gained his permission to quote from his piece, originally published in The Gauntlet, a University of Calgary publication:
"I am an Uyghur. My family immigrated to Canada in 1999, when I was three. Growing up, I didn't really know about the complexities in East Turkestan and the lives my parents had there. And when I did learn about it, we didn't really talk about it. There was a general consensus between Uyghurs that staying quiet and not rocking the boat would be the best way to live. To make noise might lead to a crackdown on our families back home.
But it's clear now that this hasn't worked. That staying quiet has been the wrong choice to make. Even without doing or saying anything, China has imprisoned our families in camps and in their homes.
Contact between those in East Turkestan and the rest of the world is severely limited. My family hasn't been able to call, text or see those back home. However, information does get out. We've received photos of family and learned that two of my uncles were sent to these camps. Who knows how many families are left wondering where their loved ones are today, fearing that they may be dead or worse. The dismantling of a culture through brainwashing and 're-education,' the destruction of heritage landmarks like Kashgar city, the restriction of travel across cities, the constant surveillance via cameras and officials 'invited' to stay in Uyghur homes and the detainment and disappearance of millions of Uyghur people have become commonplace in Xi's China. What the Chinese government has done in East Turkestan amounts to nothing short of genocide.
There has been a growing international movement among Uyghurs to protest these Chinese injustices. Uyghurs have gathered from across the world to protest and rally against their treatment in East Turkestan. Recently, many of us attended a large protest in Geneva, Switzerland to protest during a United Nations Human Rights Assembly. Local protests in cities across the world have also come together, with groups of 50 or more rallying together.
We all have a common goal now: freedom. Freedom for Uyghurs detained and imprisoned and freedom for the nation of East Turkestan. Freedom from the constant fear and worry that our family abroad is in danger or dead. All we want is peace and an end to the brutal injustice that China is carrying out.
It has become increasingly clear, however, that a small diaspora of Uyghurs across the world cannot directly affect the situation in East Turkestan."
Uyghur Canadians like Ilchi hope that the Canadian government will take serious action on this issue and show a committment to freedom of religious and cultural expression, even if this means upsetting a major world power. 
As Ilchi goes on to state:
"The destruction of a people and their culture is not something that anyone can say they tried to stop. It is either stopped or it is not. To stand by as silent witnesses, as simple bystanders, is a complicity in genocide. We cannot say that we learned from the mistakes of the past if we do nothing to correct them now."
To learn more about the East Turkistan Association of Canada, click here.
To watch the video of Itibar Artis and other members of ethnic and religious minorities in China as they speak at a Parliamentary Press Conference which took place on International Human Rights Day, organized by One Free World International, watch the video below:
This article was produced exclusively for Muslim Link and should not be copied without prior permission from the site. For permission, please write to info@muslimlink.ca.