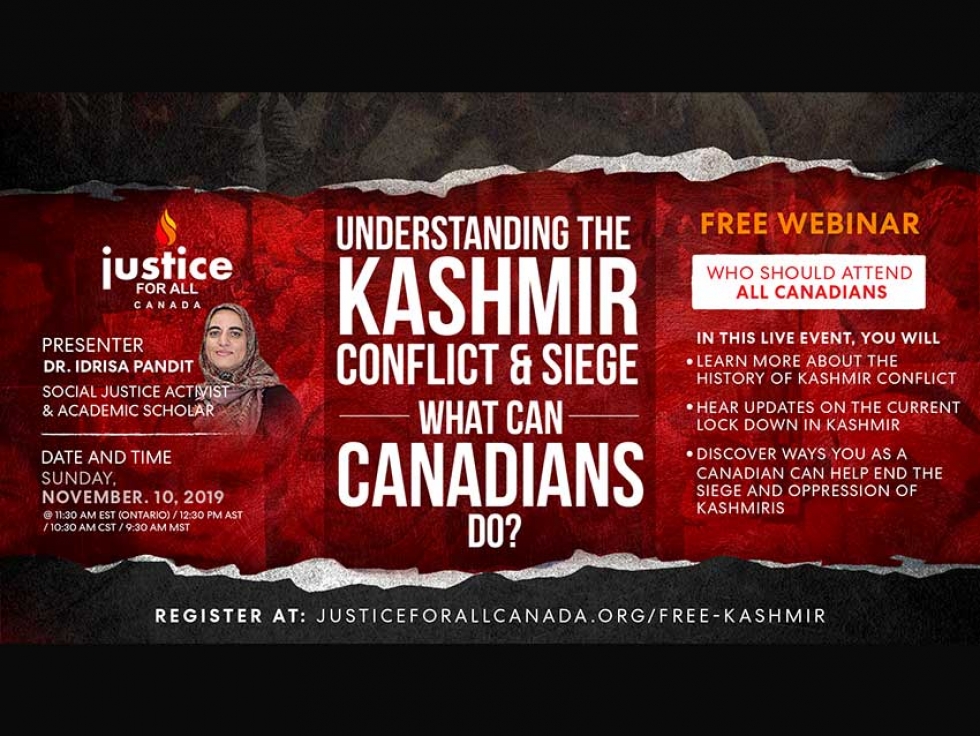 Protesters line up in support of Kashmir in front of the Indian consulate in Vancouver, BC on August 15, 2019.
CBC
28
Oct


2019
Understanding the Kashmir Conflict and Siege : What Can Canadians Do? Webinar with Kashmiri Canadian Idrisa Pandit November 10
Written by Justice for All Canada
The 90 Day mark of the Siege of Jammu and Kashmir by the occupying Indian army is fast approaching and the deafening silence of world leaders over the human rights violations against the civilians is utterly disappointing.
Kashmiris are a resilient people. But our inaction is not excusable.
Historically, Canada has played an important leadership role in numerous human rights and social justice causes around the world. We can do it again!
On Sunday, November 10, 2019 at 11:30 am EST, please join Dr. Idrisa Pandit, a Canadian Kashmiri native, for a timely webinar on this topic.
Topic: Understanding the Kashmir Conflict & Siege: What Can Canadians Do?
Presenter: Dr. Idrisa Pandit, Kashmiri Canadian Social Justice Activist & Academic Scholar
Date & Time: Sunday, Nov. 10, 2019 @ 11:30 AM EST (Ontario) / 12:30 PM AST / 10:30 AM CST / 9:30 AM MST
Who Should Attend: All Canadians
In this live event, you will:
learn more about the history of Kashmir conflict
hear updates on the current lock down in Kashmir
discover ways you as a Canadian can help end the siege and oppression of Kashmiris
About Dr. Idrisa Pandit:
Idrisa Pandit is a social justice activist and an interdisciplinary Studies scholar based om Waterloo, Ontario. Idrisa is also the founder of Muslim Social Services of Kitchener Waterloo and a member of Interfaith Grand River. Idrisa has been recognized for her volunteerism and community contributions. Among her numerous awards are the University of Waterloo 2017 President's Community Award, Ontario's 2016 Leading Women Leading Girls Award, and the Oktoberfest 2016 Woman of the Year Award. Idrisa's research and writing focuses on interfaith relations, anti-oppression, anti-racism, gender and Islam, and the Kashmir Conflict. Follow Idrisa Pandit on Twitter here
About Justice for All Canada
Justice for All Canada is a leading Canadian advocacy and human rights organization aiming to end oppression and genocide of Muslim minorities around the world. Its recent campaigns include Burma Task Force / Save Rohingya, Save Uighurs and Free Kashmir. Visit the Website, Follow on Twitter, Facebook, and Instagram.
Register for this Webinar online here