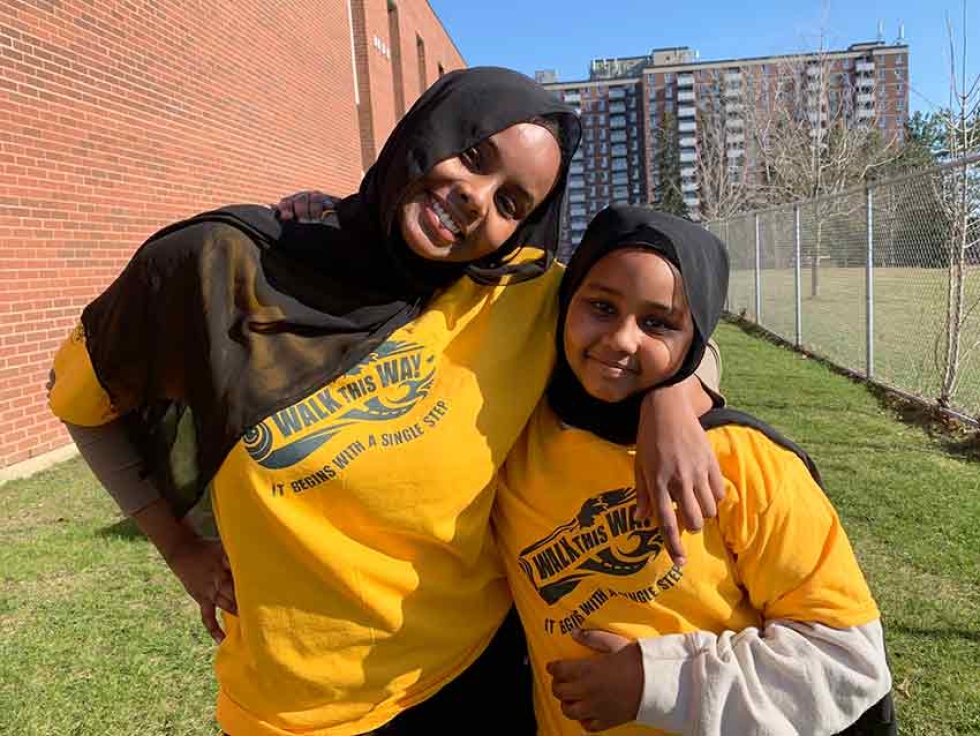 Fardosa (9), BGC Ottawa Member, and her older sister, Faiza (19), BGC Ottawa alumnae and Youth Worker have been participating in BGC Ottawa's Walk This Way program since their first year at the Club
BGC Ottawa
25
May


2022
Ottawa, Ontario, May 25th, 2022
As a charity of choice at the Tamarack Ottawa Race Weekend, May 28-29th, Boys and Girls Club of Ottawa (BGC Ottawa) is raising funds for the Walk This Way program. It is a goal-oriented wellness program that encourages youth and teens to become physically active while exploring communities beyond their own neighbourhood.
Fardosa (9), BGC Ottawa Member, and her older sister, Faiza (19), BGC Ottawa alumnae and Youth Worker have been participating in BGC Ottawa's Walk This Way program since their first year at the Club, respectively seven and nine years old. This BGC Ottawa program is a tradition in their family. Their two sisters and four brothers have also experienced this life-changing program.
As a young Member, Faiza never explored the city. Her family had a single car for work. Her other parent, stayed home to care for the younger children. Through the Walk This Way program, the Club gave her, and her siblings, "a chance to explore beautiful places in and around our city" like the Science Museum, Parliament Hill, and Gatineau Park.
Fardosa adds "It gave me the confidence to take on challenges I wouldn't want to do before". She is excited about walking longer. She also loves meeting new friends despite being a shy kid before the Club. "Sometimes, I go to landmarks with school," she adds, "but I always have to do a project, task, or homework after, so I'm just thinking about my grade. With Walk This Way, I can just enjoy it, and spend time with Faiza, staff, family, and friends."
Faiza says the program is "a bonding session with her family and friends that will last decades". It brings people together, just like a big Club family, and that like a family, people care for each other and help others overcome barriers. "Every kid is different. One kid may not be able to leave their neighbourhood, one may struggle with food insecurity, or have health issues to overcome, but Walk This Way is there for all of them."
Faiza adds "It makes me happy to see Fardosa enjoying the program with her friends and exploring new places. I didn't have this when I was her age, so I know the difference it makes, even if she may not see it yet."
The sisters can't wait to keep pushing boundaries, experience new opportunities, and meeting new people. That is why the whole family continues to participate in the Walk This Way program.
Annie and Paul Jr. are both running 5 kilometers on May 28th in memory of their father, in support of BGC Ottawa. "My dad, Paul Sr., was an avid runner and a lifelong coach dedicated to supporting children and youth in Ottawa," adds Annie Premachuk.
Their team Born to Run was named as an ode to Bruce Springsteen – their father's all-time favourite artist. Paul Sr. ran in the Tamarack Ottawa Race Weekend himself years ago. Annie and Paul Sr. are ready to continue this tradition in his honour.
Enter the 100K x 100K for Walk This Way Challenge, led by Gavin Lumsden, an incredible BGC Ottawa volunteer. Gavin, a passionate, long-time supporter had been leading the program for over 15 years. Join us today and help us raise $100,000 for the program to ensure it supports the next generation of young people.
About Walk This Way
Walk This Way is a goal-oriented wellness program that encourages youth and teens to become physically active while exploring communities beyond their neighbourhood. The program operates out of five BGC Ottawa locations and serves the most marginalized young people in our community. This program provides opportunities to lose left out of mainstream recreational activities.
Over the course of 12 weeks, participants take part in practice walks through the city, visiting unique landmarks, destinations, and events – opportunities these young people might not otherwise have access to. The program culminates with walkers joining the 5k event at the Ottawa Race Weekend. At the event, participants are cheered on by complete strangers and friends and receive a bright shiny medal to honour their achievements. More than 2,000 young people have participated in Walk This Way program in its 15-year history.
About BGC Ottawa
For almost one hundred years, BGC Ottawa, a registered charity, has provided programming directly to children and youth in vulnerable neighbourhoods. As one of Ottawa's largest child and youth-serving charitable organizations, BGC Ottawa provides vital programs and services to an annual average of 4,500 young Members each year in 19 neighbourhoods. We provide safer, supportive places where all kids and teens, of all backgrounds, can experience new opportunities, overcome barriers, and develop confidence and skills for life. From anti-racism to Reconciliation to LGBTQ2S+, food security to scholarships to job readiness, our Clubs battle systemic issues with systemic solutions—equity, acceptance, support, opportunity. BGC Ottawa is about Systemic Opportunity.