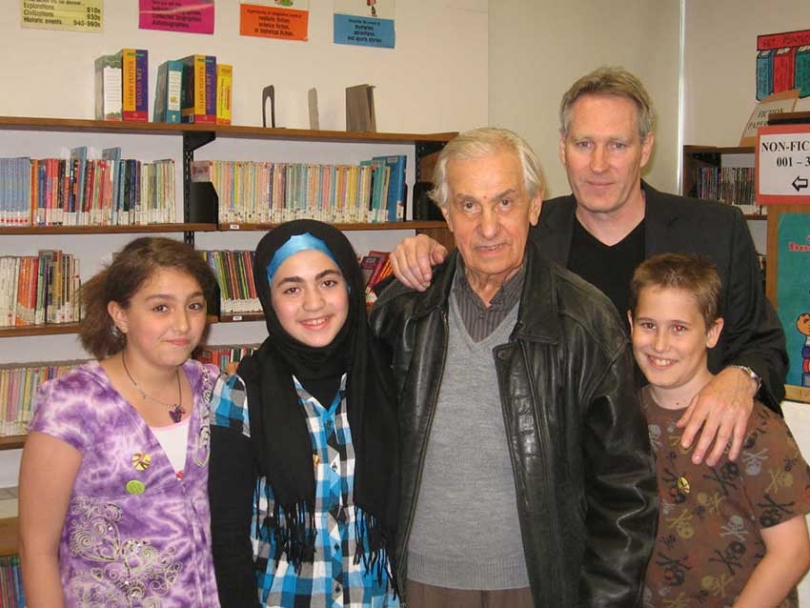 21
May


2010
Two cultures, one goal: Charles H. Hulse Public School and Hillel Academy
Written by Leila Anvari
For the last seven months, the students in Mr. Mascoe's grade six class at Charles H. Hulse Public School have been exchanging letters with grade six students at Hillel Academy.
What's the big deal, you ask?
Well there are two things that make this event special: for one, we, the students at Charles H. Hulse are predominantly Muslim and the students at Hillel Academy are almost all Jewish.Secondly, this cultural exchange program has been going on at our school for six years.
On May 4, we invited our pen pals from Hillel Academy to spend a day visiting our school.  At first when we saw each other we were a little shy, but then we started talking and as we got to know each other better new relationships started to develop.
After a school tour and some fun games, including Mascoe Ball, a game invented by our teacher Mr. Mascoe, and a really fun scavenger hunt, we got really comfortable and worked together with our pen pals as a team.  It was really nice to finally get to meet one another and we certainly hope we will see each other again. 
The one thing that was really important was the fact that even though our religions are different we proved that we could get along and work together.  In the afternoon, Mr. David Shentow, a Holocaust survivor, came and spoke to us about how he was tortured and mistreated by the Nazis during the Second World War.  Mr. Shentow was a victim of hatred and racism.
We asked Mr. Shentow, "Do you think it is important for Muslim and Jewish students to work together to try to get along?" 
"I find it really important for you to be here today because together you need to know about how bad hate really is. You can't judge someone by their religious beliefs, or their skin colour.  You have to judge people by their actions. The only reason I was in a concentration camp for three years was because I was Jewish," said Mr. Shentow. 
The day of cultural understanding for us is a really important day.  It helps us to learn about different cultures and teaches us to respect different cultures and not to hate someone just because of their beliefs. 
In order to have peace, we have to respect the differences of others. And in order to be respected, we need to show respect to others.       
Leila Anvari, Katia Sahnoun and Christopher Jeanvenne are grade 6 students at Charles H. Hulse Public School.
Photo caption: From left to right: grade six students Katia Sahnoun and Leila Anvari and Holocaust survivor David Shentow. Behind: Teacher PatrickMascoe and student Christopher Jeanvenne. The children were part of cultural exchange programme between Charles H. Hulse Public School and Hillel Academy.
This article was produced exclusively for Muslim Link and should not be copied without prior permission from the site. For permission, please write to info@muslimlink.ca.