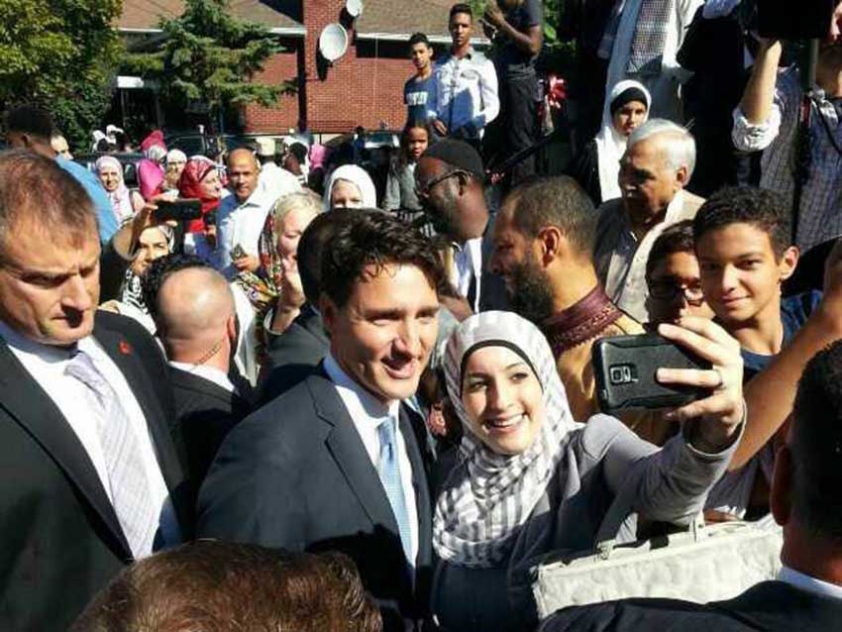 Prime Minister Justin Trudeau outside of the Ottawa Muslim Association after attending the Eid al Adha Prayer Service
Courtesy of the Ottawa Muslim Association
13
Sep


2016
Trudeau Visits Ottawa's Oldest Mosque for Eid al Adha
Written by Chelby Daigle
On September 12th, Prime Minister Justin Trudeau visited the Ottawa Muslim Association (OMA) for Eid al Adha prayers. This isn't the first time Ottawa's main mosque has hosted a Prime Minister. Shortly after September 11th, Prime Minister Jean Chrietien visited this mosque offering reassurances to Muslim Canadians in the wake of a dramatic rise in violent Islamophobic incidents in Canada and the US. So, it was fitting that just a day after the 15th Anniversary of September 11th, Prime Minister Trudeau should visit this same mosque.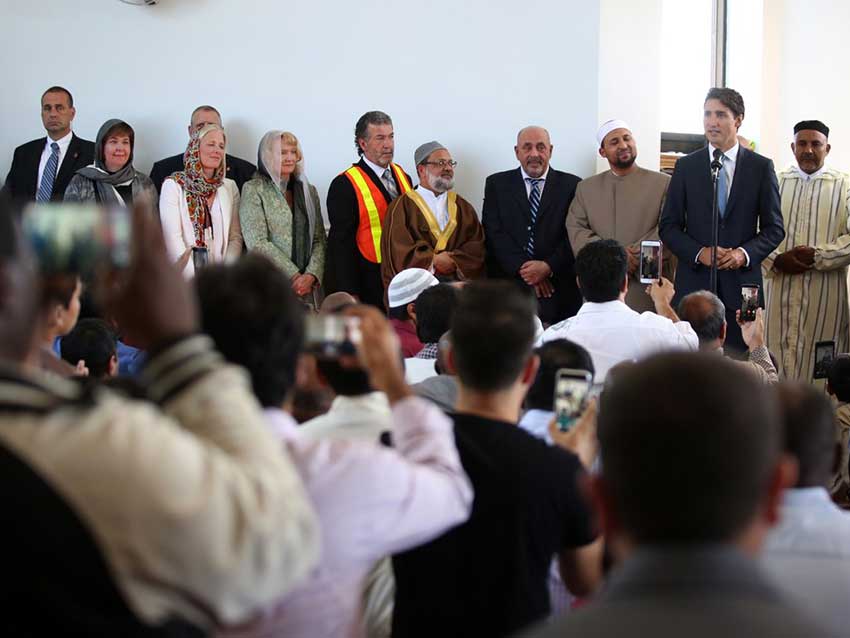 The Ottawa Muslim Association is the oldest mosque in Ottawa. It was built by a diverse group of early Muslim immigrants to the city which ranged from young professionals from former British colonies like Pakistan and Guyana, to Lebanese immigrants mainly from the village of Majdel Balhis. Albanian refugees, Shano and Nusrat Bejkosalaj, who both passed away at the beginning of this year, were some of the earliest contributers to the mosque. Muslim Link had an opportunity to
about the building of the mosque. "There weren't that many Muslims at the time, and the few Muslims who got together and built that mosque it was what we needed, an identity for us in this country," Shano explained, "And also, the mosque was not just built by Muslims. It was built by non-Muslims because that is the spirit of this country, to work together in unity. If it wasn't for the help of so many Canadians, we wouldn't have that mosque."
This was a message echoed by PM Trudeau in his speech (available online here) when he stated that "...what makes Canada extraordinary as a country we are a place that has figured out that diversity is a source of strength not just a source of weakness."
The Prime Minister was accompanied by MPPs Catherine McKenna, Karen McCrimmon, and Anita Vandenbeld. OMA is in MP McKenna's riding and she received applause when PM Trudeau stated "I want to highlight as well your local MP, the Minister of the Environment and Climate Change Catherine McKenna, who always reminds me that Green is the colour of Islam."
Although the Prime Minister's visit multipled the already organized chaos of regular Eid prayers at OMA, which is attended by around 1500 people, Vice-President Ahmad Ibrahim said OMA initiated the visit. "The Prime Minister's Office has a standing invitation with the OMA so we were so happy they accepted our invitation to Eid prayer this time," he explained.
According to Ahmad, "the OMA is the centre of the community" and that the OMA is the community's centre has proven to be true time and time again, particultuarly in the wake of tragedies. Ontario Premier Kathleen Wynne chose to visit OMA to offer messages of reassurance in the wake of anti-Muslim incidents in Ontario after the attacks in Paris in 2015.
Most recently, Ottawa's Mayor Jim Watson along with several MPPs attended an OMA packed with mourners and supporters for the funeral for Abdirahman Abdi, the Somali Canadian man who died while being apprehended by police, an incident which has had a national impact, but which also brought together parts of Ottawa's community like never before.
Unfortunately, some media coverage of Trudeau's mosque visit seemed to harken back to the fear-mongering which has plagued Canadian Muslims since 9/11. The headline for the event in the Toronto Sun read "Trudeau visits mosque with terror connections" which seemed to want to focus on OMA's Imam Metwally's organizational affiliation with an academic association with alleged links to the Muslim Brotherhood than that he is a graduate of the much respected Hartford Seminary where he studied as a Fulbright scholar and is much respected for his local interfaith and intrafaith work with Ottawa's Jewish, Christian, and Twelver Shia Muslim communities.
The article also highlights that the mosque is gender segregated with is inaccurate. Most mosques have men and women praying in different spaces depending on the size of the gathering-for a large gathering like Eid or Friday prayers for example, but often during other prayers, women may pray on the main floor. Even during prayers movement between spaces for women is pretty fluid at OMA as can be seen in this photo as women came to the main floor during PM Trudeau's speech. Many women took the opportunity to greet him as he left, shake his hand and take selfies. The office based on the main floor is run by a woman and regular events, including funerals, take place on the main floor where women are seated in the main hall, such as during OMA's mental health information session or during the last federal election information sessions, both events mainly led by women, who were also the primary speakers. Women currently sit on the board of the OMA, which was the first mosque in Ottawa to have women as regular board members. 
In fact, women spearheaded the building of OMA, in particular Eva Wahab, the first Muslim born in Ottawa in 1914.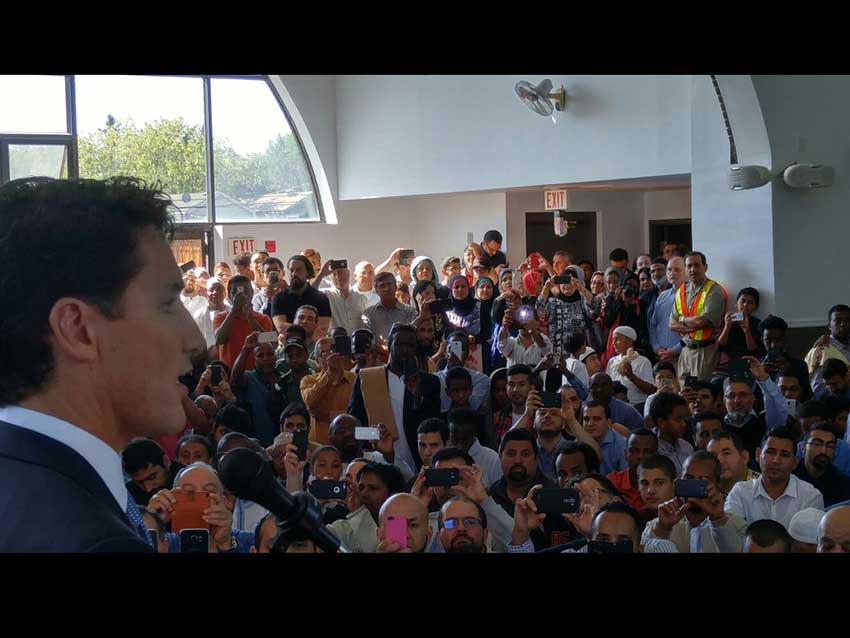 Women and Men taking photos during PM Trudeau's visit to OMA.
OMA recently acquired the neighbouring church which it hopes to develop into a Youth Centre in order to ensure that Ottawa's oldest mosque has a new generation of leaders to carry on its role as the centre of Ottawa's Muslim community.
This article was produced exclusively for Muslim Link and should not be copied without prior permission from the site. For permission, please write to info@muslimlink.ca.