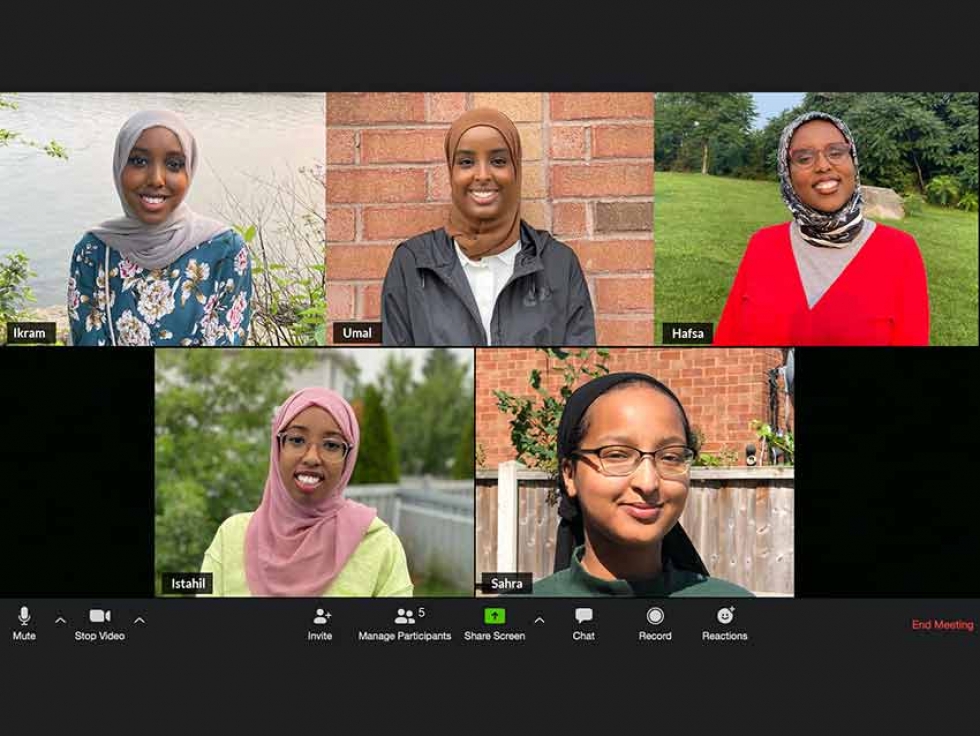 Meet the team behind The Abwaan Chronicles Podcast
Abwaan Chronicles
31
Jul


2021
The Black Muslimah Experience, Activism, and K-Pop: Stories from The Abwaan Chronicles Podcast
Written by Chelby Daigle
Trying to figure out how to stay connected to your friends across different cities, countries, and time zones? Why not start a podcast together?
Begun in 2016, the Abwaan Chronicles is run by a team of young Somali professionals, mostly Canadians, who started the podcast in order to literally hear more voices like their own in the world of podcasts. 
Often episodes sound like you are eavesdropping on chats between friends because that's just what they are. Topics range from pop culture to faith to activism, with both profound and ridiculous observations made.
As the team identifies as Black Muslimahs, they explore perspectives that are also often overlooked in other Muslim-produced media, like what it feels like being Black and Muslim women during the ongoing surge in hate crimes that seem to be particularly targeting Black Muslim women in Alberta.
Muslim Link interviewed the team behind The Abwaan Chronicles about how they have sustained their podcast over the years.
Tell us about yourselves
Hafsa: Hi! I'm Hafsa and I'm the Canadian in exile of the bunch. I live in London, UK, and I work as a medical doctor. My job is quite demanding so I make the effort to balance my life and have as many hobbies outside of work as possible. The podcast really fell neatly into that - I'm able to stay in touch with my girlfriends, at the same time do something I really enjoy and love. It's also really widened my scope and introduced me to people and points of view I never would have seen otherwise. I think a lot of people relate to that - especially in this time of Covid. The internet has taken over our lives and we are connecting with people on a level we never could have imagined. Super excited for what's to come!
Ikram: My name is Ikram. I live in Toronto. I'm currently a grad student, it pains me to have been in school for 10+ years. I spend a lot of my time with school and work, so the podcast serves a much needed escape. It allows me to focus on something I enjoy; being able to have meaningful discussions with my friends. Podcasting has been great, I gained so many skills and learned so many things just by trial and error (and a ton of googling). I can't wait to find out what the future has in store for me personally and for the podcast.
Istahil: Hey I'm Istahil and yes my name is from the Arabic word "to deserve" but it is a Somali name which is why it's uncommon. Does it suit me? *I* think so. I remember the first episode I recorded with the girls was at a cafe in the United Arab Emirates (UAE). It's crazy how time passes and how our lives have changed. I now live in Edmonton, Alberta where I came to continue my education and I'll honestly say that I don't think I'll ever get used to -40 winters, it's unnatural T_T. As much as I love science, I like to be creative and that's where the podcast comes in. I enjoy hosting it and doing most of the artwork!
Sahra: Hi! My name is Sahra and I live in London, UK. I have a strong passion for coffee, pastries, and bubble tea! In regards to my name, my North African professor once mentioned that my name meant "partying at night" in his language which I found interesting from the usual "desert". I'm also the only non-Canadian member in the group which has led to long nights recording episodes. Moving across the world has taught me that the world is bigger than you think but we also share so many similarities ex. Food and clothing. The impact of doing the podcast is becoming a more disciplined individual even though I'm not where I want to be.
Umal: Hi my name is Umal, I currently reside in Toronto and work as an engineer in the healthcare industry. The podcast is definitely a great distraction from my very technical day job. It's great to have a creative outlet that involves chatting about and researching topics we enjoy! When we first started podcasting in 2016, I don't think any of us truly understood the scope of the work involved. However, the journey of discovering has been a fun and challenging one. Although I currently reside in Toronto, I would consider myself a citizen of the world as I have lived in various countries and cities throughout my childhood and early adult life. And this is the same for most of the Abwaan members - this podcast is a platform we use to speak and - sometimes shout :) - about our opinions and views as third culture children!
How did the idea for the podcast start?
We started back in 2016 after discovering podcasts for the first time. Podcasting looked like a cool outlet for people who wanted to talk about their passions and interests. The issue was, where YouTube was starting to diversify, podcasting was still very behind. We couldn't really hear ourselves in any of the shows we listened to. As much as that annoyed us when watching TV, YouTube, movies, reading books, with podcasting, we realized we had the power to actually change that. It would be so easy to set up a podcast and talk about what we want to. We were all friends growing up and this would also be a great way for us to stay connected.
The name of the podcast is a combination of Somali and English words. Our podcast is meant to be the story of us, issues that interest us and affect us. And we want to share those stories. Abwaan means storyteller. It's often used as a title for poets, writers, singers, etc. It felt fitting that our podcast be called the "Storyteller Chronicles".
And that's the short and long of how The Abwaan Chronicles came to be.
Often podcasts start but don't last more than a few episodes. What do you think has been key to making your podcast sustainable over the years?
As friends who live on opposite sides of the world, I think we subconsciously use working on the podcast together as a means to stay in touch. Doing this podcast all these years has allowed us to strengthen our friendship and continues to give us a reason to be in each other's lives. Another reason is that we still feel like there isn't enough representation when it comes to our povs and that motivates us to sit down and record. Don't get me wrong, there are plenty of other reasons we do the podcast but in terms of sustainability, that has to be it.
The topics you explore relate to the complexity of Somali identity as Muslim, African, Black, and female. How do you feel grounding your podcast in your Somali identity enriches your discussions about faith, race, and community?
The intersectionalities of our identity is something inherent to us and it is normal because we grew up as Black African Muslim Women who were born in the West, however it does tend to get hard to navigate spaces where certain parts of your identities are accepted and welcomed and other parts not so much. We're proud of our heritage/culture and regardless of what we do we still see our religion, our blackness and our community through that lens. When we first started the podcast our goal was to show the podcast world the experiences of Muslim Somali women and that we can also have interests beyond our identities. In the end, we wanted people to identify and see themselves in our everyday lives even if they don't necessarily have all our identities or they have parts of it.
The topics of discussion have ranged from romantic love, to Islamic school culture, to Muslim foster parents. How do you choose your topics?
Picking topics is probably the most straightforward part of our podcast. We quite literally talk about anything and everything that interests us. As long as it's not too personal. Our inspiration comes from life - our school/work experiences, interactions with people around us, the interest and hobbies we cultivate over time. We believe that at the end of the day, there will be someone who will enjoy what we put out there but we are doing this for us more than anything else. We love hanging out virtually and putting the episodes together.
You did one episode focusing on the South Korean Entertainment Industry, i.e. K-Pop and K-Drama, from the perspective of Somali fangirls. Why did you think this topic was so important to explore from a Somali perspective?
In the episode All K-Everything, we focused on the evolution of the South Korean Entertainment Industry and our experience as Kpop fans during this. Growing up Somali we were exposed to many different film industries (Bollywood, Nollywood, Latin American, Arabic and Turkish dramas) and Kpop/Kdramas is just another form of media, which may explain the number of Somali fans. We always wanted to reminisce on our fangirl days and with the current success of the kpop industry in the western world it was a topic we wanted to cover and it was fun!
As a podcast with a faith-based identity, do you find that you sometimes have to censor discussions? If so, have you developed a policy on how to navigate this?
We have never had to censor our opinions in the podcast as we prioritize transparency between our listeners and the cast. Yet, we haven't come across a conversation in which we felt that we had to censor ourselves to be more appealing to the public. When it comes to topics we don't feel comfortable recording because of a lack of information/knowledge we invite guests that are knowledgeable on the topic of interest.
Violent hate attacks have targeted Muslims, particularly Black Muslim women, across Canada and in other parts of the world. How has your podcast and social media tried to address this?
The recent wave of anti-Muslim attacks across Canada has been disappointing and terrifying to see as Black Muslim Women. That's why we decided to make an infographic documenting the attacks on Black Muslim women in Alberta specifically and have shared it on our Instagram and Twitter. We also recently recorded an Abwaan Short as a PSA to highlight this issue and have provided a resource for those interested in speaking up against these crimes. We should not be afraid to go outside in our own cities! 
Where do you see Abwaan Chronicles heading?
We have a lot of exciting things planned such as; hosting more public events, expanding to different platforms, growing our audience, interviewing our dream guests and ultimately establishing a partnership with a streaming platform like Apple or Spotify in sha Allah.
What advice would you give to aspiring podcasters?
Don't let lack of equipment hold you back. People usually think they need a whole set up and a fancy microphone but that's not true. You can use your cellphone or laptop. That's what we did. If you want to start, go for it. Have a schedule. Pick days to record and days to release episodes. Preplanning episodes is key. Finally, have social media accounts and don't be shy to use them. Hit up anyone you want to collaborate with and have a template ready of what you would say to make it easier. Most importantly, have fun with it! Don't think about the amount of listens you'll get and prioritise the audience who are already there. It is going to be challenging at first, however being authentically yourself will be more rewarding in the end and you can happily look back at it. Always prioritize yourself and the team, your wellbeing comes first and make sure that you take breaks when needed.
How can our readers support your podcast? 
We have quite a few ways; 
Check out our podcast , leave us a rating and review (Apple Podcasts, Spotify, Soundcloud or where you get your podcasts)
Follow us on social media @abwaanpodcast on instagram & twitter (like, comment and share our posts)
Shop Abwaan: we recently launch merch, you can support us by making a purchase
Buy us coffee: you can support us monetarily by through our buy me a coffee page. Funds go towards running the podcast.
Could you give us links to your 10 Best Episodes that you recommend to our readers? (please indicate if there is strong language, 19 plus content)  
Episode 39 - A Love Anthology
Episode 41 - Fostering with Khalid and Rubina
Episode 7 - Jinn and Other Mythical Creatures
Episode 27 - Astronomy vs Astrology
Episode 42 - Vulnerability on the Interwebs with Aysha Harun
Episode 36 - Let's Talk About Sex! Ft. Village Auntie
Episode 34 - Activism: BLM Ft Juwayriya
Episode 28 - Money, Money, Money… MONEY! Ft Fay and Abdullahi
ABN Shorts #13 - Pyramid Schemes You Fall For Ft Jija
This article was produced exclusively for Muslim Link and should not be copied without prior permission from the site. For permission, please write to info@muslimlink.ca.