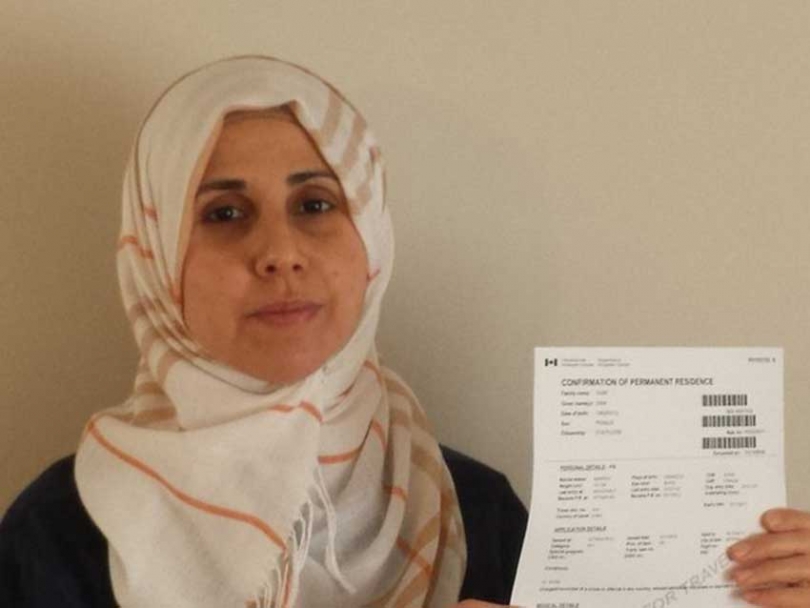 Dima Siam, a refugee from Syria, finally receives Canadian permanent resident status.
01
Jun


2017
Syrian Refugee Dima Siam Finally Wins Permanent Resident Status
Written by Dima Siam
We did it! After a very long campaign, we have secured permanent resident status for Dima Siam, who has lived over 30 months under a cruel and heartless Canadian deportation order to Syria based on a minor paperwork error.
Congratulations to Dima, Mohammad Al Rayyan, and your four children. Hundreds of other Syrian refugees remain under deportation order from Canada. We still have so much work to do.
Below is Dima's statement of thanks: 
"Thanks God this nightmare and hardship is finally over after four years and a half of anxiety and living for two years and a half under a deportation threat to Syria.

I hope the government takes more measures to reform, Immigration, Refugees and Citizenship Canada (IRRC), to make sure newcomers are treated equally and get the help they need to better integrate in Canada.

And I would like to take this opportunity to thank all supporters, and for the most part Matthew Behrens (Homes not Bombs), who fought for me to get justice right from the beginning until the end. He devoted so much time, energy, thinking, wrote stories about my case in newspapers, and launched a petition gathering public support for my case. Even when I almost lost hope at some times, he never did, and kept pushing for justice.

I would like to also thank all supporters who signed my petition, did fasting events, called or emailed Immigration Minister, volunteers who offered English lessons .

Thanks also to Immigration consultant Rami Alsaqq who devoted some of his time throughout the process.

And thanks to all journalists who wrote and reported about my situation to bring attention to it.

I would like to also thank our MP Anita Vandenbeld and her office staff (especially Fawzi Ghosn) who listened to public demands on my case, took ownership of my situation as soon as they took office over from the former MP and worked hard on it until resolved.

Many thanks also to the First United Church of Canada who were very supportive and helpful as well and still are.

Finally I would like to thank my children and husband and apologize to them for the pain, hardship, and psychological torture my deportation threat has caused them over the past years.
Regards,
Dima Siam
Ottawa, May 12, 2017
This article was produced exclusively for Muslim Link and should not be copied without prior permission from the site. For permission, please write to info@muslimlink.ca.