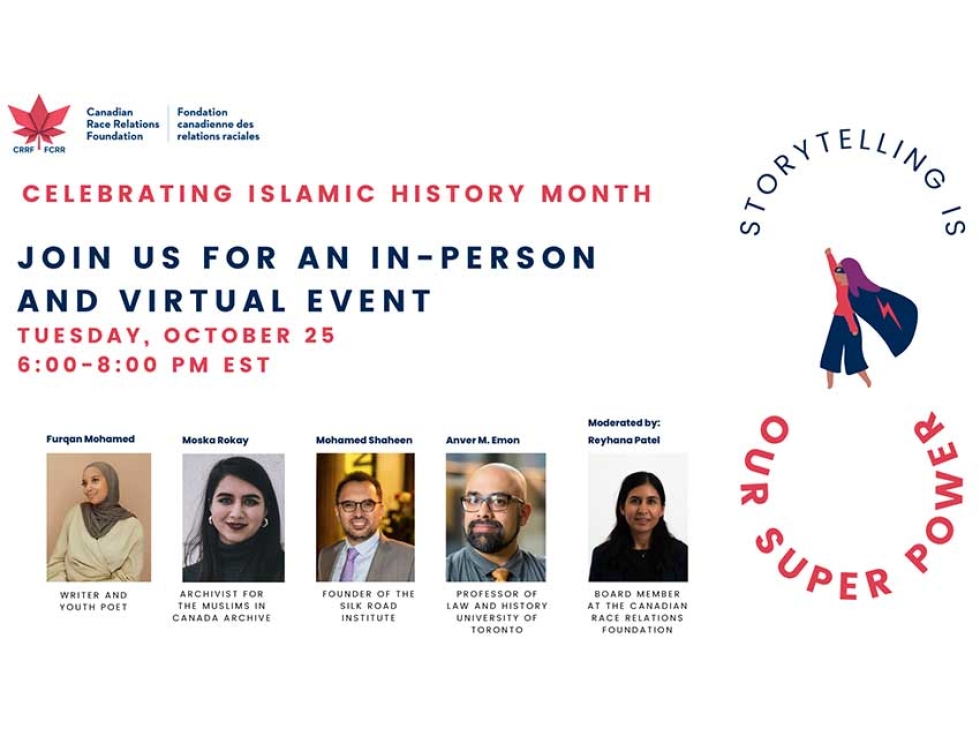 18
Oct


2022
Stereotyping, racism and Islamophobia have long been persistent in Western constructs of Muslim identities. Discrimination against Muslim communities has gained momentum in online and offline spaces, leading to detrimental threats to the safety and well-being of Muslims.
The CRRF is committed to confronting all forms of discrimination, Islamophobia and hate-fueled violence. Through this event, our organization hopes to use storytelling to counter harmful stereotypes and misinformation about Muslims and introduce the vibrant diversity of experiences within Canada's Muslim communities.
Join us for this in-person and virtual event, where you'll hear from our moderator, Reyhana Patel who serves as a board member at the Canadian Race Relations Foundation and currently works as Director of Communications and Government Relations at the international NGO Islamic Relief and our panelists as they share their stories of belonging and inclusion:
Anver Emon - University of Toronto Professor and the visionary leader behind the creation of the one-of-a-kind Muslims in Canada Archive.
Moska Rokay - archivist for the groundbreaking Muslims in Canada Archives at the University of Toronto and PhD student.
Furqan Mohamed - writer, poet and journalist from Toronto. Her latest artistic work is featured in a new animated series titled "Dreams in Vantablack," streaming now on CBC Gem.
Mohamed Shaheen - founded the Silk Road Institute and launched Canada's and North America's first professional Muslim theatre company and spearheaded an exciting new podcast called "The Story So Far".