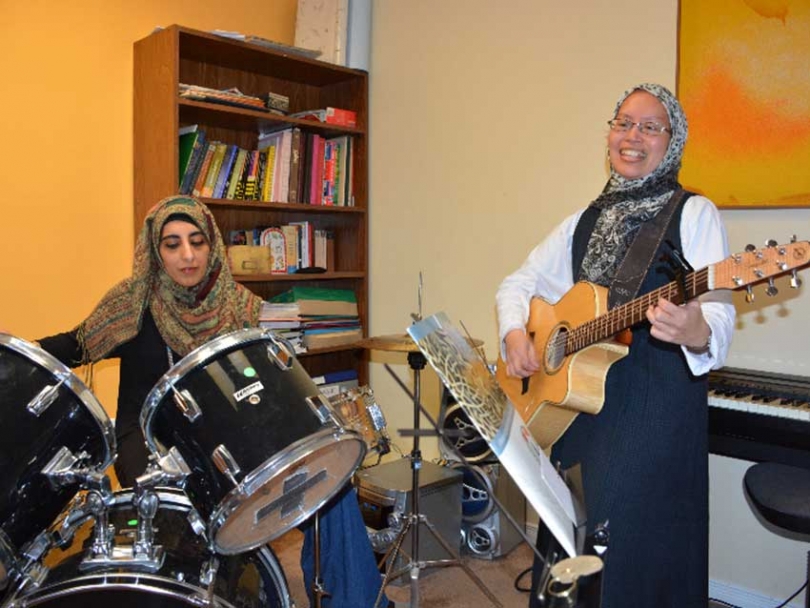 Shalini and Audrey rehearsing for the upcoming Songs of Muslim Women concert on March 18
07
March


2017
Check Out Songs of Muslim Women in Ottawa on March 18
Written by Sawitri Mardyani
Out of over 185 submissions, "Songs of Muslim Women" was one of thirty-seven projects chosen by a 5-member jury to receive funding from the Ottawa Music Micro-Grant program. The 2017 JUNO Awards Host Committee and the Ottawa 2017 Bureau sponsored the funding program. With 2017 being Canada's 150th anniversary year and the JUNO awards coming up at the end of March, the city is offering residents and visitors extra special events to celebrate the country's big birthday.
Given the tragic, disturbing, and overall negative news surrounding Muslims in Canada in recent weeks, "Songs of Muslim Women" is a welcome opportunity for Canadians of all walks of life to get together in an atmosphere of harmony and fellowship. It's also an opportunity to celebrate the talents of Muslim women.  
It was actually under a similarly tense political climate that the idea for Expressions of Muslim Women was born.  After a bypass operation restricted her from her usual busy schedule of community work, Khadija Haffajee set out a challenge to the women she had taught and worked with over the years. "With eroding civil liberties, the war in the Afghanistan / Iraq, apartheid in Palestine, genocide in Sudan and political upheaval the world around," she wrote in an email, "how are Muslim women and girls organizing and working towards building peace and justice?"
"We are not oppressed or suppressed nor are we a disembodied piece of wrapped up cloth! Make this a celebration of who we are!" she wrote. She challenged them to create an event "celebrating women!" From there, meetings ensued and now nine years later, Expressions of Muslim Women (EMW) hosts one of the most anticipated annual events in the Ottawa Muslim community.
"Songs of Muslim Women" brings together six musical acts that have performed at previous EMW shows.  Audrey Saparno, who has just released her debut album, Beauty Inside, will be singing some of her original songs, accompanied by guitar; Sisters in Song, a collaboration of the mother-daughter team Rosemary and Felicity Brown along with Barbara (Masuma) Helms from will be performing Western-style medieval choral music reinterpreted within a Muslim context; Barâa Arar and Maha Temkit will be combining their poetry and guitar skills in a lyrical collaboration; Nasreen Shoshi and her band will be performing traditional songs from the subcontinent; Ghadeer Abou-Shakra will be playing the oud, a guitar-like instrument from the Mediterranean and Middle East; and Stéphanie Roy will be sharing her songs a cappella.
It promises to be a very entertaining and uplifting evening!
Tickets can be purchased online or at select book and music stores downtown.
This article was produced exclusively for Muslim Link and should not be copied without prior permission from the site. For permission, please write to info@muslimlink.ca.