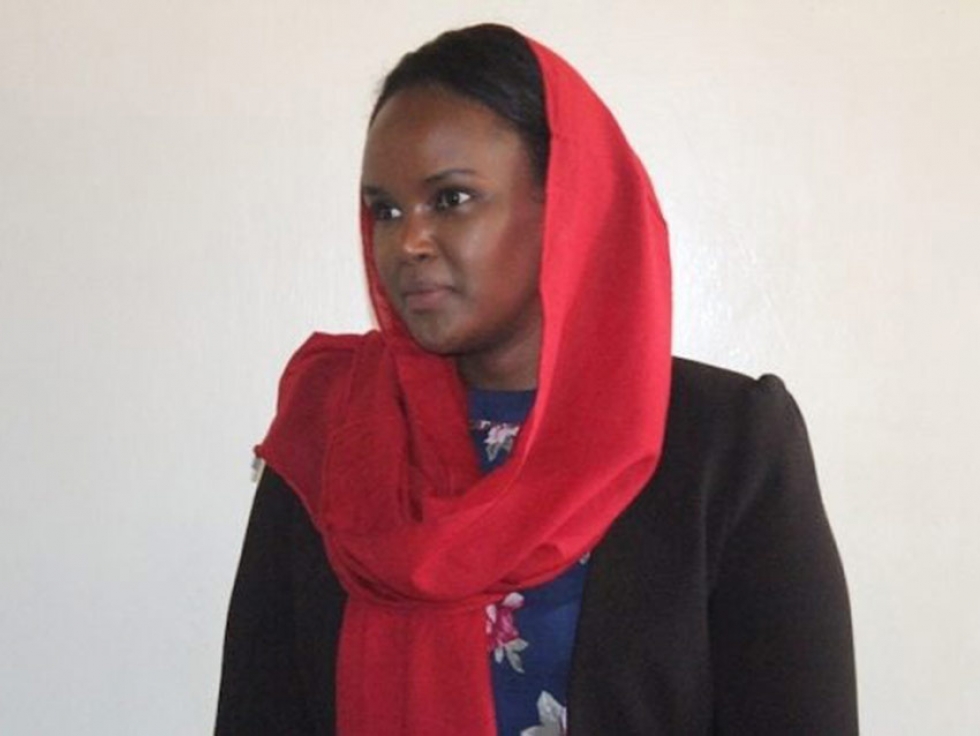 Almaas Elman lived in Ottawa with her mother and sisters and studied at the University of Ottawa.
20
Nov


2019
Somali Canadian Activist Almaas Elman, Sister of Ilwad Elman, Daughter of Fartuun Adan, Shot Dead in Mogadishu
Written by Making Headlines
Hiiraan Online has reported that Somali Canadian activist Almaas Elman was shot dead near the Halane compound in Mogadishu, Somalia on November 20, 2019.
As reported by Cara Anna from The Associated Press, according to a statement from the African Union, "Almaas Elman was hit while travelling in a car Wednesday inside a heavily defended base near the international airport where many diplomats and aid workers have offices in the Horn of Africa nation....[t]here was no record of a weapon being fired inside the base at the time Almaas Elman was shot and other stray bullets had been reported previously. It called her death 'heart-wrenching and unfortunate.'"
Almaas was actively involved with the Elman Centre for Peace and Human Rights, founded by her father Elman Ali Ahmad, who himself was assassinated in 1996 in Mogadishu.
As reported by Michelle Shephard in a 2013 Toronto Star profile of Almaas's sisters Ilwad, a peace activist, and Iman, a commander in the Somali Armed Forces, "[Elman Ali Ahmad] did not belong to any political faction and had been outspoken in criticizing all political leaders for the continuing violence. He had actively promoted a culture of peace and reconciliation and, unlike many businessmen went about unarmed."
After his assassination, Almaas's mother Fartuun Adan, immigrated with her three daughters, Almaas, Iman, and Ilwad, to Ottawa, Canada. 
In Ottawa, Fartuun Adan became actively involved in local organizations like the City for All Women Initiative (CAWI). Fartuun returned to Somalia to continue her husband's work on peace and reconciliation with the Elman Centre, focusing on rehabilitation work with survivors of rape and former child soldiers, as well as supporting communities impacted by Al Shabab.
After being awarded the International Women of Courage Award by the US State Department, an award which was presented by then First Lady Michelle Obama, CAWI organized a celebration at City Hall for Fartuun, which was attended by Mayor Jim Watson.
Almaas studied International Development and Globalization at the University of Ottawa from 2006 to 2010. She also served in the Canadian Armed Forces Reserves. She had worked at the Community Development Manager of the Elman Centre since 2013.
She also worked as a consultant in strategic communications with the Government of Somalia, UN agencies, and humanitarian and development agencies. She also served as a diplomat with the Somali Embassy in Nairobi. 
In 2017, Almaas was married in 2017 to Zakaria Hersi, a Somali-Swedish tech entrepreneur.
According to Garowe Online, at the time of her death, Almaas was working as a senior communications officer for the European Union Mission in Somalia. She had been attending an EU meeting addressing livelihood enhancement for communities in rural Somalia just hours before her death.
Ottawa-based Somali Canadian community organizer Ifrah-Sucdi Hassan, in an interview with Abdi Latif Dahir for the New York Times, "said Ms. Elman had 'always supported my community work.' Reached by phone on Wednesday, Ms. Hassan recalled how Ms. Elman had been one of the first people to donate for an annual youth conference she was organizing a few years ago."
Somali Canadian Sharmarke Dubow, who currently serves as a City Councillor in Victoria, BC, expressed his shock at learning about Almaas' death on Twitter where he stated "I am shocked and saddened to learn of the death of Almaas Elman — shot dead in #Mogadishu, Somalia by unknown assailants. Canada and Somalia lost a bright and incredible humanitarian. My heartfelt condolences go out to Elman family, her relatives and loved ones."
"Our deepest thoughts and sympathies are with the family and friends of the Canadian citizen who died in a shooting in Somalia," stated Angela Savard, a spokesperson for Global Affairs Canada, in an email to Radio Canada International.
Almaas' sister Ilwad had made international headlines in October when she was shortlisted for the Nobel Peace Prize for her work with the Elman Centre.
To learn more about the Elman Centre for Peace and Human Rights, click here.
Review Almaas Elman's Twitter Feed online here.
Statement by Amnesty International: Somalia: Killing of human rights activist underlines need for civilian protection
This article was produced exclusively for Muslim Link and should not be copied without prior permission from the site. For permission, please write to info@muslimlink.ca.