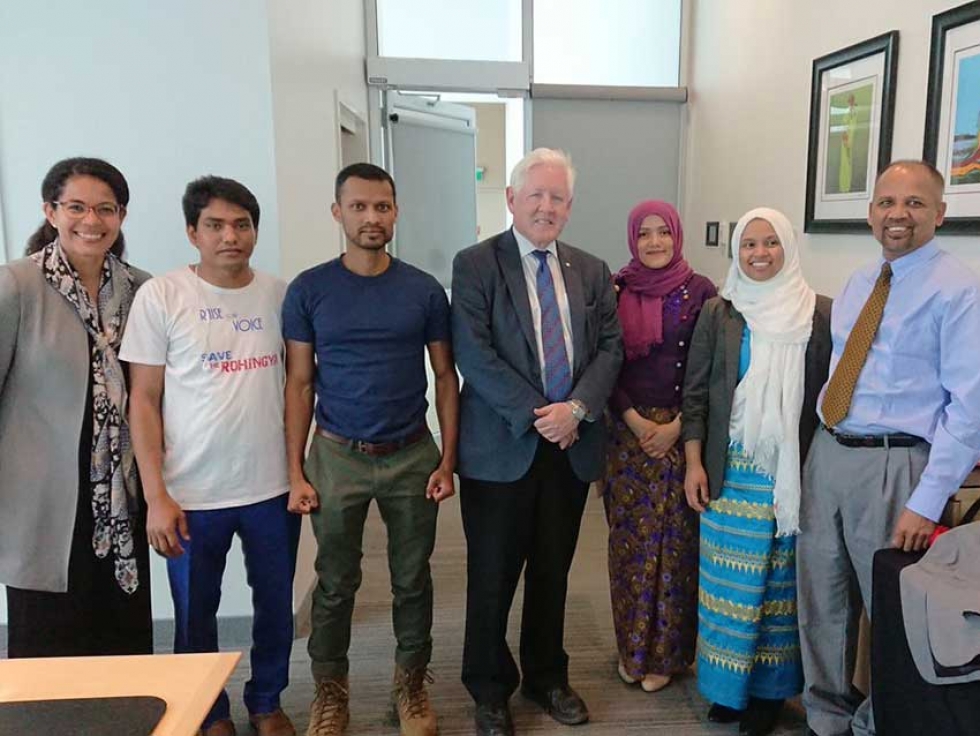 Members of the Rohingya Human Rights Network meeting with Bob Rae, Canada's Special Envoy to Myanmar.
23
Aug


2019
Rohingya Human Rights Network Organized Events Across Canada for August 25 Rohingya Genocide Remembrance Day
Written by Chelby Daigle
On August 25th, in honour of Rohingya Genocide Remembrance Day, the Network is organized rallies in cities across Canada including Halifax, Montreal, Ottawa, Kitchener, Toronto, Winnipeg, Regina, Calgary, and Vancouver.
Muslim Link interviewed Rohingya Canadian Raïss Tinmaung about the work of the Rohingya Human Rights Network and the importance of the marking August 25th each year in Canada.
Tell us about the work of Rohingya Human Rights Network Canada in Canada and Bangladesh.
The Rohingya Human Rights Network is a grassroots network of activists in Canada. We are small groups of dedicated volunteers present in 11 major cities across the country, and our mandate is to educate the public and policy makers regarding the plight of the Rohingya. We do so through public engagement events, peaceful demonstrations, letter writings, Op Eds, petitions, interviews to mainstream media, and meetings with MPs, Senators, Global Affairs staff, the PM's Special Envoy, etc.
Since our formation, we have not only collaborated with other Burmese ethnic minority groups such as the Kachin, Karen, and Shan, but have also worked closely with the Rwandan, Bosnian, Burundian, Yemeni, Uyghur, Jewish, and Sikh communities.
We have also collaborated closely with civil society groups in Canada such as Amnesty International, Human Rights Watch, Fortify Rights, InterPares, Nobel Women's Initiative, Montreal Institute of Genocide Studies, Human Rights Research and Education Center at UOttawa, etc.
Our work in Bangladesh involves collecting the latest information and news about what is happening on the ground at the refugee camps and within Bangladeshi society. Our activities in Bangladesh also involve collecting witness testimonies, documentation, ID cards, and other materials that inform our activism efforts here in Canada.
Our coordinated efforts in Canada and Bangladesh have been instrumental in making Canada declare the situation of the Rohingya as genocide, revoke the honorary Canadian citizenship of Aung San Suu Kyi, impose targeted sanctions on specific Burmese military generals, and take strong stances against forced repatriation of the Rohingya. We accomplished this through petitions that gathered 65,000+ signatures, letters that were signed by 125+ academics and jurists in the country, meetings with MPs from every political party, and presentations at the House of Commons and the Senate.
This year we concluded a long-term coordinated effort to open the first ever Rohingya exhibit at the Canadian Museum for Human Rights - the first ever museum to do so in the Western world. We also authored a motion for the Rohingya that was tabled and adopted at major municipalities across the country including Toronto and Montreal, and is awaiting adoption in the Senate.
How is the network organizing August 25th Rohingya Genocide Remembrance Day events across Canada?
The Rohingya Genocide Remembrance Day is an opportunity for our activist network to bring forward the Rohingya issue once more to the attention of policy makers. The network organizes this by mobilizing our volunteer core in each of our chapters starting end of June, i.e., two months prior to the commemoration date. We share campaign ideas, tools, and best practices between chapter directors. We conduct regular phone conversations, emails, and Whatsapp/Messenger correspondences where we plan timelines, and share mutual milestones. Some chapters tend to be more independent than others; however, most of them work through support from the central chapter in Ottawa. Often, publicity tools such as posters, banners, and pamphlets are shared once they are designed/initiated by a given chapter. Our message and demands are also coordinated through the network to ensure uniformity in our statements and demands to our government.
Why is it important to come out and show your support for the Rohingya Genocide Remembrance Day rally in your local city?
Coming out to support the Rohingya Genocide Remembrance Day is the least one can do as a show of solidarity with the persecuted in Myanmar. It does not cost a dollar, it does not require any investment. It only asks for an hour or even less of one's time - to come out and stand up the oppressed. In its fundamental form, it is not for the Rohingya exclusively; it is for all oppressed people around the world.
Today it is the Rohingya, tomorrow it could be a Burundian, a Uyghur, or a Kashmiri. It is only when we let one massacre pass by without any action that we get another one happen, and another one to happen again. As a matter of fact, the massacre of the Rohingya on 25 Aug 2017 was preceded by another one on 9 October 2016. The latter saw dozens of villages in north western Rakhine burn to the ground and 85,000 people flee to the refugee camps in Bangladesh. Those who fled had horrifying stories of gang rapes, mutilation, burning alive, and mass burials. But no one cared. The international community stayed silent - until the 25 Aug 2017 massacre took place a year later where nearly 400 villages were burned to the ground, an unknown number of people slaughtered and buried in mass graves, and 700,000 + forced to move to the refugee camps. Our silence and lack of empathy effectively invited the genocide perpetrators in Myanmar to continue their heinous acts in 25 Aug 2017 even after what they did on 9 Oct 2016… And today, it may not necessarily be in Myanmar, it could be anywhere else in the world. If we stay silent, there will be another Myanmar, another Rwanda, another Bosnia. We cannot afford to be silent and not remember the massacres that took place - that is why it is important to come out and show support.
Some organizers in Canadian cities are working with other ethnic minorities facing persecution in Burma who have come as refugees to Canada, as in the city of Regina where the demonstration has been organized with the support of the local Karen community. Are the organizers in other cities also reaching out to similar communities from the region?
The peaceful demonstration in Regina that has support of the Karen community is in fact organized by one of our own directors, who is also one of the directors of ICNA Sisters Regina chapter. Regina is not the only place where the Karen community is collaborating with the Rohingya; similar mutual efforts are also taking place in Toronto, Calgary, Winnipeg, and Vancouver.
In addition, other Burmese ethnicities - such as the Kachin and the Shan - as well as non-Burmese communities - such as Rwandans, Bosnians, Uyghurs, Burundians, etc. - have also been invited to participate in our commemoration events across Canada. Interestingly in Winnipeg, Ottawa, Halifax, and Toronto, the Rohingya Human Rights Network's members are also involved in organizing and/or participating in the rallies for Kashmir. This is because we really truly believe that the persecution of Kashmiris, or of any other persecuted ethnicity for that matter, is deeply rooted in the same reasons for which the Rohingya are persecuted.
What other actions can people take to mark August 25th?
The most basic of all actions that one can do is to spread awareness of the cause. There is nothing simpler than that - to come out and stand in solidarity, to raise awareness of the genocide and the continued prevalence of hate and Islamophobia that we see today. Awareness building can be done simply through peaceful gatherings, sharing posts on social media profiles, or even through candid conversations among friends and family.
Next, we ask all to write to their Members of Parliament and Senators. One may write a simple email or twitter message saying "I cannot imagine how children in refugee camps are denied education, a fundamental right to life, and so Canada must do something to help these kids". One may make a simple phone call to his/her MP's office and ask "what are we doing for the 1 million Rohingya lingering in the refugee camps and another half a million trapped inside Myanmar, waiting to be slaughtered anytime?" Ask to impose sanctions on businesses in Myanmar because majority of Burmese businesses inevitably fill the pockets of the military generals. Ask to boycott products made in Myanmar unless we know where exactly it is coming from and who exactly profits from them. Ask to invoke the Genocide Convention on the government of Myanmar, a country that continues to deny the existence of Rohingya, and refers to them as "kalars" (a term equivalent to "nigger") "insects", and "cockroaches". Ask: what good is it for Canada and its allies to call the situation in Myanmar as a genocide and do nothing about it? What good was it for Canada, US, UK, France, etc. to sign the 1948 Genocide Convention post-Second World War and the Holocaust, when we see a genocide happen in front of our eyes and we do nothing to act on the Convention that we signed? Every question you ask, every email you write, you give a voice to the voiceless, a raped woman, a orphaned child, an amputated senior, and others who are forgotten inside the refugee camps, and inside the villages of North Western Burma.
I plead all who are reading this article to come out on Rohingya Genocide Remembrance Day for simply an hour and stand in solidarity with the oppressed. The commemoration is not only for the Rohingya, it is for humanity, it is to take a stand against hatred, xenophobia, and Islamophobia that still prevails in the world we live in today.
This article was produced exclusively for Muslim Link and should not be copied without prior permission from the site. For permission, please write to info@muslimlink.ca.