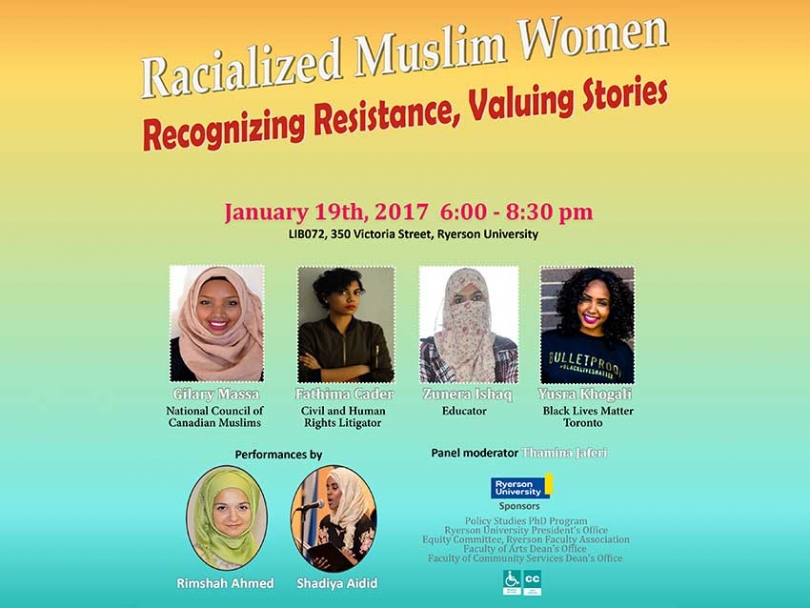 The Racialized Muslim Women: Recognizing Resistance, Valuing Stories Panel takes place this Thursday at Ryerson. It will also be streamed online.
18
January


2017
Check out the Racialized Muslim Women: Recognizing Resistance, Valuing Stories Panel on Thursday
Written by Chelby Daigle
The 
Racialized Muslim Women: Recognizing Resistance, Valuing Stories panel panel
event at Ryerson University and
streamed online
explores the experiences and resistance work of Muslim women in different policy areas, work they've done with a lens of seeking social justice outcomes. They will share experiences, policy engagement and resistance work as Muslim women: what that has meant at an individual level, while situating the experience within greater discourses, policy(ies) / Canadian institutional contexts which have impacted their lives.
Join us at the panel to hear from Gilary Massa, Fathima Cader, Zunera Ishaq, and Yusra Khogali. The event will open with stand-up poetry performances by Rimshah Ahmed and Shadiya Aidid.  The panel will be moderated by Thamina Jaferi. The event will also be streamed online here.
Muslim Link interviewed Binish Ahmed, the curator of the panel, about why she chose this topic and these speakers.
1. Tell us about yourself
I am Kashmiri and identify as a cis-gendered* Muslim woman. I'm also a community connector, researcher, educator, and a Policy Studies PhD student, currently working on my dissertation at Ryerson University. I teach public policy in the School of Urban and Regional Planning at Ryerson, and my research focuses on questions of social justice in governance, and is located at the intersection of undoing colonialism, patriarchy, and capitalism.
2. How did you get the idea to organize this event? Why do you feel the subject is important?
This event was conceptualized as a response to the narrative we see unfolding that treats racialized Muslim women exclusively as 'needy victims' who need 'saving'. The former narrative dismisses the reality of the lived experiences of racialized Muslim women - which is that they are also at the forefront doing resistance work, seeking social justice based transformative changes for themselves and others. What I have hoped is that we can have a public conversation about their resistance work, shedding light on the actual challenges they face rather than the ones we hear they are supposedly facing, when these women get 'spoken for'. Another reason for organizing such an event: these women, including myself - we're tired of hearing people speak for us. We have to start asking these women to speak, listen to them telling their own stories. Unfortunately 'all male' panels are quite common, we've seen racialized communities being 'discussed'; that has to stop, we have to make space for racialized Muslim women to speak, and to racialized Muslim women: we have to get comfortable with taking up space. As a community we have the responsibility to hear and honor these stories. I want to emphasize: we have to take the time to stop and notice the way these women have used their own bodies to navigate this world for social good. What I've often found when I hear women such as the ones on this panel speak is that it isn't necessarily those who we're told is oppressing them doing the actual oppression, but instead an intersection (race, class, gender, ability, etc) of forces of oppression that they navigate. What are their experiences? How can we know until we talk to them, ask them? There are many additional reasons for organizing such an event. To make it more personal, I'm a new mom and have a baby girl. I want my daughter to know that her voice matters, her experiences matter, her life matters, what she thinks matters, and how she might contribute to the social good is worthy of being heard, known and acknowledged. Finally, in the context of the spike in public attacks on racialized Muslim women we've seen in Canada and elsewhere, I felt the need to organize an event where we could come together and focus on the strength with which we carry ourselves. In doing this event, I wanted to capture strength and resilience in our resistance.
3. Tell us why you chose each speaker and performer. How did you work to ensure that the participants reflected a diversity of Muslim women's backgrounds?
The panelists were selected based on their engagement in social justice work in different policy sub-fields. As you can see, they're from quite a wide variety of backgrounds. Gilary Massa has engaged extensively in the labour movement as well as the student movement, Yusra Khogali has done work in anti-racist and decolonization organizing, Fathima Cader has engaged in questioning Canada's security state's targeting of the Muslim community via Bill-C-51, and Zunera Ishaq has led a legal challenge to institutional racism and patriarchy by rejecting Canadian state's determination of how she can practice her faith, or dress her body. None of the former work was done in silo, there is quite a bit of overlap. They were also selected based on the different intersections of their ethnic and racial backgrounds, as well as spiritual diversity of practice within Islam.
Rimshah Ahmed and Shadiya Aidid are Toronto based artists. They're known in and around the city, and were asked to perform based on particular written pieces they've created. I'm really excited for these artists to share their work, because I've found it to be extremely moving. With their poetry, their words, they beautifully paint sentiments that are otherwise not easy to articulate. Thamina Jaferi was selected as a moderator based on her organizing, and experience in the community around similar topics of equity in diversity. 
4. Why should people attend this session or view the livestream?
It is important to listen to these women speak about their journeys and experiences, so that we can try to understand what it means to be in their particular social locations / identities, reflect on how we can be of support/be better allies, and so that we can learn from them.
For details about the event visit here. To watch the live stream check here.
Biographies of the speakers and performers:
Gilary Massa graduated with a Bachelor in Political Science from York University in 2009. She is a proud Afro-Latina Muslim with a long standing history in community activism. Gilary understands the ways in which marginalized peoples are robbed of their agency, and ability to pass on their stories, and is committed to creating spaces for communities to unite, on their own terms, against injustice and oppression. Over the past 10 years, Gilary has been an active member of the labour movement and student movement where she has fought for the rights of students and workers alike. Gilary lives in Toronto and in 2016, joined NCCM as an Advocacy Coordinator. Follow her on Twitter here

Fathima Cader is a civil and human rights litigator in Toronto. She has previously taught at the Faculty of Law at the University of Windsor. She has a special interest in police violence and the "war on terror." Her writing has appeared in academic, creative, and theoretical journals, including Apogee, Hazlitt, and the Funambulist, among others. Follow her on Twitter here

Zunera Ishaq is an educator. She holds a Bachelors Degree in Education and a Masters degree in English literature. She was an English Lecturer at Mansoorah Model College in Pakistan before she migrated to Canada in 2008. She has since been a very busy homemaker. She is a mom of four boys. She identifies as Muslim and has been wearing the full niqab since her teenage years. Seeing it as a breach of her faith, in 2014, she refused and legally challenged the federal government policy that required her to unveil during the public Canadian citizenship ceremony. In a ruling in September 2015, three federal court judges sided with her in honoring her right to wear a niqab during the citizenship ceremony. Through her resistance she has made it possible for all niqab wearing women to become citizens of this country while upholding their right to freely practicing their faith. Zunera has been actively involved in various community projects; she has done support work in shelters, tree plating through a city project, senior care visiting, contributed to community food bank food-drives, fund-raised through walkathon for the local hospital, as well as supported newcomer Syrian families. Follow her on Twitter here

Yusra Khogali is a black feminist artist, educator and activist, completing her masters degree in Social Justice education at UofT OISE. She is one of the co-founders of the Black Liberation Collective Canada movement through its founding chapter at UofT and the Black Lives Matter Canada movement through its founding chapter in Toronto. Follow her on Twitter here

Rimshah Ahmed is a mother of two vibrant little boys. Her passion for all art forms comes as a gift from her parents. She aspires to connect and educate the society through her art work which includes, drawing, painting, photography, writing and spoken-word poetry. In 2017 she will be a part of the Feminist Art Conference at OCAD and the 'Being Scene' Art Exhibit by Workman Arts. In the past she has been a TEDxOntarioPublicService speaker shedding light on personal her journey with the hijab. She loves to create and engage in meaningful art that brings awareness and positive social change. Follow her work on Instagram @olivetreearts. 

Shadiya Aidid: Activist, Poet, and graduate from the Environmental Studies program at York University, Shadiya Aidid weaves stories of female empowerment, migration and black excellence in her poetry. She was on the 2016 Up From The Roots slam team, and currently works for the grassroots environmental organization Regenesis. You can follow her on Twitter @shashafunk and find her featured as an artist on CBC Arts Poetic Exchange series.

Thamina Jaferi is a lawyer by profession with experience in human rights and diversity. She has a keen interest in understanding the experiences of diverse communities in participating in the various spheres of public life and having equitable access to these spheres. Follow her on Twitter here
*Binish Ahmed's note: Cis-gendered means that you identify as the same gender you were assigned at birth.
This article was produced exclusively for Muslim Link and should not be copied without prior permission from the site. For permission, please write to info@muslimlink.ca.