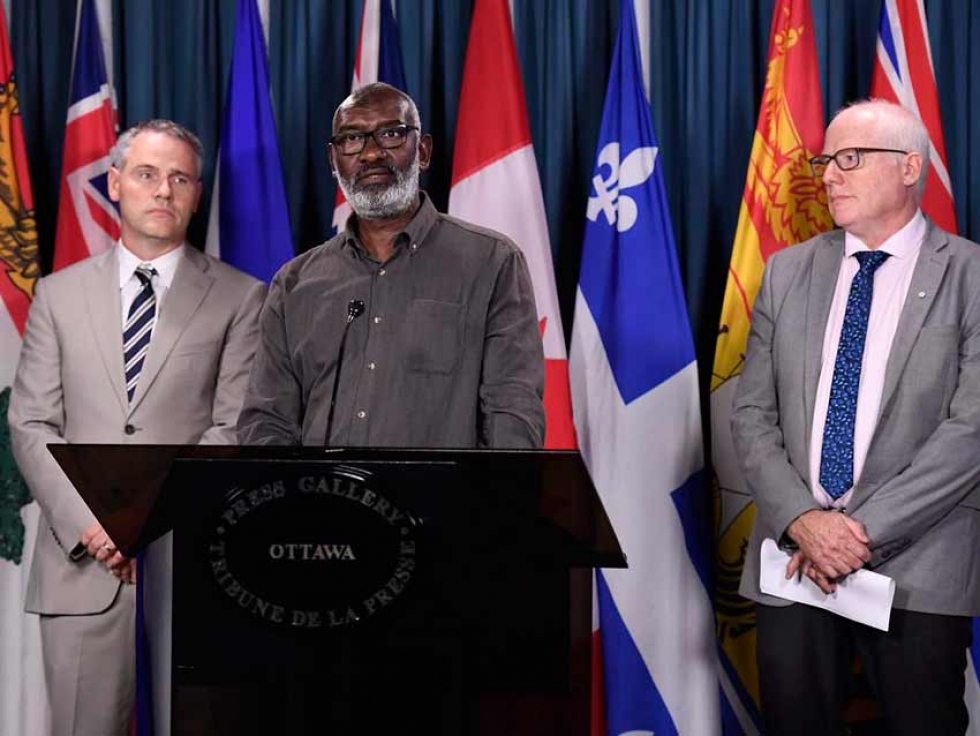 Sudanese Canadian Abousfian Abdelrazik at a press conference with his lawyer Paul Champ and Amnesty International Secretary General Alex Neve in September 2018.
15
October


2018
Panel Discussion Explores How Community Can Push for Justice for Abousfian Abdelrazik
Written by Chelby Daigle
MuslimLink.ca's Editor in Chief Chelby Marie Daigle facilitated the panel discussion on September 17 with Amnesty International Canada's Secretary General Alex Neve and Paul Champ, the lawyer for Abousfian Abdelrazik. 
The panel followed the screening of the documentary, The Long Way Home, by Canadian filmmakers Aisha Jamal and Ariel Nasr. 
This documentary screening and panel discussion was co-presented by Amnesty International Canada, the International Civil Liberties Monitoring Group, and the National Council of Muslim Canadians (NCCM).
The documentary raises important questions about the war on terror, the value of Canadian citizenship and the role and oversight of the Canadian Security Intelligence Service (CSIS). 
Currently, the Canadian goverment has one the right to postpone the trial indefinitely for Abousfian's $27 million dollar lawsuit. This trial would have seen testimonies about the role of CSIS in Abousfian's detention and delay in being allowed to return to Canada from Sen. Mobina Jaffer, Conservative MP Deepak Obhrai, Liberal MP Wayne Easter and Quebec MP Maxime Bernier. 
According to Paul Champ in an interview with the Toronto Star, "the testimony from parliamentarians will show how elected officials were kept in the dark. 'Mr Abdelrazik's trial will expose the enormous gaps in the oversight of CSIS and the extent to which the Service believes it can destroy the lives of citizens with impunity.'".
The panel discussion explored the role of Canadian social justice activists in rallying to bring Abousfian Abdelrazik home when the Canadian government was making it impossible for him to return to his young family in Montreal.
Amnesty International is also currently campaigning that Prime Minister Justin Trudeau take "direct and personal" action to ensure that justice is served in Abousfian Abdelrazik's case. You can sign the petition online here.
You can view the panel discussion online below:
There is also a discussion guide that accompanies the documentary, The Long Way Home. You can access the discussion guide online here.
To organize your own screening of The Long Way Home, contact the filmmakers here.
This article was produced exclusively for Muslim Link and should not be copied without prior permission from the site. For permission, please write to info@muslimlink.ca.