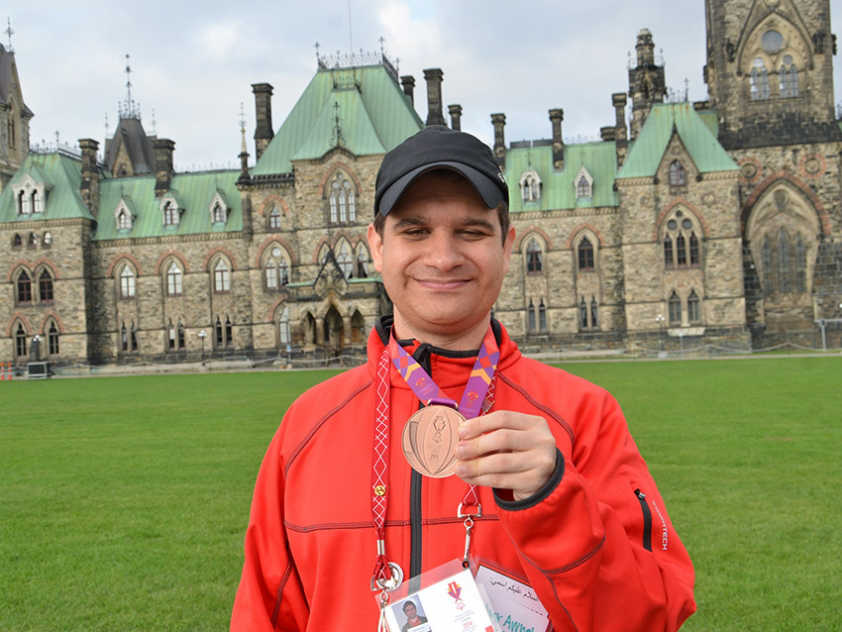 Bachar Awneh with his bronze medal in front of the Parliament Buildings.
Courtesy of Asma Bailouni
26
Jul


2014
Ottawa's Bachar Awneh Wins Bronze at the Special Olympics Summer Games
Written by Chelby Daigle
Bachar Awneh, 26, recently returned from Vancouver where he won Bronze for Swimming in the Special Olympics Canada Summer Games. Over 2000 athletes, coaches and officials participated in the Games which took place at the University of British Columbia. The Special Olympics Summer Games brings together accomplished athletes from across Canada who are living with intellectual disabilities.
Awneh was born and raised in Abu Dhabi to Syrian parents. "I have been swimming since I was four," Awneh explained, "I swam in the sea, not in a pool". People can swim all year round in Abu Dhabi because of the hot weather and accessible beaches. When Awneh moved to Canada in 2006, he found out about the Special Olympics and decided to take the opportunity to hone his skills in one of his favourite pastimes.
Myriam Gay has been coaching Awneh for several years. A former professional figure skater who also worked in the field of Special Education, Ms. Gay is quick to point out that Special Olympics athletes train according to similar guidelines as other athletes. Awneh has been training weekly and had to compete in provincial qualifiers in order to get a chance to join Team Ontario at the Summer Games.
As his coach, Ms. Gay has been impressed with his perseverance as he has developed his swimming technique over the years. Awneh has faced the challenge of not only living with an intellectual disability but also having to learn a new language as he was educated entirely in Arabic. But Ms. Gay has seen him triumph in the face of these challenges. "I can't remember ever seeing Bachar in a bad mood," she reflected.
Ms. Gay also credits Awneh's success to the support of his parents and siblings who often come to watch him train. Without being asked by anyone, Ms. Gay dresses more modestly when working with Awneh, opting to wear a shirt and shorts over her regular bathing suit, out of consideration for his family's Muslim values.
Awneh was pleased that he was able to win a Bronze medal for the Front Stroke at this year's Summer Games. He also placed 5th in the Back Stroke 25m. His win has made him even more committed to his training as he hopes to continue having the opportunity to compete nationally.
This summer, Awneh has kept busy volunteering with Qur'an Camps, studying English as a Second Language, and working as a technical assistant fixing computers and installing software. He also is involved in the Special Olympics Bowling program.
Awneh wants to see more Muslims with intellectual disabilities joining Special Olympics. He feels it is important that parents encourage their children to live up to their full potential by getting them involved in programs where they can build skills, make new friends, overcome challenges, and gain a sense of accomplishment. He feels that the Special Olympics have given him the opportunity to do all of these things.■

To learn more about Special Olympics Canada visit http://www.specialolympics.ca/
This article was produced exclusively for Muslim Link and should not be copied without prior permission from the site. For permission, please write to info@muslimlink.ca.