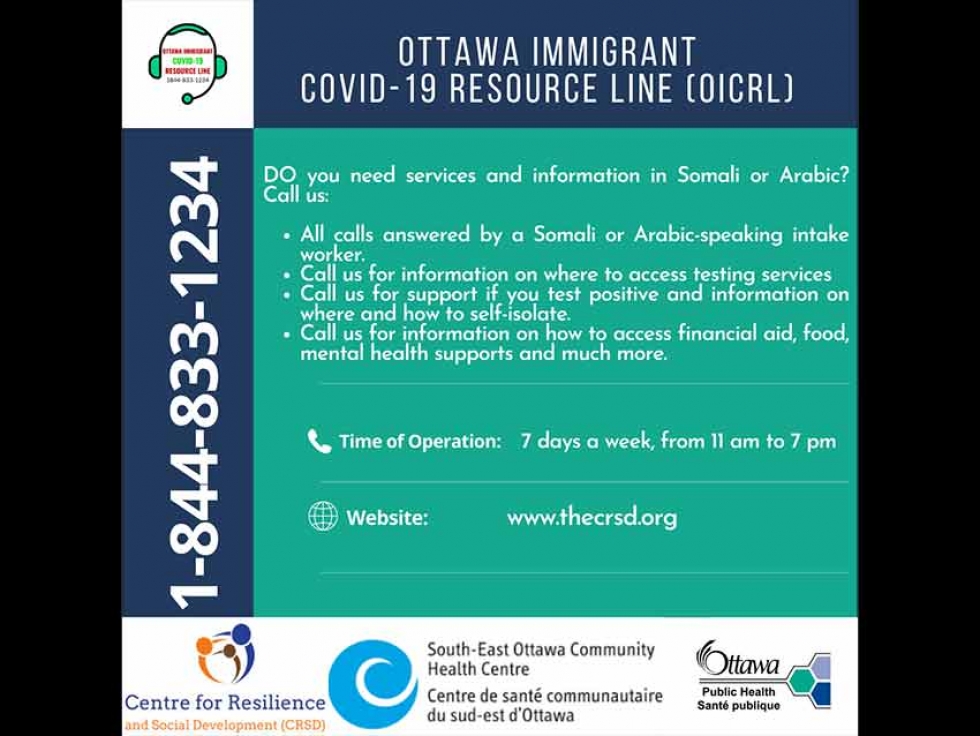 10
Mar


2021
During the pandemic, it has become evident that some communities are significantly more impacted by the COVID-19 and face complex barriers to accessing social and health services and supports and are considered high-priority communities.
The "Ottawa Immigrant COVID-19 Resource Line" (OICRL), [launched on March, 10, 2021], is a new resource that aims to support the Somali and Arabic speaking communities in Ottawa by engaging them and listening to 'how' they are affected and offering the wrap-around support services they need.
The Ottawa Immigrant COVID-19 Resource Line aims to reduce barriers to accessing information by providing a direct link to Somali or Arabic speaking intake workers who are trained to respond to the immediate needs of the community and can share information on where to get tested for COVID-19, facilitate access to testing centers and support them if they test positive and need to find resources on where and how they can self-isolate.
The phone line will operate 7 days a week from 11 am to 7 pm.
Call 1-844-833-1234 and Press 1 for Somali and Press 2 for Arabic (or Text)
The new phone line has been developed in partnership with The Centre for Resilience and Social Development in collaborations with the South-East Ottawa Community Health Centre (SEOCHC) as part of the OHT-ESO COVID-19 Community Response.
Key Messages on what OICRL will offer:
OICRL is a "support for the community by the community" initiative.
OICRL will decrease barriers to Somali and Arabic speaking community members, who want access to information and services available in the community, by offering direct access to a Somali or Arabic-speaking intake worker.
Increase awareness of COVID-19 testing sites – by providing information on where the community can access testing services, facilitate and encourage testing when appropriate. Offer follow up support if someone tests positive.
Offer information on vaccines and address concerns about the vaccines, dispel myths and refer to partners and resources.
Provide access to personal protective equipment, such as masks, and share information on how to further prevent the transmission of COVID-19.
Support and respond to questions about where to access financial aid, food, mental health supports, isolation supports, and much more.