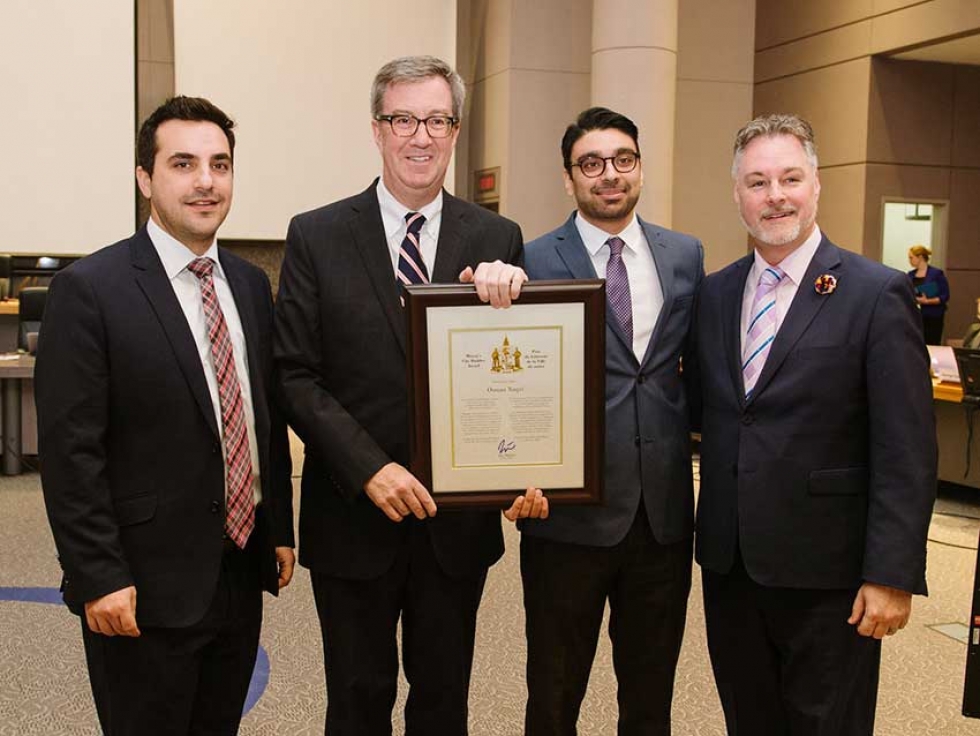 Osman Naqvi receiving Ottawa's City Builder Award from Mayor Jim Watson and City Councillors Mark Taylor and Michael Qaqish
City of Ottawa
15
April


2018
Osman Naqvi Wins Ottawa City Builder Award
Written by Chelby Daigle
Osman Naqvi was recently awarded Ottawa's City Builder Award.
Muslim Link interviewed Osman about his work in the community.
1) Tell us about yourself.
Being born in Edmonton and having the privilege to live and travel across Canada, I have come to truly appreciate the mosaic that Canada is. Fast forward a few years and I have completed my Honours Bachelor's Degree at Carleton University and my Masters of Management Degree at the Schulich School of Business York University. I have tried hard to align my life experiences, work, and education to serve the diverse community I've met across Canada in rural and urban areas.
2) Why did you start volunteering with community initiatives?
Volunteering was engrained in me at a young age by my parents who are passionate about supporting grassroots initiatives. A solidifying moment for me happened when I co-founded my first charitable organization in grade 8 called the Bayshore Youth Council. It is an organization devoted to getting youth in Ottawa's West End engaged in making a positive impact right in their community. The organization focused on the healthy development of its youth through recreational opportunities that otherwise may not be presented to them, guest speakers, youth trips, and teaching of valuable leadership skills. Through the organization, we took the youth skiing and one girl pulled me aside and said she would not have had this opportunity if it wasn't for us. Seeing her smile from ear to ear reinforced why it's important to me to serve the community. From there I was able to use the skills and experiences I acquired to join municipal, provincial, federal and international serving organizations.
3) Tell us about how you developed Superhero Week?
In March of 2016, I had the pleasure to pass a proclamation along with my YOUth Heroes team. Thanks to the help of Deputy Mayor Mark Taylor and Hon. Minister Yasir Naqvi, Superhero Week was recognized by the City of Ottawa. Superhero Week was a recognized week of activities/ events in the nation's capital, that provides at-risk youth with mentorship and resources needed for them to achieve their own dreams. Superhero Week was developed through YOUth Heroes in collaboration with YouthREX.
As to how we developed the week, we pulled together an incredible group of young volunteers who served as the governing body. This group worked to collaborate with stakeholders, create innovative programs such as YOUth in the Hall (City Councillors mentoring youth), #ThankYourHero (a photojournalism campaign to spark discussion and shed light on everyday heroes), and structured workshops to make sure that all the participants felt like Superheroes. That's why this week was so important for us to create. We wanted to showcase the heroes in our very own community to help inspire others to make a positive change of their own.
4) Although awards are often given to one person, tell us about how your success has depended on your colleagues, co-workers and fellow volunteers?
I am very fortunate for the group of people I have around me. Whether it's my colleagues, friends and fellow volunteers, these people inspire me to continue the work we do. That's why this award is not only for me, but represents all of us. In particular, I am inspired by the work of Deputy Mayor Mark Taylor and Hon. Minister Yasir Naqvi, as they have been an instrumental support for numerous organizations I have been a part of in the city.
5) What's next for you?
Well, after this interview I'm going to head down to my favourite pizzeria and order my usual. But in terms of community service, you'll have to wait and see... that's something I'm going to continue to brainstorm over lunch.
This article was produced exclusively for Muslim Link and should not be copied without prior permission from the site. For permission, please write to info@muslimlink.ca.