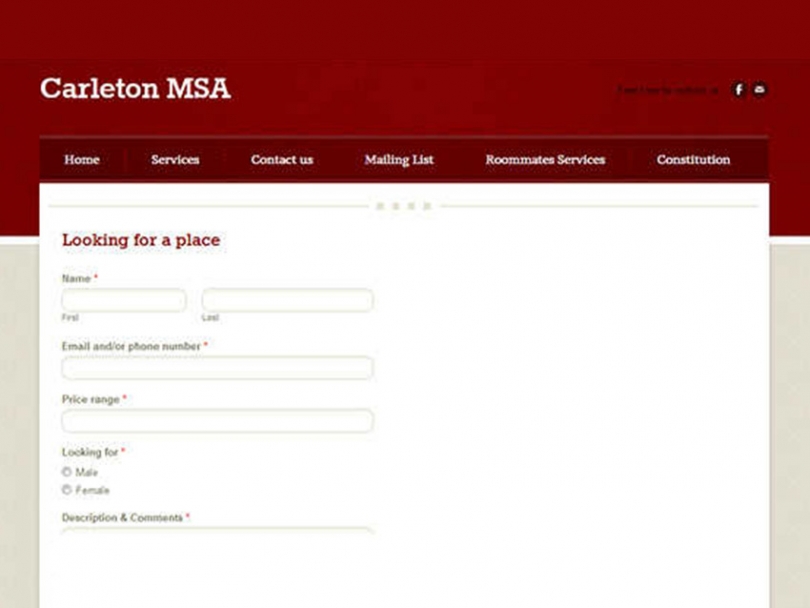 Screenshot from the Carleton MSA's Roommates Service Website
19
October


2013
New roommate matching service for Muslim students
Written by Mohamed Suleman
The Muslim Students' Association (MSA) at Carleton University has unveiled a useful new online service that allows people to find and invite suitable roommates to live with.
The Roommates Service, launched in the summer, has helped young Muslim men and women -- those new to the city and those returning to school -- to find suitable accommodation in keeping with the requirements of their faith.
Buraidah Razack, the vice president of the MSA, says that the group would receive several emails from people looking for Muslim roommates or else seeking a place to stay close to mosques and the Muslim community. This, he said, led to the birth of the Roommates Service.
"As the MSA our main aim is to provide and facilitate services for the Muslims on campus," Razack says. "Alhamdulillah (praise be to Allah) this year our IT Director, Haitham Fallatah, developed and enhanced our Carleton University MSA website and within it, he set up the Roommates Service link."
Signing up for the service is straightforward. On the website, users have the option of filling out either one of two columns: one for those seeking accommodation or the one for those offering a place to stay. Users then have to fill in their contact details and outline their requirements in terms of price-range and location.
Razack says that the initiative has been "efficient and effective" so far. He hopes the MSA can continue to serve the community through similar initiatives.
"We do not want to stop here as we are always looking to improve our services," he says. "We strongly urge people to contact us regarding anything they feel we could help with."
To access the Roommate Service, visit: http://www.cumsa.ca/roommates-services.html  
This article was produced exclusively for Muslim Link and should not be copied without prior permission from the site. For permission, please write to info@muslimlink.ca.