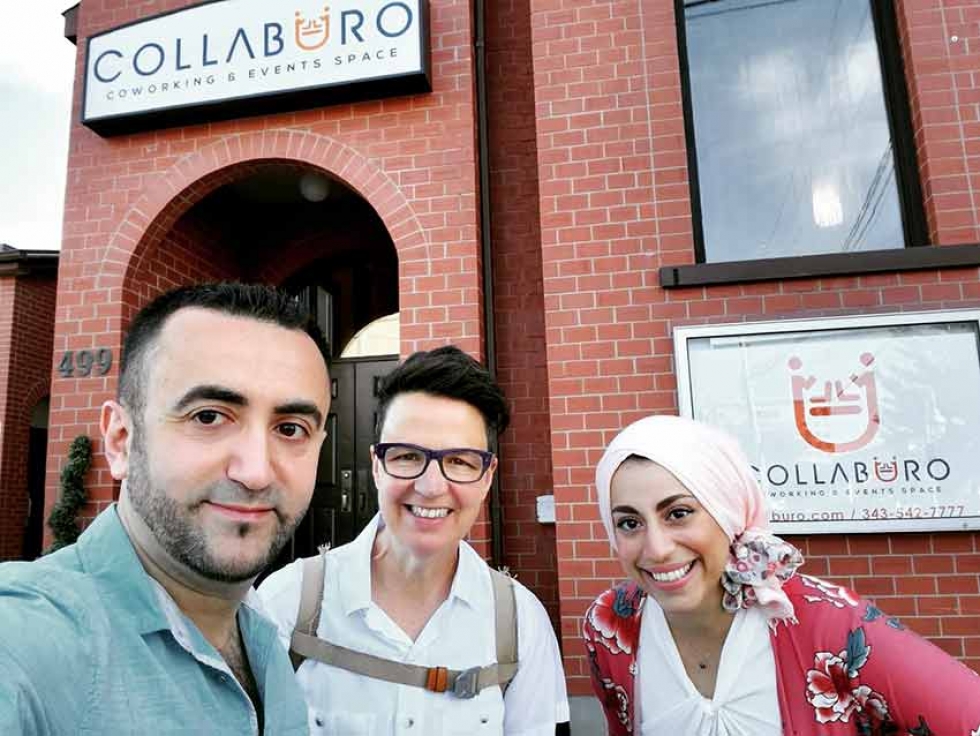 Collaburo co-owners Mohammad and Hanan take a selfie with their local city councillor, Catherine McKenney, in front of the new Events and Coworking space.
Collaburo
25
November


2019
New Family-Owned Events and Coworking Space Opens in Ottawa's Little Italy
Written by Making Headlines
A new one-of-a-kind events and coworking space has joined the vibrant neighbourhood of Little Italy. Located at 499 Preston Street, Collabüro is easily accessible by o-train, bus or car, and provides its members with close proximity to local eateries and green spaces such as Dow's Lake.
Collabüro offers flexible work settings to accommodate for different styles of working. In addition to extended hours, sit/stand desks, and two kitchens, Collabüro provides unique amenities such as strong Wi-Fi accessible from every square inch of the space, wireless chargers, and even a shower. Collabüro's accessibility isn't just about its location. Both floors are accessible by lift and the lower level has a barrier-free washroom built to AODA standards.
Cofounded by a husband and wife team, Mohammad Dourou and Hanan Mahmoud, and Dourou's family, Collabüro is designed with the mindset of "Would I work here?" That perspective has resulted in a space that is both focused on anticipating member needs and flexible enough to adapt to a variety of uses.
Collabüro is on its way to being the first to build an interconnected coworking community in Little Italy. It's more than just a place to come for a desk. In addition, Collabüro is an events space that can accommodate up to 120 people.
The family fell in love with the space and have consciously retained elements of its heritage such as its rich brick exterior, altar niches, and even the church bell pull. Located on the former home of the German Evangelical Martin Luther Church of Ottawa, the name Collabüro itself is an homage to that legacy. "Büro" means "office" in German, and is paired with "collaboration" to form "Collabüro".
Collabüro is having it's official grand opening on December 12, 2019. The event runs from 5pm until 8pm. To register to attend the grand opening, click here.
Visit collaburo.com to learn more, book an event, or start a free coworking trial. Or just drop by at 499 Preston Street from 9pm to 5pm during the weekdays.
Follow Collabüro on Facebook and Instagram.
To read an interview with Mohammad Dourou in the Ottawa Business Journal, click here.
This article was produced exclusively for Muslim Link and should not be copied without prior permission from the site. For permission, please write to info@muslimlink.ca.