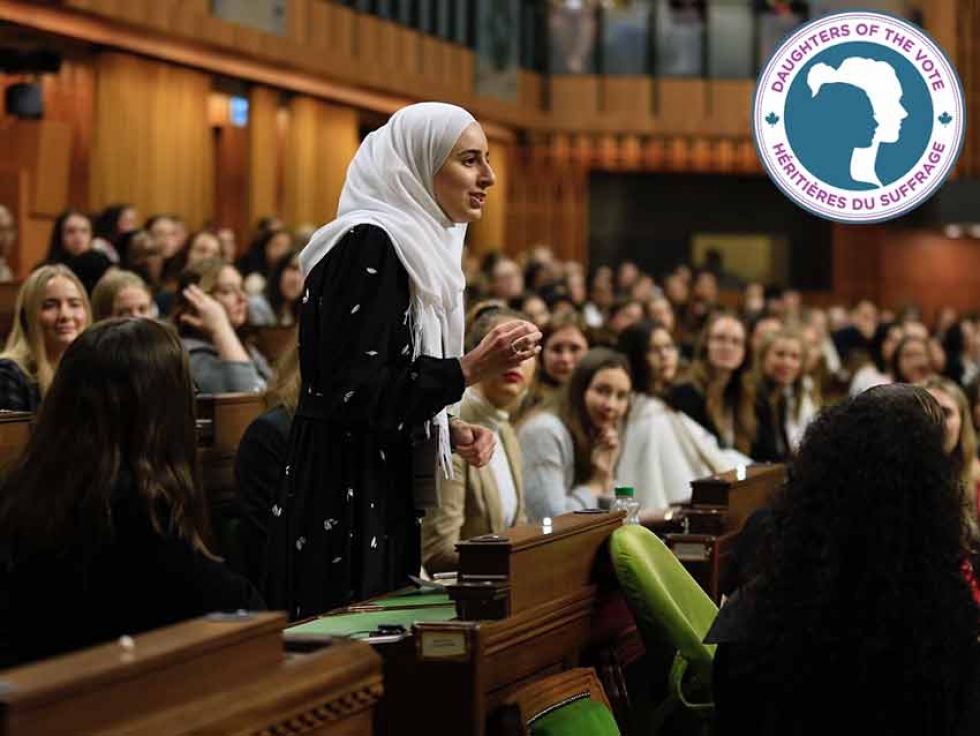 Syrian Canadian Lila Mansour represented the riding of Cariboo-Prince George, British Columbia at Equal Voice's Daughters of the Vote gathering in April 2019.
23
Jul


2019
Muslimahs on Parliament Hill: Lila Mansour from Cariboo-Prince George, British Columbia
Written by Making Headlines
Syrian Canadian Lila Mansour represented the riding of Cariboo-Prince George, British Columbia at Equal Voice's second Daughters of the Vote gathering in early April 2019, which brought together 338 young women between the ages of 18 and 23, representing each Canadian riding and take their seat in the House of Commons during a historic sitting of the House of Commons. They were addressed by every federal party leader, and engaged with an array of Ministers, critics and advocates.
Daughters of the Vote (DoV) was aimed at encouraging more young women to become involved in Canadian politics, a space where there are still challenges to gender equity.
Muslim Link had the opportunity to interview several of the young Muslim Canadian women who were selected to participate in this historic event, including Lila.
Tell us about yourself
I have grown up in Prince George, British Columbia, which is located in Northern BC, for almost my whole life. It is a cozy town with a population of just over 80,000.
My parents are both originally from Syria. My parents first immigrated to the United States where I was born, and then to Canada for my father's work. We initially lived in Quesnel, BC, until I was seven, and then we moved to Prince George and I have been here ever since! Alhamdulillah (Thank God), I have a beautiful family – my parents and three younger siblings.
I can proudly say I am Syrian-Canadian Muslim. Canada is my home, but I can never forget my Syrian roots and culture. My faith and culture have shaped who I am, and I know that all my life experiences and knowledge have made me a better person.
I am very passionate about helping others in my community. I have taken on many volunteer positions from being a youth mentor, to organizing youth activities at my local Relay for Life charity event for the past five years. Most of all, I enjoy teaching Quran and Arabic studies to young children at the local mosque during Islamic school on Sundays. Helping others is incredibly rewarding.
I currently just finished my second year of studies in economics at the University of Northern British Columbia. I chose economics because I believe that it is a great foundation before entering law. I hope to apply soon to law school, as it has always been my dream to become a lawyer. I also believe economics is important for politics – oftentimes elections come down to economics. People are always worried about their jobs, their financial well-being and ability to save money. If I choose to enter politics one day, I want to have the knowledge to be able to make educated decisions that benefit my community and all Canadians.
Tell us about the riding your represented in the House of Commons. What challenges socially and economically is the riding facing? Do you feel that many in Canada know about and/or understand these challenges? How do you hope to increase awareness about the challenges your riding faces to broader Canadian society?
In parliament I had the great joy of taking the seat of Honorable Todd Doherty from Cariboo-Prince George, who is actually my next-door neighbor!
My community faces various issues. Prince George is known for its Highway of Tears, a route on which too many Indigenous women have lost their lives. I have also seen the marginalization of Indigenous people in my community and they are disproportionately represented in the legal system.
There have also been environmental concerns, as the number of caribou have declined in the region. Deforestation, mining and mills are all having long term impacts on communities.
Northern development is also important to many Northerns. A pipeline was set to pass through Northern, BC until the Wet'suwet'en First Nation blocked various check points, citing that the pipeline would destroy the watershed and wildlife. The showdown between the Indigenous people of the area and police garnered national attention. This is just another example of many issues many regions are facing today – should we build our economy by extracting resources or should we be working towards environmental sustainability? It truly is a contentious issue.
I did raise the issue of the treatment of Indigenous peoples in my House of Commons speech, but I think that the young Indigenous women who also attended the Daughters of the Vote event spoke so much better to the issues I have raised above, as they have lived many of these struggles first hand. I support my Indigenous counterparts. I have however witnessed firsthand that often Northern, BC is neglected by the South, and Indigenous programs are underfunded.
As a young woman involved in politics, what challenges, if any, do you face? Do you feel that the presence of more young women is changing politics? If so, how?
I am just in the beginning of my experience! One thing I noticed during my time in government is that the media loves to sensationalize one part of any story. Because I am both a Muslim woman and I wear the hijab, my speech in the House of Commons during the Daughters of the Vote (DoV) event became only about Islamophobia, when indeed I had raised many other issues in my speech such as supporting newcomers, ending all discrimination in general, supporting Indigenous people. The media shaped my speech in a way that would supposedly get more attention and views, but it took away from the bigger picture I was hoping to achieve. What I had envisioned was a speech that made people realize that it is important to support Indigenous people and newcomers alike and address the issues facing both groups.
Of course as a woman of colour and a visible minority, there are always people out there who seek to undermine women like me. Perhaps we are not as experienced as people who have worked in politics for years, but this does not mean that our opinions and voices are not valid. And at no point in time should a man be considered more intelligent or worthy of power solely because they are a male; positions of power should be based on merit.
Having more women in politics is definitely changing the political landscape! New ideas are being discussed and addressed in different ways. I think the presence of women in power and politics also allowed empowered many women to speak up during the MeToo movement. It is time that women are respected: we are just as worthy of being heard as men.
Do you feel that there are also shifts in how young Muslim women are taking up leadership positions within Muslim community organizations in Canada? Do you feel that the presence of young women in these Muslim organizations is changing how these organizations function? If so, how?
There definitely are more young incredible Muslim women entering politics and various leadership positions across Canada. It is so amazing to see!! Many young women have to overcome two types of cultural challenges – 'back home' mentalities and 'at home' mentalities. Many young Muslim women come from cultures that do not encourage women to seek knowledge, work or take the lead in the community (I can speak from a Middle Eastern perspective.) Islam does not prohibit a woman from getting an education or working outside the home. Actually, society is worse off when women's voices are not heard. Muslim women should not be afraid to be active participants in their communities if they choose to be; they are great ambassadors of our religion (and to be quite frank, they often do a much better job than Muslim men.) The 'at home' mentality that Muslim women in the West also have to face are the stereotypes of Muslims. Like I have said before, Islamophobia is a real problem and many Muslims are afraid to publicly practice their faith. This can discourage young Muslim women from entering politics or taking on visible roles.
By having more Muslim women in these organizations, the public's perceptions of Muslims in general are changing. Every Muslim who has portrayed Islam through good character and setting good examples for others should give themselves a pat on their back – that's what we need! I believe that Muslims women have improved many organizations, brought new fresh ideas to the table, and are helping so many people across this nation.
By attending Daughters of the Vote (DoV) you had an opportunity to meet young women from across Canada. Did any of the realities they shared challenge you to unlearn some assumptions about your fellow Canadians or seek out knowledge about issues you had otherwise not known about your fellow Canadians? Please elaborate.
It was so incredible to meet 300+ like-minded young women. Hearing their stories inspired me! Every single one of them was working hard in their community through their work, activism and/or volunteering. I realized that we are all role models for each other and we must continue to support each other because without one another, we cannot achieve great things.
As was to be expecting with a federal election fast approaching, tensions between political parties were much more apparent during this Daughters of the Vote (DoV) than back in 2017. One of the greatest challenges of our time is how societies are becoming more and more polarized. Unfortunately, partisan politics plays a role in this polarization as parties focus on attacking one another instead of trying to build consensus for the common good. Do you feel that there is a need for a new culture of how politics is done in Canada in order to keep our democracy healthy and focused on the interests of all Canadians?
Politics, throughout history, has been polarizing and trying to attain 'perfect' politics is not possible. Although democracy is not a new term, there are still many countries in the world that do not democratically elect their leaders. Let's not take this for granted.
With that being said, greater accountability needs to take place. For a democracy to be healthier, I believe that there needs to be greater transparency (there was a lack thereof during the SNC Lavalin controversy). We should focus on having productive discussions instead of attacking one another. We should be focusing on REAL issues, not the ones that get headlines and stir up commotion.
As it is an election year, what will you be doing to try to get out the vote in your riding?
As vice-president of the University of Northern British Columbia (UNBC) Debate Society, I am hoping to partner up with political parties on campus to encourage open dialogue during the upcoming election. I hope to run debates and events that allow people to learn more about politics, meet politicians and encourage students to get out and vote. I am hoping to apply for one of the DoV grants in the near future to make my visions a reality.
What is the key lesson from your experience at DoV that you will be taking back into your work in your riding?
The biggest thing I learned is that we are role models for one another. Whether we are women, or Muslim, or Muslim women, we need to support each other. All 338 of us young females supported one another, even if our opinions conflicted. But we all have one vision – a better Canada – and we cannot achieve that without each other.
I know that I will be striving to be an even better role model for the youth in my community, particularly vulnerable Muslim youth. They often struggle to find good Muslim role models, and I hope that I can encourage them to take the lead in their community and have a positive impact on the world around them inshallah (God willing).
Is there anything else you would like to add?
I encourage everyone to get out and vote this election – do not take it for granted. Stay up to date on political issues that affect you. And for all youth across this country – the future is in our hands and we are shaping it today. What you sow today, you will reap tomorrow! Support one another and push each other to be the best that you can.
If you're searching for inspiration, or you have a story you'd love to share with me, don't hesitate to reach out to me personally. I'd love to be inspired by you!
This article was produced exclusively for Muslim Link and should not be copied without prior permission from the site. For permission, please write to info@muslimlink.ca.