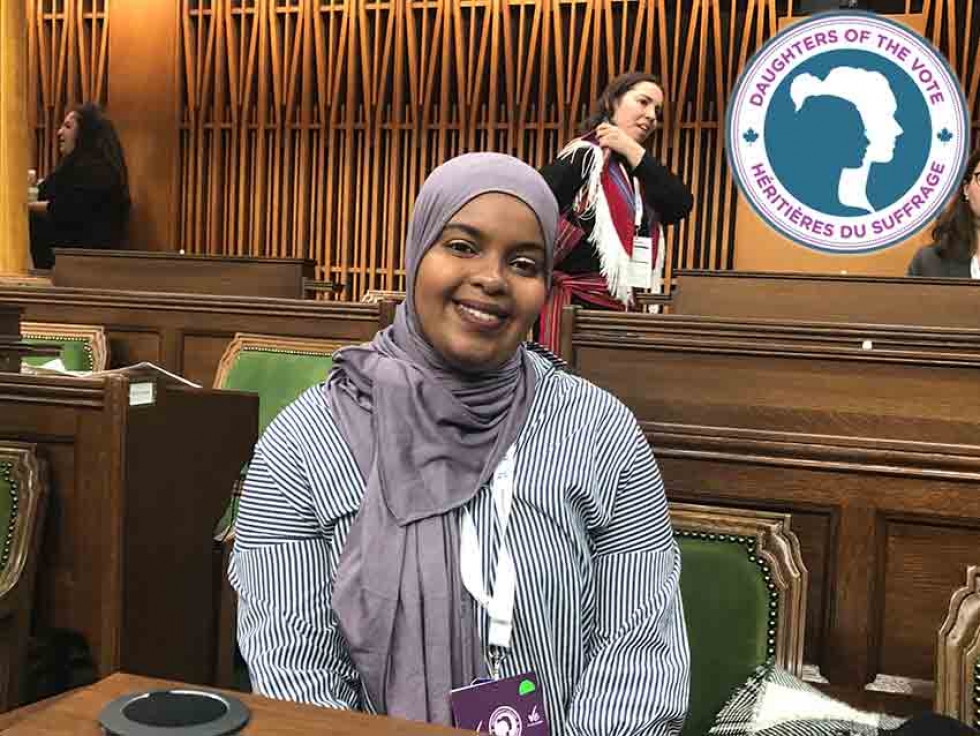 Somali Canadian Iman Hersi represented the riding of Nepean, Ontario at Equal Voice's second Daughters of the Vote gathering in early April 2019.
17
Jul


2019
Muslimahs on Parliament Hill: Iman Hersi from Nepean, Ontario
Written by Making Headlines
Somali Canadian Iman Hersi represented the riding of Nepean, Ontario at Equal Voice's second Daughters of the Vote gathering in early April 2019, which brought together 338 young women between the ages of 18 and 23, representing each Canadian riding and take their seat in the House of Commons during a historic sitting of the House of Commons. They were addressed by every federal party leader, and engaged with an array of Ministers, critics and advocates.
Daughters of the Vote (DoV) was aimed at encouraging more young women to become involved in Canadian politics, a space where there are still challenges to gender equity.
Muslim Link had the opportunity to interview several of the young Muslim Canadian women who were selected to participate in this historic event, including Iman.
Tell us about yourself.
My name is Iman Hersi, I am a Canadian-Somali born and raised in Ottawa, Ontario. My family immigrated to Canada in the early 90s from the Somalia Civil War. Their migration, settlement and integration as members of the Somali diaspora in Canada was a difficult transition. Despite their own struggles as immigrants, I was always encouraged to reach my full potential and to beat all the odds. Certainly, I would not be where I am today if it was not for my family supporting my dreams and paving the way for me to live a good life. I would like to humbly express my gratitude to my family in shaping the person I am today.
I am currently studying Communication and Media Studies at Carleton University. I have always been fond of political science and learning about parliamentary government in Canada for as long as I can remember. I am drawn to headlines about Indigenous politics, international relations and immigration.
In the House of Commons I represented the Nepean federal riding. Before heading to this engagement, I had the opportunity to speak with members of my community about the challenges they face in Canada. Many individuals struggled with finding employment after graduating, affordable housing, mental health and the lack of awareness and representation of people who looked like them. I think as a society we do not give enough credit to the immigrants, newcomers and racial and religious minorities because we assume they are not aware of politics, but they are. I have lived in Nepean for the past ten years, when I first moved to this part of Ottawa there was a few people that looked like me but fast forward to 2019 my side of the city is expanding and fostering the acceptance I have always been fond of. Moving forward, I hope to create spaces for members of my community so they can openly share their challenges and find solutions to better their lives.
As young women involved in politics, what challenges, if any, do you face? Do you feel that the presence of more young women is changing politics? If so, how?
As a young Black Muslim woman involved in politics, being accepted and represented in these spaces is a challenge. While, navigating through politics is difficult, I feel as though I have to prove my humanity and modernity as a Muslim woman. In some situations, I have to face that the stereotype that sees black women as unruly, argumentative, and antagonistic. Unfortunately, Canada was not originally built with people like me in mind. I do not see a diverse population reflected among political leaders because Canadian politics is usually dominated by white, male and/or affluent people. The social exclusion of women hobbles our democracy.
By attending Daughters of the Vote (DoV) you had an opportunity to meet young women from across Canada. Did any of the realities they shared challenge you to unlearn some assumptions about your fellow Canadians or seek out knowledge about challenges you had not known your fellow Canadians were facing?
It was a complete pleasure and honour to meet the young leaders who are supporting and making a difference in their communities. The DoV opportunity allowed me to connect and have inspiring conversations about the vision we want for a unified Canada. Throughout the week, I was in complete awe of the hard-work being done across Canada from raising awareness of mental health to creating a grassroots organization. Everyone had expertise to offer whether big or small, there was always something to learn about.
The most life-changing experience was sitting in the House of Commons amongst those of different backgrounds, religious groups, Indigenous groups, and people with disabilities. In the room, I found myself doing a lot of deep thinking that Canadian politics needs to make changes in recruiting candidates that encourage intercultural integration. It was interesting interacting with other delegates about the hardships that their community faces from the Missing and Murdered Indigenous Women, the carbon tax, climate change, shootings, health care system, Islamophobia, unemployment, etc. While hearing the real challenges delegates faced in their community, I felt very fortunate to live in the National Capital Region.
By attending Daughters of the Vote (DoV) you had an opportunity to meet young Muslim women from across Canada. Did any of the realities they shared challenge you to unlearn some assumptions you had about Muslims in Canada or seek out knowledge about issues facing Muslims in Canada you had otherwise not known about?
My experience in the DoV space was not problematic. I felt accepted, respected and understood. However, followed by the conference some of our Muslim delegates were targeted for discrimination on social media. It was something I was hoping would not happen but somehow most people cannot seem to understand that Muslim women are making strong waves of success. It was disheartening the treatment they were getting but we all stood by one another in solidarity with our delegates. I feel that this conference proved that we are the future young leaders that represent a diverse constituent. I adore the relationships we have created along the way by encouraging one another's success, sharing opportunities and building self-care support groups. It is amazing how one conference can change a person's life.
Thank you to the Daughters of the Vote team for this life-changing opportunity. I cannot wait for the next generation of young women who are going to witness an even better experience.
This article was produced exclusively for Muslim Link and should not be copied without prior permission from the site. For permission, please write to info@muslimlink.ca.