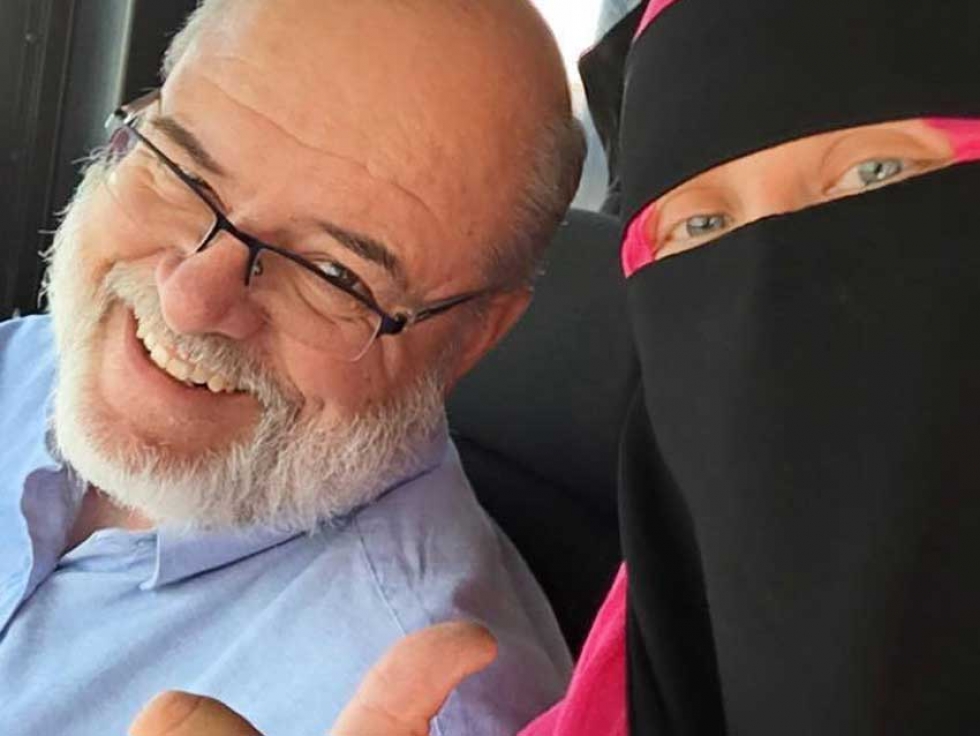 This Ramadan, Muslim Link is crowdfunding for Ottawa bus driver Alain Charette who stood up against Islamophobia.
24
May


2018
This Ramadan, Muslim Link is asking readers to support the Ottawa Bus Driver who fought Islamophobia
Written by Chelby Daigle
In 2016, Muslim Link was asked to help Ottawa transit user Hailey DeJong find the OC Transpo bus driver who stood up for her when she was verbally attacked for wearing niqab by another passenger while on his bus. She had managed to get a selfie with him, but had not taken his name and she wanted to make sure that OC Transpo knew how much she appreciated his support.
Muslim Link published her letter and soon local media were also looking for the driver.
French Canadian Alain Charette didn't think he did anything special. He was just doing his job. But he decided to take the opportunity to speak to media in order to convey the message that no one should feel threatened on public transit because of their identity and it is important for others to intervene when this happens. As he explained in an interview with CBC Ottawa News, he's no hero, "Basically we are just people taking care of people."
As he stated in an interview with Huffington Post Canada, "Bigotry hurts everyone by lowering the humanity level of society. Sitting idle is not an option. You are either part of the problem or on the side of the solution."
He received letters of commendation from Prime Minister Justin Trudeau, Ontario Premier Kathleen Wynne, Ottawa Mayor Jim Watson, as well as the National Council of Canadian Muslims (NCCM).
A resident of Quebec, he also received messages from Quebecois elected officials. He also was overwhelmed by the reacton of his fellow bus drivers, particularly those who are Muslm. 
In 2016, Muslim Link invited Alain Charette to the annual Harmony Iftar, which brings together Muslims and non-Muslims to learn about Ramadan, where he received a standing ovation. Alain still gets emotional when he thinks about the warm response he received there from the community.
Muslim Link was saddened to learn that the veteran bus driver had been diagnosed with prostate cancer that had spread to the bone of his lower back in November 2017.
He was initially given only 3 weeks to live, but against the odds, he is still with us and receiving treatment alhamdulillah (Thank God).
However, the costs of medication and the impact on his physical health have taken a devastating toll. He was paralysed for a short time as a consequence of chemotherapy and now has to work to regain his strength and mobility.
Through the support of his insurance, family and friends and some government programs, he is managing with the costs of medication and treatment, but one item he needs to help him stay mobile is a Lift Chair to make it easier for him to go from sitting to standing with the support of his walker. His doctor has prescribed this chair but his insurance and government programs will not cover it.
Muslim Link is asking the community at this season of giving to consider taking the opportunity to give back to a non-Muslim who stood up for one of our sisters in Islam and publicly shared a message with mainstream media about the importance of bystander intervention when members of our community face harassment.
We have started a crowdfunding campaign on LaunchGood.com to inshallah raise the money to purchase the Lift Chair for Alain. Any additional funds raised will help to support Alain and his family as they cope with his terminal cancer.
Please consider showing support for someone who has demonstrated allyship to our community.
To support the LaunchGood campaign for Alain Charette, click here
This article was produced exclusively for Muslim Link and should not be copied without prior permission from the site. For permission, please write to info@muslimlink.ca.